En Primeur 2022: An Interview with Fiona Morrison MW, Managing Director of Thienpont Wine
Victoria Mason
5 May 2023
As part of En Primeur 2022, we've interviewed leaders in the industry in Bordeaux to find out everything there is to know about the Bordeaux 2022 vintage.
Victoria Mason, our Senior Fine Wine Buyer, sat down with Fiona Morrison MW, Managing Director of Thienpont Wine and an international wine merchant and negociant who, alongside her husband Jacques Thienpont, run the Bordeaux estates Le Pin in Pomerol, L'If in Saint-Émilion and L'Hêtre in Castillon. Read on to hear her take on the 2022 vintage, and to find out what we can expect from their 2022 releases.
Thank you for joining us, Fiona. Could you summarise briefly the weather conditions that were the most formative for the vintage at Le Pin in Pomerol, L'If in Saint-Émilion and L'Hêtre in Castillon.
As temperatures rose quite quickly in April, we managed to escape the risks of frost which haunted us in 2021, and bud break happened quite late due to a cold spell in March which also saved the future grapes. It was in May, as the vine's growth was accelerating, that warm temperatures made the vines react.
A very successful flowering was followed by a period from about June all through the summer (apart from rainstorms in July) where we had drought for three months. It was at that time that we realised that all the methods that we'd been using up to 2022, to keep moisture in the soil, were so very important. 2022 was really a year where we were able to apply the knowledge of all that we had learnt in the preceding decade or two, going back to the last extreme conditions of 2003.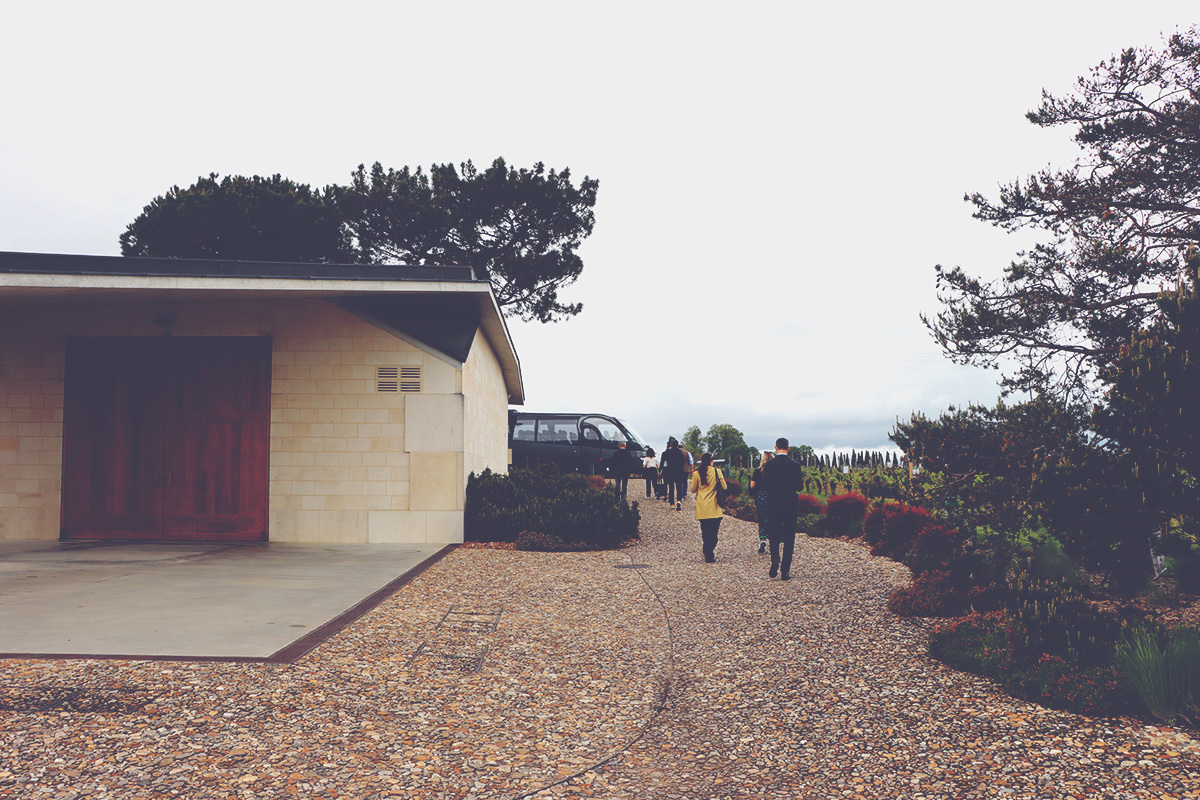 As you know Victoria, the photosynthesis in drought conditions goes into a neutral mode where nothing much happens, and the vine starts to conserve energy. So, once we saw that veraison was actually occurring pretty evenly, we realised this was going to be a different vintage. We didn't really understand why the leaves were green and they weren't falling off the vine as they did in, say, 2003, which was a horrid vintage for a lot of us. Le Pin was never made in 2003. We called it "Le Pin grillé" - "toast" in French!
Although it may seem fanciful to say that vines have a memory, we believe in hindsight that the fact that the vines began to grow in warm weather, meant that they knew to prepare themselves for the dry and hot summer ahead by producing less foliage which could sap energy but would produce enough chlorophyll to enable the plants to grow. When veraison came, the vines were able to stop vegetative growth and turn their attention to ripening the grapes. Everything that we had done before came together. We were terrified because the pHs were high which of course meant the acidity was low, but the vines survived! As cousin Alexandre Thienpont says, "there was more stress in the winemakers than in the vines".
Another key to survival was the difference between day and night-time temperatures from August onwards; during the harvest, it was too cold to eat outside. This difference seems to have accounted for the freshness that we found in the fruit. The drought had concentrated the berries making them small and tannic, so when harvest began under ideal weather conditions, we could take our time, selecting the parcels which were fully ripe.
Was it to do with the fact that we had parasol shading over the vine? That we leaf stripped only on the east side so that you had a bit of breeze coming through before the sun got to it? Was it a question of later pruning, spreading the vine over a double guyot to open the vine? (Pruning techniques are so important these days.) Was it putting straw down between the rows, mulching or cover crops, maybe doing that once every two rows to keep the balance right and the stress levels down, to make sure there was enough water preserved underground? Was it that there was enough microbial life around the root system to keep the vines happy? Was it that we did no green harvest or leaf thinning?
We really don't know the answers yet. But all those little details seemed to come into play, especially when the statistics were still really frightening. The sugar levels were rising, the acidity was low, and, in the end, we just had to throw away the rule book. If you had made wine according to the statistics, you wouldn't have got any sleep. It was scary yet magical to see how the vines had coped with the heat and drought. I wrote a blog on our website just after the harvest called "The Brave and Clever Vine" https://www.thienpontwine.com/en/blog/post/the-brave-and-clever-vine.
When we made the wines, we were very, very careful with the remontage [pumping over], just to wet the cap but no maceration really because we wanted to infuse (which is the buzzword in Bordeaux) the juice rather than getting rough tannins or dry extract and it seems to have worked. Of course, way before the En Primeur tastings, the Bordeaux tam-tam was already going 'it's a fantastic vintage', 'it's never been seen before' and making comparisons to mythical vintages but I think one thing that everyone will be amazed about and one of the buzzwords will be 'surprise'. There's richness, there is good fruit, and above all there is freshness. We were especially delighted about the wonderful acidity and mineral tanginess that we found in the parcels of L'If in Saint Emilion where the vines grow on the limestone plateau. We saw that same energy over in Castillon also, where the rocky limestone managed to absorb and preserve humidity.
Hopefully we can do it again because 2022 shows that we can make wine in a very extreme year. Everyone was surprised by how well the Merlot grapes, which can suffer from too much alcohol and ripeness, performed. They were incredibly fruity, fresh, and attractive. Another star turn came from old vines, that seemed to handle the vagaries of the climate like old hands. The precision and freshness coming from the old Merlot vines at Vieux Chateau Certan that date back to 1938 was just incredible.
It's fascinating to hear the journey everyone went on during this vintage! What were the effects of picking later than you'd initially expected? When did you finish harvest?
The other thing is that with the vines shutting down, to almost a sort of neutral "idling" position, this delayed the harvest so that while we thought we were going to be picking in August, we didn't pick until mid-September. The big difference between day and night-time temperatures and the little bit of rain along with all those little elements I've been talking about saved the vintage.
We finished at the beginning of October with the Cabernet Franc in L'If. There were times when we were picking all three properties in Pomerol, Saint Emilion and Castillon at the same time which has never been seen before. That's also down to parcel selection. When something is ripe you pick it.
I have never seen such good teamwork as this last vintage. Everyone worked so hard and helped each other out. We always have a good group of stagiaires for the harvest, which is so enriching and our oldest son, Georges, who is now studying wine in Adelaide, was part of the team at L'If.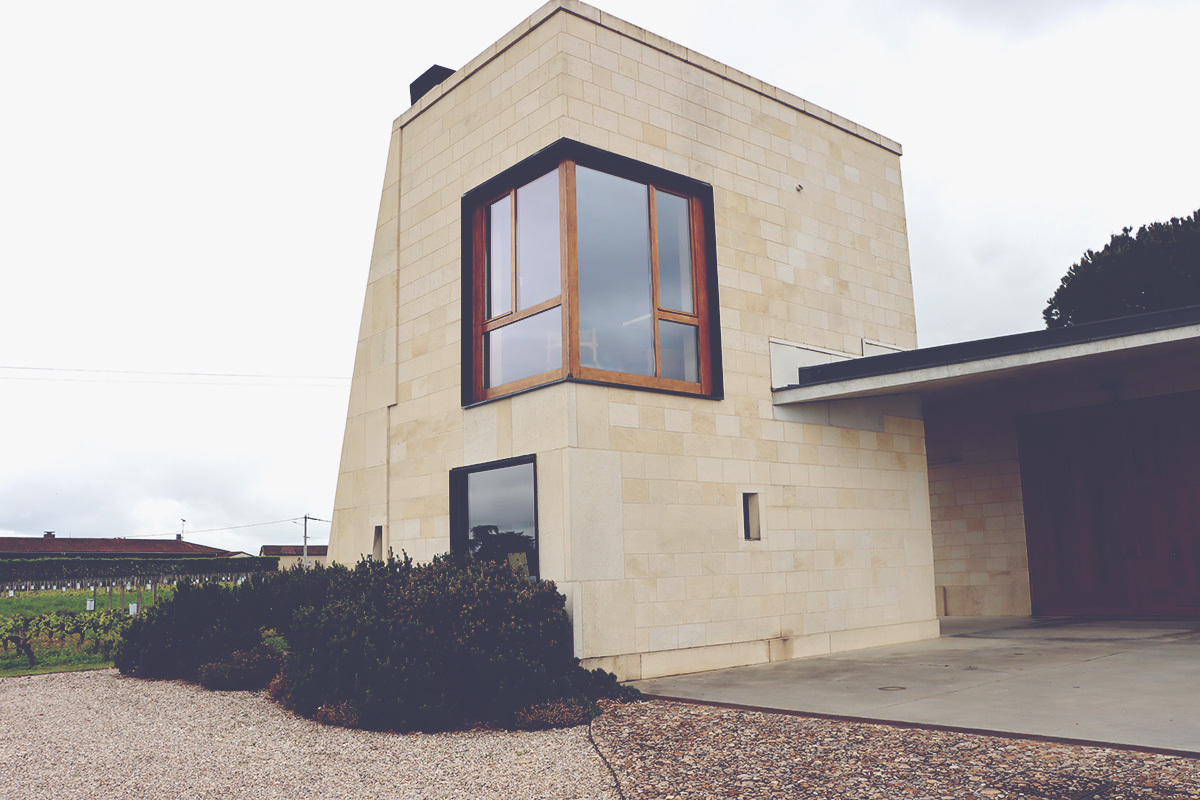 How did that impact yields?
The yields are down because the berries were smaller. They were so concentrated, and the berries weren't big – they were like little beads. In the vineyard, we had done hardly any spraying treatments during the year because it was dry, and the grapes were in perfect health. That was a plus. But the yields are down; not as bad as they were in past years where we've been decimated either by frost or by mildew. We had a very healthy crop.
I was going to ask you to sum up the 2022 vintage in three words, but I think you've already given me one of your words which is 'surprise'. What would be another couple of words at this stage?
The richness. By richness I mean integral richness, not just alcohol. The freshness. And surprisingly: elegance. Those are my three words. With the proviso that we are incredibly lucky. We make wine in areas where the soil is good, the soil takes care of us and takes cares of our vines. I was looking through my tasting notes the other night and was amazed that even in this time of climate change and higher temperatures and drought, the adjective that seems to crop up more and more is freshness. What a paradox! I can't really explain why, except to say that we are taking so much better care of our vines these days and have learnt so much.
A few years ago, Bordeaux authorised the planting of new varietals such as Marselan and Touriga Nacional. I think after this year's performance by Merlot and Cabernet Sauvignon, Bordeaux will be happy to stick to its native grapes in the future as they have shown how well they can adapt to climate change. However, I do think that we should spare a thought for the many Bordeaux vignerons who are not able to survive with the economics of today. Bordeaux is a world of extremes and there are a lot of growers. There's talk about pulling out vines in areas where shallow or sandy soils have not enabled producers to make decent wine.
And just a final question on En Primeur. How important is the En Primeur release of the wines for Châteaux? Obviously, it'll vary by Château, but in your view, why should customers pay attention to the 2022 release in particular?
En Primeur has become the way that we sell wines. It generates interest and excitement, but we should remember that it is just a snapshot taken at a specific time. What I do like is that the buyers and journalists do go back and look at the vintage once it's been bottled. You can for some wines in fact wait until the wines are bottled to buy them, but on the Right Bank that's not possible because of the size of production. We're talking about the average size of a vineyard on the Right bank being roughly four hectares and the average size in the Médoc being forty hectares. There's much more wine on the Left Bank than the Right Bank. But you need to go and taste the wines if you know how to taste young wines, and, you must learn to. It can be scary to begin with because you're searching and you don't really know what you're looking for, and then you must be able to translate that to customers. However, the best estates, the "blue chips" have a track record, a reputation that they have earned and work hard on preserving, so it is rare that the top wines let you down. Le Pin in Pomerol and L'If in Saint Emilion are always sold "En Primeur" because demand for these wines is so high. However, our organic Castillon estate, L'Hêtre, is only sold upon release, two years after the vintage as it is a more reasonably priced wine from a less prestigious appellation, notwithstanding its' potential and great price-quality.
Why should people buy the 2022? I think it's a very important vintage to show people that we may not have nailed it completely, but most producers have made delicious wines for long aging and we, and our vines, are going to survive. If you want to buy a beautiful vintage in the time of climate change, that has incredible aging potential, this is it.
That is a brilliant message to end on. Thank you, Fiona, for joining us today! We had a fantastic time visiting Le Pin during En Primeur and the wine is truly sublime.