En Primeur 2022 Releases: Château Cheval Blanc, Château Angelus, Château Alcée.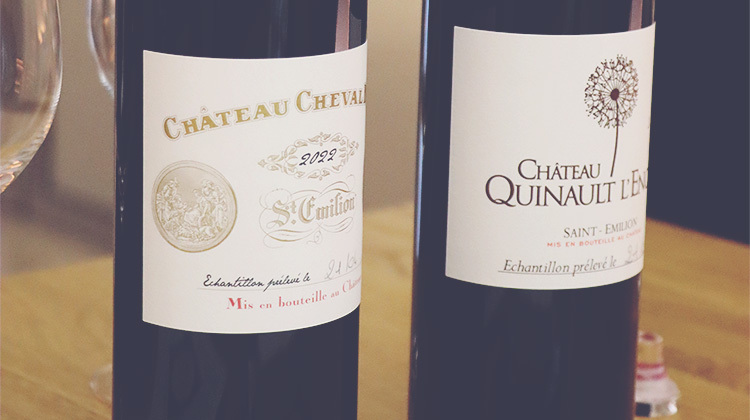 Bordeaux Index
9 May 2023
Today sees the release of Cheval Blanc 2022 at £5760 per case of 12.
Over the past couple of years Cheval Blanc have become known for nailing their colours to the mast early in the campaign, and 2022 is no exception. Keen to set the tempo rather than follow it (in more ways than one), the latest release is set to be one of the most sought-after wines from this vintage. This year there is no Petit Cheval made, since almost all plots were deemed of such exceptional quality to make it into the Grand Vin – it was just two plots of Cabernet Franc (12 & 13b) which didn't make it into the final blend. Yields were 27hl/ha and the final blend is made up of 53% Merlot, 46% Cabernet Franc, and 1% Cabernet Sauvignon.

"One of the stars of the vintage" William Kelley

An estate committed to sustainable and regenerative viticultural, the vineyards themselves are a thing of beauty. There are three pillars of what the estate calls 'anti-conventional' viticulture: agroforestry, vegetation cover, and polyculture. Through these tools the estate is working to nurture a fully sustainable and accountable form of agriculture. In a vintage like 2022, which depended so much on the resilience of the vines, the estate feels vindicated in this approach.
"So graceful, so singular, so Cheval" Lisa Perrotti-Brown

Around two thirds of the production is set to be released en primeur with the remainder of stock only released when the wine has reached its perfect drinking window as part of the new commercial strategy of the estate. The estate are investing in a new storage facility to age their stock, so the en primeur still represents the best chance to get access to the wine until a much later future release.
98-100pts James Suckling: "This is a wine that soars to new heights with its brightness and weightlessness. The balance of serene fruit that's perfectly ripe. Full-bodied yet tight and polished where it seems delicate and compressed, with berry, chocolate and walnut character. The finish is endless and poised. Wine of the vintage? 53% merlot, 46% cabernet franc and 1% cabernet sauvignon."
Cheval Blanc 2022 is on allocation only


Today we are also pleased to announce the release of 2022 Chateau Angelus at £4296 per case of 12.
Under the leadership of the de Bouard family, this great estate has been relentlessly pushing new heights. It is an estate that has invested heavily foremost in the vineyard under the leadership of Hubert de Bouard who directed the estate from 1985-2012. Under this time proper drainage was installed, rootstocks changes, plot by plot selection and more precise vineyard work helped carve out the reputation that the estate enjoys today. New cellars and a complete restoration of the chateau building was complete in 2014 and the estate started full conversion to organic in 2018.

"The fruits offer a level of purity and refinement that was not present in older vintages" Jeff Leve

Stephanie de Bouard-Rivoal, now in charge of the family estate writes "This vintage isn't just unprecedented, it's extraordinary, in the most literal sense of the word. We've named it the Majestic vintage, since its outstanding characteristics propel it into another domain, an unparalleled one. Perhaps never before in the history of the estate, have we come so close to the ideal of excellence that guides and inspires us. 2022 is beyond all comparison."
98-100pts Lisa Perrotti-Brown, The Wine Independent: "The 2022 Château Angélus is made up of 60% Merlot and 40% Cabernet Franc with a pH of 3.65. Deep garnet-purple colored, it prances out of the glass with flamboyant notes of red currant jelly, wild blueberries, cassis, and candied violets, followed by suggestions of jasmine tea, star anise, and crushed rocks. The full-bodied palate is impactful from first sip, yet slowly expands in the mouth, ultimately over-delivering on the nose's promise with layer upon layer of perfumed black and red fruits, supported by super fine-grained, silt-like tannins, finishing long and achingly shimmery."



Every vintage we find the occasional wine that punches way above its station and makes us take a step back, for its relative value, but mostly for its inherent quality.
And if there is one wine which wows us year in year out, Chateau Alcée must take the mantle as consistently brilliant over-deliverer. The excellent 2022 has been released at a preponderous GBP 152 per 12.
"Rich, lush, full and polished on the palate, with layers of sweet, ripe, juicy plums and dark chocolate with intensity and freshness" - Jeff Leve
Chateau Alcée was purchased just over a decade ago by Nicolas Thienpont, winemaking genius of the Thienpont dynasty that boasts Vieux Chateau Certan, Le Pin and L'If amongst others under its extensive auspices. A combined 6.5ha of old vine Merlot and newly-planted Cabernet Franc on Castillon's red clay and limestone plateau bring a sophistication and quality usually associated with St Emilion's finest terroirs. This, combined with Nicolas' exceptional experience and talent, makes for a brilliant wine that would doubtless sell for several times its price if issuing from its more prestigious neighbouring appellation.
"The 2022 Alcée is fabulous. Bright, racy and beautifully perfumed" - Antonio Galloni
This year the young vine Cab Franc didn't make the grade and thus the 2022 Alcee is 100% Merlot – just like its Pomerol cousin – a beautiful rendition of the grape variety that exudes restraint and exoticism in equal measure. This Le Pin of Castillon is one of Bordeaux's great bargains that's worth stocking up on for serious quaffing at a seriously giveaway price. You heard it here first!
Other Releases Today