An Interview with Jamie Morrison, The Glenturret Brand Ambassador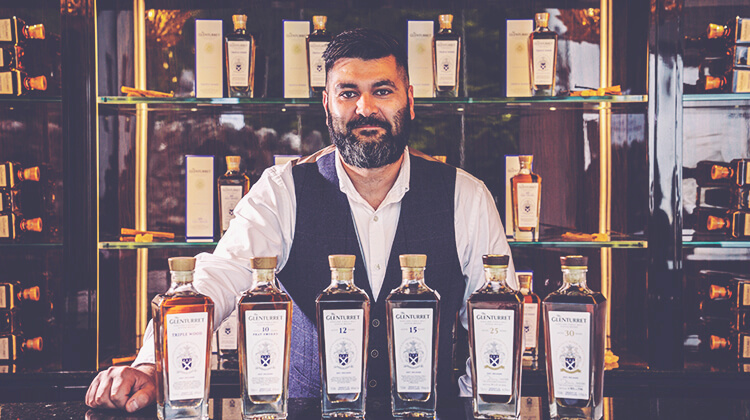 Jamie Morrison
22 February 2022
Join us as we interview Jamie Morrison who is brand ambassador for The Glenturret. Jamie tells us about his inspirations in the industry and explains the precision and passion that goes into each whisky.
Tell us about Glenturret and how it came about?
The Glenturret is Scotland's Oldest Working Distillery, a title we are incredibly proud and protective of. Being on the current site and owned by the Murray family since at least 1763, the distillery is nestled at the foot of the valley or "The Hosh" and is surrounded by trees in a stunning location. Despite the distillery having its fair share of feast, famine and flood, it has prevailed. This is testament to its courageous owners, dedicated distillers and we believe, its character. Everything we do at the distillery is underpinned by our values of Provenance, Prowess & Passion. We endeavour to continue time tested traditional methods of distilling, producing our whisky in an artisanal small batch way with a true passion for what we do.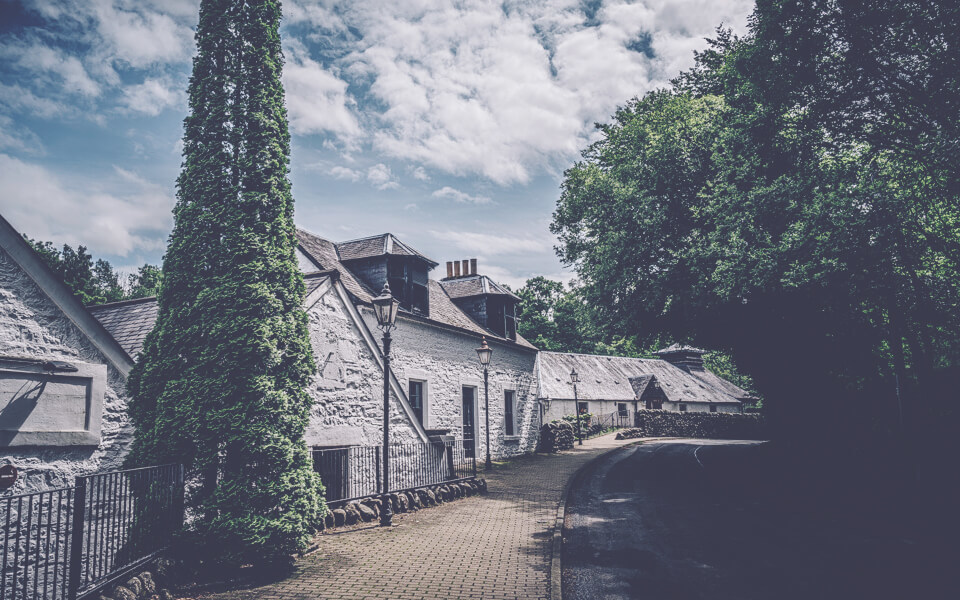 What makes Glenturret stand out compared to other spirits?
We produce, in the grand scale of distillation, a very small amount, roughly 215K litres of alcohol per year. This is done with no computers or electronics. We maintain tradition, paying homage to the long line of previous distillers who shared our passion for The Glenturret and an understanding that Its our responsibility to maintain the tradition into the future. We have a very long fermentation process, c. 90-100 hours which helps us to create a flavour profile of citrus notes and subtle sweetness. We distil incredibly slowly (c7-9 LPM) which helps us to create our distinctly delicate soft new make. We are incredibly ambitious; we want to take our whisky to new places to be enjoyed. Ultimately, we want to offer our visitors something truly unique from the moment they arrive in the car park to the moment they leave.
Tell us about yourself/yourselves and your background? How did you come to work for Glenturret?
I had finished university, having trained as a primary school teacher and studied Spanish, amongst other things! (I was a late bloomer to academics). I found myself working for a family in a restaurant and happened to take a phone call. You could say that phone call changed my life. The call was with the then GM of Glenturret who happened to mention he was looking for tour guides. I applied for the job, presented a 15m presentation on what whisky I would be. From there I was offered the job and the rest, as they say, is history.
Tell us about your key influencers and where your inspiration comes from?
In terms of key influencers, there are an incredible amount of talented people working in the drinks industry. Creating content & inspiring others is no easy feat so I take my hat off to those that do this as a full time job. I probably should do more on social media, however, I'd rather have my hands dirty trying to roll a butt out of a warehouse than worry about the insights of Instagram. That probably says more about me than it should!? Anyway, my inspiration… I'd say I'm inspired by many people in the industry, to name a few is tricky but here goes. Mark Thomson – Glenfiddich, is a true inspiration, for me he epitomises what it is to be a brand ambassador, he lives and breathes the brand. He's charismatic, intensely knowledgeable, personable and moreover he's a genuinely nice guy! He also is my man crush, Mark for Bond! I'd say another person who inspires me is Nicola Riske (European Macallan BA). She's incredible. Always learning, always sharing, a true fountain of knowledge. She's mesmerizing to listen to as the information just flows from her but in such an engaging way, you can't help but learn something every time you listen. Finally, If I'm allowed 3, I'm going to say that Ian Renwick, our Distillery Manager is the other person I find most inspiring. He's been at the distillery for almost 26 years, he is not just our distillery manager, he represents everything that is important to us as a brand. He's patient, he's respectful, he's humble & his knowledge and passion is incredible. Ian has taken on the challenge that came with new ownership in 2019 and has taken this in his stride. He ensured everyone on site was informed throughout the whole process. He's been invaluable to me as BA and I can't thank him enough for being there.
Tell us about your range and about Glenturret. How many spirits do you have and how are they different?
In our annual releases we have four whiskies which we refer to as the core range, beginning the Triple Wood, the introduction to our world. Moving into our 10 Years Old Peat Smoked, an alternative look at peated whisky through the lens of peat smoke. Our 12 Years Old, a rich and luxuriant single malt and finally our 15 Years Old which is all about paying respect to refill casks and their importance to us. We then have what we know as our extremely scarce range, incorporating our 25 Years Old & our 30 Years Old.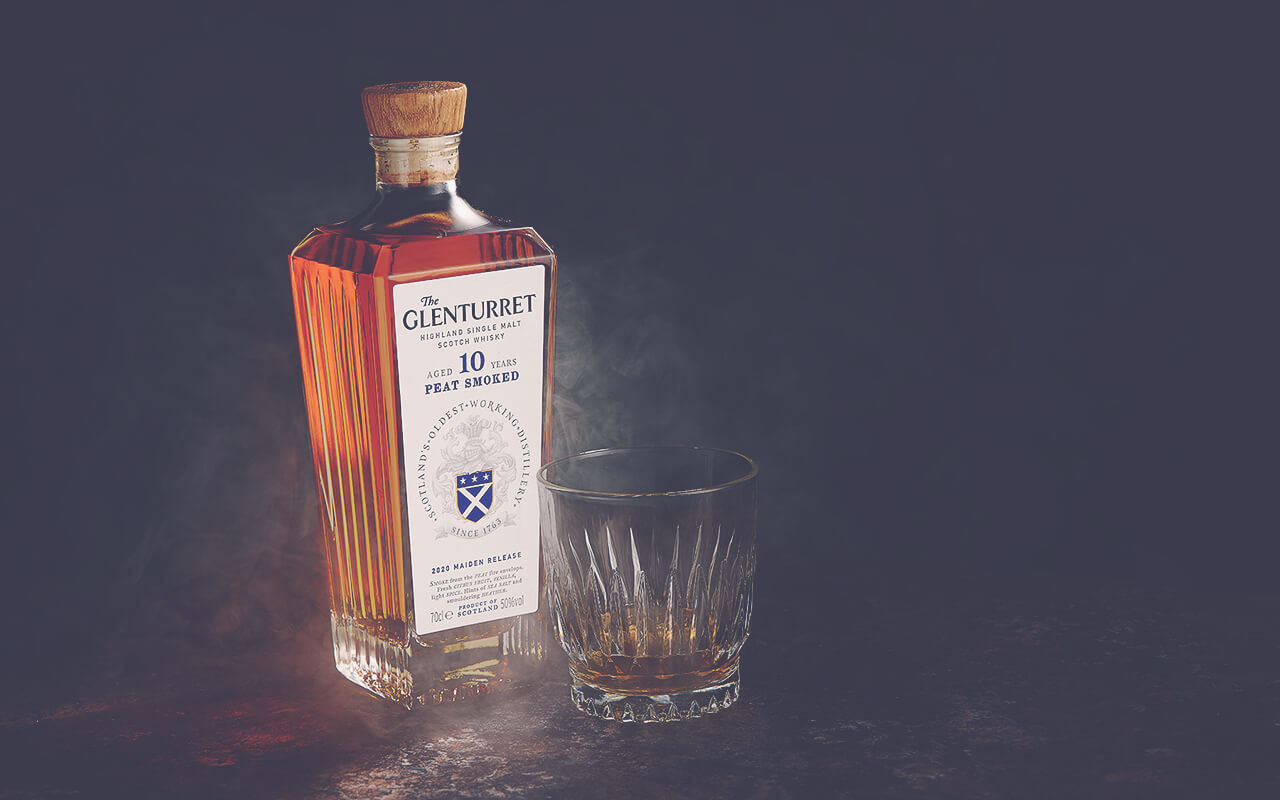 Which one is your favourite? Or do you tend to drink different spirits depending on the occasion or mood?
I don't think it's a secret that I love a smoky whisky, therefore it should come as no surprise that the 10 Years Old Peat Smoked is my favourite! It's the right balance of smoke and sweetness but I can still pick out nuance from our new make spirit so for me it's the perfect dram.
Tell us about the production process?
We, as Scotland's Oldest Working Distillery, produce everything manually, for us it's not only about maintaining the traditional art of distillation but celebrating this. I love that we do things slowly and with care and passion. It is something you can't teach; the passion can be nurtured but it's very much in who we are, and I believe that anyone you speak to on our team has that shared love for what we do.
How long did it take to conceptualise and perfect the spirit?
Although our spirit has naturally ebbed and flowed over our history, it has always remained the focal point of our teams throughout - to create the highest quality spirit we can in our unique and distinct way. There is no such thing (in my opinion) as the perfect spirit, it's a fine balance between spirit, cask and maturation. With our highly experienced skillset on site, we feel we are in a good position to get that balance right. Our only hope is that the consumer at all levels enjoy what we are doing.
How many bottles do you tend to make in one year?
In our 2020 Maiden release range, there were 44,000 bottles across all SKUS. Our 2021 Release increased to 77,000 bottles and our planned 2022 release will be roughly 117,000.