An Interview with Dave Worthington, Global Brand Ambassador for That Boutique-Y Whisky Company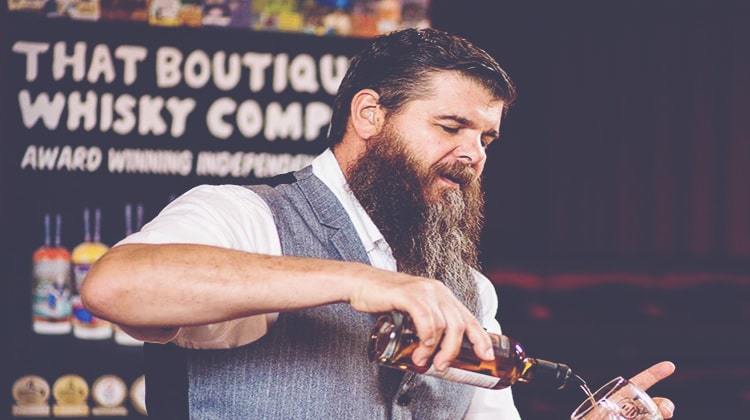 Dave Worthington, That Boutique-Y Whisky Company
30 August 2022
We sat down with Dave Worthington, Global Brand Ambassador for independent bottler That Boutique-Y Whisky Company, to discuss the passion behind the company and why they are different from every other independent bottler on the market.

Tell us about That Boutique-y Whisky Company and how it came about
Boutique-y Whisky burst onto the independent bottler scene in September 2012. We're celebrating our 10th birthday this year, and have some exciting plans to celebrate it! We launched the brand with arguably two of the most collectable of single malts; Macallan and Ardbeg, and two single malts from long lost distilleries; Port Ellen, and Caperdonich.
We're a group of passionate whisky fans, who simply wanted to bottle great whisky that we wanted to drink. While we started with Scotch whiskies, and have bottled whiskies from most of the single malt distilleries of Scotland, we have gone on to bottle great whiskies from right around the world. We've brought whiskies from distilleries that we've come across on our travels, which you might never come across yourself unless you've travelled to their markets.
What makes That Boutique-y Whisky Stand out compared to other independent bottlers
Right from the start we wanted to be a little different from every other independent bottler in the market. Our labels were the first significant departure from convention. We wanted to inject a little fun into the labels, moving away from the more traditional (and frankly quite dull) labels that we used to see. Whisky is about people, and the stories.
Every distillery has a story to tell, and we wanted to convey these stories in our labels. We teamed up with a freelance illustrator based in Glasgow, Emily Chappell, and gave her the briefs for her to bring our label ideas to life. Emily has been with us right from the start, and has illustrated every one of our labels. Every distillery has its own unique label that stays the same with each batch and tells a story. While the label stays the same, we do have one small change with each release of a label. It's often a very small change that you have to search for!
Each release is a small batch of individually numbered bottles. Some of them will be from a single cask, some of them could be from a vatting of casks. This really isn't important to us. The quality of each release is the most important factor to us. Also, some will be bottled at cask strength, and some will be brought down to a level that we feel presents the whisky best. While we never used to identify those bottled at cask strength, we do now, with a small gold triangle in the top left hand corner of our labels, marked with the letters 'NCS' which stand for natural cask strength.
Tell us about yourself and your background
Whisky was, and still is, a hobby. I fell in love with whisky after being introduced to it by my sales manager. My background is in engineering, and I started my working life as an apprentice in a shipyard on the south coast of England. I've built yachts in the Far East, and spent most of my working life in the marine industry until the financial crash in 2008. After falling in love with whisky, I started the Whisky Discovery blog, and with my daughter, we started a whisky club in our home town. We started hosting tastings, and helping out at whisky shows. Then in 2016 the opportunity to help out That Boutique-y Whisky at Whisky Live London came up. Following that show, I was asked if I could help out with the rest of their commitments for that year. That led to a full time role at the end of that year, and the rest, as they say…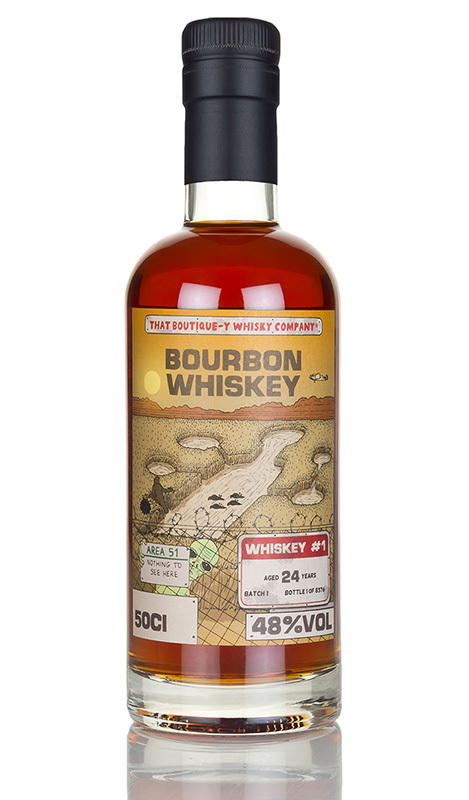 Bourbon has been distilled since the 18th century. The use of the term "bourbon" for the whiskey has been traced to the 1820s, with consistent use beginning in Kentucky in the 1870s. Although bourbon may be made anywhere in the United States, it is strongly associated with the American South and with Kentucky in particular.
Bourbon was recognized in 1964 by the United States Congress as a "distinctive product of the United States" so cannot be labelled Bourbon unless it has been made in the United States. Bourbon sold in the United States must be produced in America from at least 51% corn and stored in a new container of charred oak, and distilled to no more than 80% abv. Bourbon has no minimum specified duration for its ageing period, although there are rules for some bottling terms:

Age Statements - Age statement guarantees that the age of the whiskey is the youngest spirit used in the blend Whiskies under four years old must include an age statement. For whiskies over four years old this is optional.

Straight Bourbon - The whiskey must be aged at least two years.

Bottled in Bond - The whiskey must be from a single distillery, and from the same distilling season (October-June or July to December). It must be aged at least four years in wood containers and bottled at 100 proof / 50% abv
Sadly we're not able to name this distillery, but it is a Bourbon, and so we'll have to do some homework to establish which distilleries it could have come from! It was distilled in 1994 and spent 12 years of it's life in casks lying in Kentucky. These casks were bought, and shipped to the UK, and spend the remainder of it's maturation period in The UK - it's known as continental ageing, and is quite common with rum.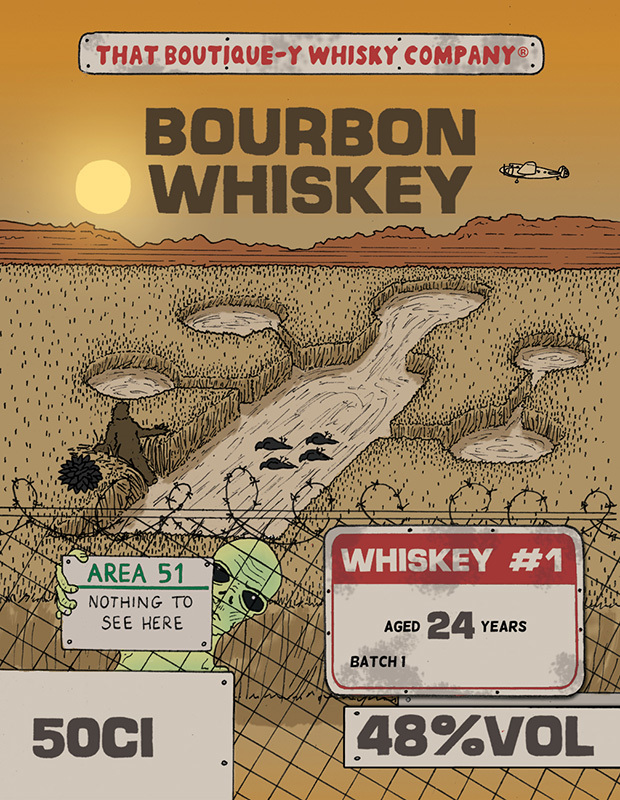 Tell us about this label
Firstly there are no clues on our label at all, and any similarities to current bottlings are purely coincidental!
Our label shows a peaceful scene at Area 51, complete with a sign saying "Nothing to see here", which has to be true. As we're unable to name this long-aged Bourbon Whiskey we've covered our label in a few of America's well-known mysteries. How many can you spot in our Area 51?
Let me help you…
Crop circles, including one that looks remarkably like a Boutique-y Whisky bottle. Others have pointed out that it looks a little more like a well known Bourbon bottle, and the four crop circles around the bottle could be roses (a clue, a red herring, or just a happy accident?)

That looks a little like a Bigfoot running into the cornfields.

The aeroplane represents American aviation pioneer and author Amelia Earhart who mysteriously disappeared somewhere over the central Pacific Ocean near Howland Island during an attempt to make a circumnavigational flight of the globe in 1937.

A Black Dahlia representing the mysterious death of Elizabeth Short, an American woman who was found murdered in Los Angeles, California. Her case became highly publicised due to the graphic nature of the crime, and she later became known as the Black Dahlia.

Mysterious dead birds, or are they old crows (another clue or a red herring?)

Oh and there's an alien hiding behind the Area 51 sign.
Tell us about your range
It's pretty vast, to be honest! However, that said it's quite small at the same time. Because each release is finite, once it's gone it's gone, and unable to be repeated. We have over 200 different labels covering all of the different distilleries and blends that we've bottled over the last ten years. Each 'batch' released from a distillery is unique, with some batches with a very low number of bottles.
To date we've bottled 77 of the 95 established single malt distilleries of Scotland. By established I mean those that were operating before 2005. Some of these are 'undisclosed' distilleries, where the distillery owners forbid us to name the distillery on our label. Some will be 'Teaspooned Malts' - blended malts from distilleries that won't release single malts to the market unless it's their own bottling; Balvenie, Glenfiddich, and Glenmorangie, for example. We've bottled a couple of the new Scottish distilleries too, there's 35 of them today.
We've bottled six of the seven operational grain distilleries of Scotland, as well as all seven of Scotlands' recently closed grain distilleries. We've also bottled some of Scotland's 'lost distilleries' closed from the early 1980s including Port Ellen, Rosebank, and Littlemill.
But as I mentioned earlier, it's definitely not all about Scotch Whisky. We're fully aware that there's a whole world of whisky out there, and we're constantly looking for tasty world whiskies to bottle and bring to whisky fans.
We've bottled whiskies from right around the world; Australia, New Zealand, Japan, Taiwan, India, South Africa, England, Ireland, Wales, Israel, France, Germany, Austria, Denmark, Sweden, Finland, Canada, and American Bourbons, Ryes, and Corn whiskeys.
All of our whiskies are small releases, usually from one or two casks. However in 2018 we released our first continuous product. Our World Whisky Blend has been designed with the world in mind. A harmonious blend of whiskies from across the breadth of planet earth, to achieve a truly global flavour. The blend includes whiskies from: Scotland, Canada, Ireland, Sweden, USA, Switzerland, Netherlands, Taiwan, India, Italy, Germany (Bavaria), France, Japan and Finland.
While beautiful neat, this blend was inspired by Dave Broom's book 'The Manual'. It has been designed to be mixed seven different ways, to celebrate the way the world really drinks whisky.
Which one is your favourite? Or do you tend to drink different spirits depending on the occasion or mood?
Whenever I'm asked which is my favourite whisky, my reply is "usually the next one!" I can't name just one, but if you ask me to name five of my favourite Scottish distilleries, I could give you an answer. It might change from time to time, but most are in the Speyside region, and one is a west coast island distillery. As for favourite world distilleries, can I pick one, or two from each country?
Tell us about the production process?
At Boutique-y Whisky we're bloody passionate about whisky, and as independent bottlers we're only as good as our last release. This is why we spend so much time searching for the right casks to bottle under a Boutique-y label.
We're always asked where we get our whiskies from, and there are three key sources. We have very well connected, and experienced buyers who play a crucial role in the whisky team. It really stems from our relationships over 15 years in the whisky industry within the ATOM Group. Not everything we buy makes it to a Boutique-y Whisky label. Boutique-y really is the pinnacle of what we purchase.
The key points we endeavour to get across with every bottling is why we have selected each particular release. The bottom line though, is because we love it!
We get our whisky from three sources:
the distillery itself.

private collectors.

whisky brokers.
While it's not always easy to deal directly with some of the single malt distilleries of Scotland (many are owned by large corporations), it is something we have been doing with a number of them over the years. New doors have been opening for us too as we establish ourselves as an independent bottler of repute. It is however, something we have been doing with the new world whiskies since our first non-Scotch release back in 2014.
We are constantly seeking new discoveries and we regularly approach distilleries to see if there's the possibility of working together. Our reputation is such that nowadays we are often being approached by some of these new world distilleries. Why? Well we can open new markets for them by introducing their distillery to a region where they're not known yet.
A lot of our old releases have been bought from private collectors. The Scotch Whisky industry was in a bit of turmoil in the 1980's. 30 distilleries closed between 1980 and 2002, a further couple were lost after 2002 too. Quite a few distilleries were mothballed for a number of years, and those that were able to stay in production, reduced capacity by working a shortened working week. The only upside of this was that there was plenty of malt whisky to sell at the time. Many distilleries sold casks of new make spirit to private individuals during this period. In addition, as distilleries were brought back into service, casks of new make spirit were sold to private individuals to raise cash for these new businesses. These privately owned casks have been coming on to the market and we are regularly approached by cask owners for either whole or part sales
While the majority of the single malt distilleries have strong brands, there is still a requirement for their matured whisky in blended Scotch Whisky. There are also around 20 distilleries without their own label, and almost all of their production is destined for blending. Casks filled for blending are known as 'Fillings' and a variety of casks are used, often with little interest in the cask origin from the distilleries. They will just be looking for a number of casks, 1st fill / refills. These 'fillings' are traded in the marketplace amongst whisky brokers. We select the choice casks from these stocks of fillings in the whisky marketplace. We're looking for examples that shine out from our nosing and tasting of selected cask samples.
How many bottles do you tend to release in one year?
We are planning to release four outturns each year with announcements in or around February, May, August, and November.
Each announcement consists of a 'headline' collection of whiskies, tied to a theme, alongside a collection of Scotch whiskies. With each bottling of around 300-350 bottles, it will be somewhere in the region of 20,000 bottles a year over 60 different distilleries. In addition we do a number of exclusive bottlings for our partners around the world.
Our recent headline collections have been:
World Series - August 2020 - A collection of whiskies from around the world!

Rye Series - November 2020 - A collection of nine rye whiskies from the US and Europe

Australia Series - April 2021 - A collection of nine whiskies from down under.

Home Nations - August 2021 - A collection from England, Ireland, Scotland, and Wales

Wine Cask Series - November 2021 - A collection of whiskies from around the world that were either fully matured, or finished in wine casks

Norwest Euro Express - February 2022 - A collection of rye and malt whiskies from across North Western Europe

Boutique-y Records - May 2022 - A collection of Scotch Whiskies with a music theme

And announcing on September 12th our 10th Birthday Collection - A collection of some of our favourite distilleries from around the world, and a selection of five long aged Scotch whiskies with some rather spectacular labels!
Check our blog for the latest update!