An Interview with Gillian Macdonald, Head of Analytics & Whisky Creation at Glenmorangie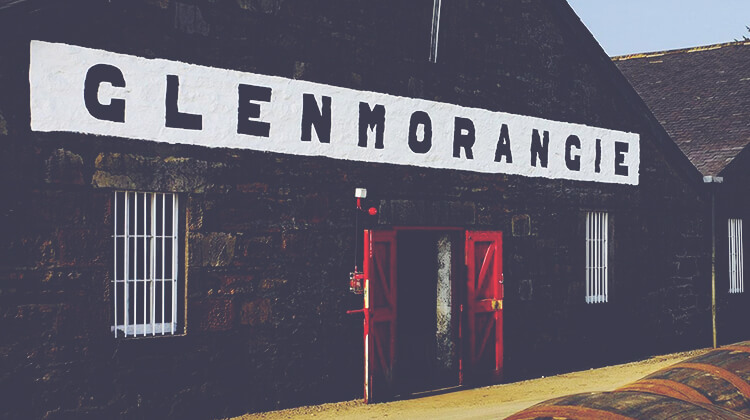 Gillian Macdonald
3 January 2022
We sat down with Gillian Macdonald, Head of Analytics & Whisky Creation at Glenmorangie and discussed the intricacies involved with creating a Glenmorangie whisky, the importance of flavour and innovation, and exciting new projects including the recently launched Glenmorangie Lighthouse.
Tell us about Glenmorangie and how it came about?
Glenmorangie has been distilling for 178 years on the banks of the Dornoch Firth, near the village of Tain. The brand was established in 1843 by William Matheson and his wife Anne. Originally it was a brewery that was consequently converted into a distillery, the beer was of very good quality, indirectly making great whisky. The distillery's water source comes from the fresh water Tarlogie Springs and unusually for Scotland, the springs produce hard water which is a significant point of difference for Glenmorangie and these various characteristics make it the perfect site for whisky! Over the years we have explored flavour and expanded our offerings of Glenmorangie and also become more and more experimental. Today we see ourselves very much as an innovative brand trialling new ideas and flavour combinations, creating unique delicious whiskies.

What makes Glenmorangie stand out compared to other spirits?
I think there are three main points I need to touch on to answer this question.
Firstly, we have extremely tall stills, the tallest stills in Scotland. The necks alone are 4.1m in height, they are magnificent, I have to say it is a real wow factor when you see them. Our spirit animal is the giraffe and that is because the male giraffe is the same height as our towering stills necks so that will give you an idea of how tall they are. The tall stills mean that the spirit produced during distillation is an elegant, fruity and smooth spirit and once matured in oak makes for an easy drinking delicious whisky, which is what we are renowned for. There is a huge amount of flavour in the newly distilled spirit due to the size and shape of our stills and this stamps our signature style as Glenmorangie into the spirit as very approachable, elegant and clean. Other distilleries use shorter stills and have different shapes and this gives vastly different characteristics and style.
The second point is the variety of flavours in our range is extensive. We transverse across all different flavour options. With all our whiskies there is a common theme which harks back to the tall stills and characteristics these bring; however, the flavour spectrum is diverse. We have tried to create flavour combinations and products which offer a range of profiles.
The third point is our inquisitive nature and continual pursuit of flavour. When we are creating new products we are always asking "what if..?", "how could we get to that flavour?" We are always pushing the boundaries of what we can do. It boils down to the fact that we are geeky scientists! We are really into the creation and experimentation, and we wear it as a badge of honour. Whether we are changing ingredients and processes at the front end or changing methods and finishes with the wood maturation, each change results in unique flavours and expressions. The experimentation side is so important to us that we have launched Glenmorangie Lighthouse, a ground-breaking innovation distillery where we can continue to experiment and push single malt boundaries. The idea behind the Lighthouse is that it is a place to explore sensory experiences and experiment with new creations.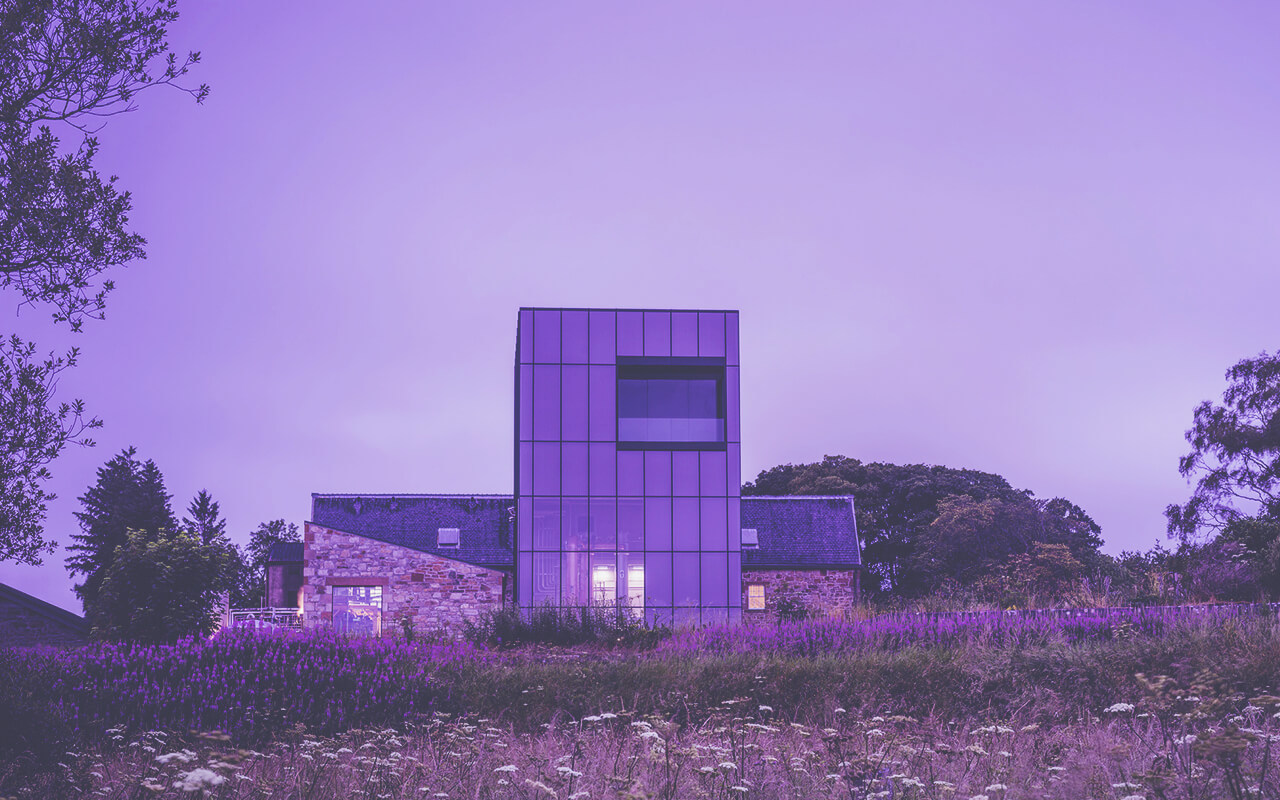 Tell us about yourself/yourselves and your background? How did you come to join Glenmorangie?
I am a chemist, I graduated from Cardiff University with a Chemistry degree. Then I went travelling for a year after uni and I didn't know what I wanted to do at that point! I started my whisky journey in 2004 when I joined Penderyn Distillery. I started as the trainee distiller under Dr Jim Swan and worked under his guidance and supervision. My role grew quite rapidly to include the sensory aspects of nosing, tasting and blending. Jim taught me everything about distilling and making the spirit itself. I was there for eight years and then I joined Glenmorangie in 2012. The inquisitiveness, exploration and pursuit of flavour was what really appealed to me about Glenmorangie. My role now consists of ensuring the new spirit and core recipes are how they should be, my team do all the nosing, tasting and adjustments that are required throughout the whisky-making process before it goes on to the market. I spend the majority of my time working on the limited releases including Glenmorangie Barrel Select Reserve Cognac Cask Finish 13 Year Old. Another big part of my role is looking at the future of Glenmorangie and projects such as launching Glenmorangie Lighthouse.

Tell us about your key influencers and where your inspiration comes from?
I have been making whisky for about seventeen years now. I get inspiration from pretty normal things, to be honest, it is often something I have had to eat or drink that inspires me or something I hear about from someone else that they have had and loved. In terms of inspiration on the production side, there is a lot of research and development currently happening in the industry which gives us more opportunity to create something new or do something slightly different. However, we always need to keep in mind the Scotch Whisky Regulations which we must abide by. In terms of key influencers, working for Dr Bill is incredible, being able to learn from him is invaluable and I also love brainstorming with the team. Aside from human influence, the environment is a huge influence for us, we launched a very successful sustainability initiative repopulating oysters in Dornoch Firth. This has now been rolled out to a further 15 European countries where we are helping conservationists and scientists restore oyster populations. The aim to get to net-zero and our environmental policies are a big consideration and influence in our whisky production.

Tell us about your range at Glenmorangie. How many spirits do you have and how are they different?
At Glenmorangie we have our core range and limited releases. Whiskies in our range always follow the Scotch Whisky regulations and every whisky is benchmarked against our flagship spirit -Glenmorangie Original.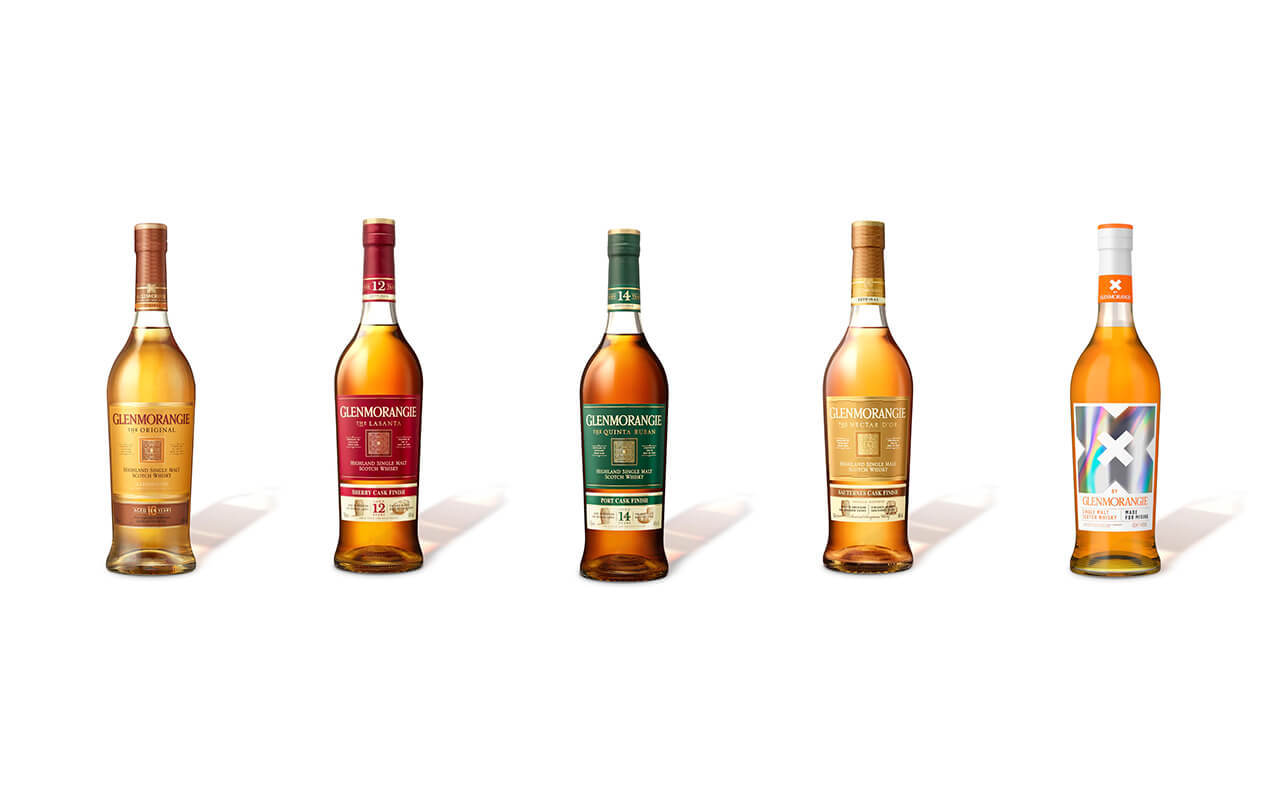 Our core range comprises The Original Ten Years Old, which is the spirit that epitomises Glenmorangie, matured in ex bourbon casks. It displays all the elegance from the tall stills and is matured for ten years in American white oak casks. The Original contains signature flavours of mandarin, peach, coconut, toasted caramel and almond flavours. The Original is always the starting point, from there you can pivot through the core range.
Next is Lasanta, at 12 years old, this has had a further two years of maturation in Oloroso and Pedro Ximenez sherry casks and is rich and spicy.
Quinta Ruban, at 14 years old, is matured first in bourbon casks and then finished in ruby port pipes giving dark chocolate, mint routes.
Nectar d'Or is matured in bourbon followed by Sauternes wine cask giving lemon, meringue, patisseries style flavours.
And finally, X by Glenmorangie is the newest addition to our core range and give flavours of orange sherbet, vanilla and fudge from the bourbon and new char oak casks.
Each of these expressions come in at different ages. At Glenmorangie we are not so driven by age, we are driven by flavours.
Alongside the core range, we have our prestige expressions and limited editions. Limited releases are usually one off's and if they really fly then we might tweak them slightly to create a slightly different version of the release and continue the production. For example, our Azuma Makoto x 18 Years Old floral whisky which has been matured in bourbon casks, at 15 years we take a portion of the liquid out and mature it in Oloroso casks. The two liquids are then recombined at 18 years old, producing a very elegant, sweet and floral easy drinking whisky.
The top of the core range is Glenmorangie Signet. We use a high roast chocolate malt which produces a very different style of spirit from our giraffe high stills to our usual spirit with notes of coffee, chocolate, mocha, tiramisu flavours. It has been matured in a range of different casks, and combines different ages of whisky, it is one of our most complex recipes. The result is just and explosion of flavours, it is like drinking velvet, it is a phenomenal whisky with bursts of bitter mocha and sizzling spices combined with dark chocolate and smooth butterscotch. It is a totally different experience and was inspired by Jamaican Blue Mountain Coffee which is Dr Bills favourite coffee!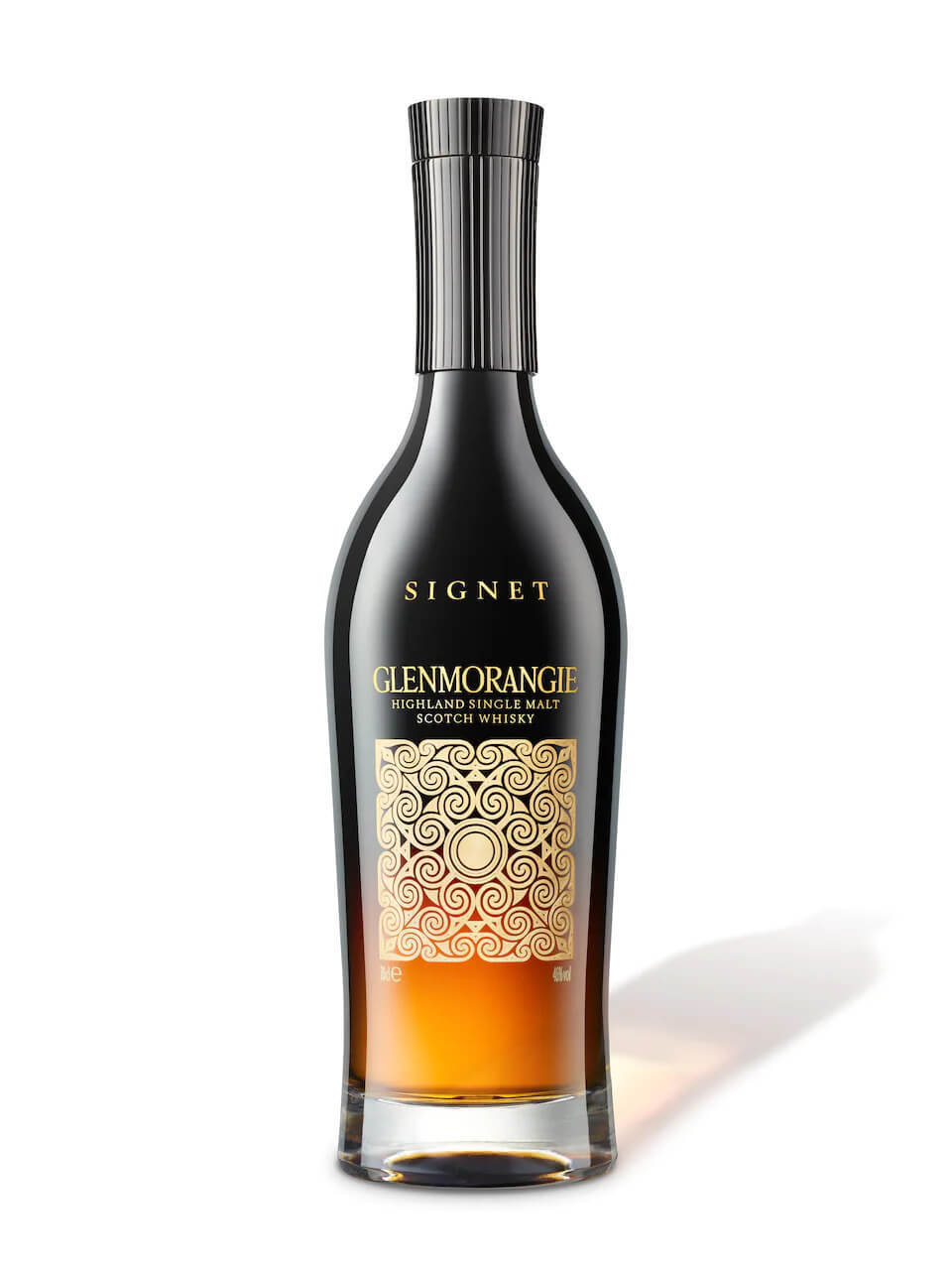 Which one is your favourite? Or do you tend to drink different spirits depending on the occasion or mood?
I would say The Original is my favourite, it is simple but encompasses everything we know and love about Glenmorangie.

How long did it take you to conceptualise and perfect the spirit?
That is a tricky question as it depends on what you are aiming for! I know that we strive to do our very best in the Whisky Creation Team to ensure our whiskys are the best in the world and the best they can be……we think we achieve perfection and then we go one more! Instead of the pursuit for perfection I look at whisky creation as how can I improve on what we have now? What new direction will allow me to create a new flavour or whisky…….I also love imperfection – some of the best learnings I have had making whisky is when things don't go well or to plan – these times sometimes yield some real surprises good and bad. I suppose you must be willing to keep trying. Wonder, let your instinct & taste buds guide you.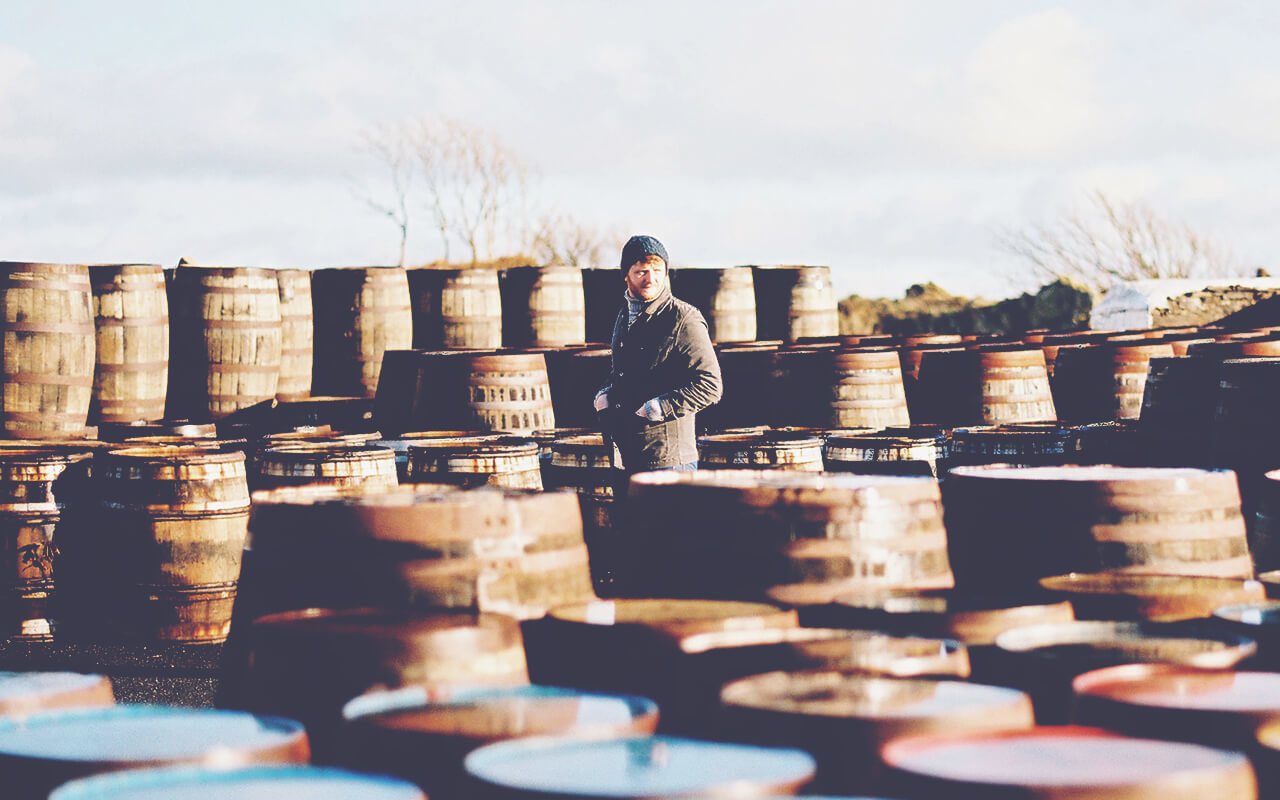 The majority of spirit we distil go into ex bourbon casks, that is our steady state. We can then choose to change the direction of flavour from there on in. If we decide to change something at the front end of the production process, like Signet, where we changed the malt type this takes much longer than if we decided to change something in the maturation process. This is because by law you have to have the spirit in wood for three years before it can be called Scotch whisky. So I suppose the answer to this is it could take six months to a year if we are changing the maturation process and anything from ten-forty years if it is a change in the front end production.