The story behind Bollinger R.D. and the highly anticipated 2007 vintage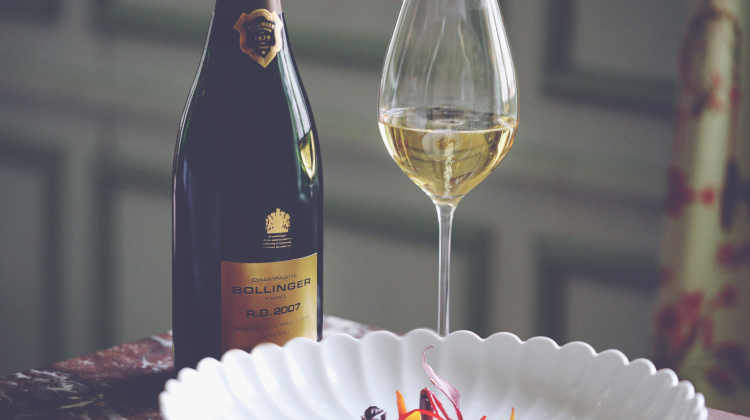 Bordeaux Index Team
9 March 2021
One of the greatest of all the Champagne dynasties, Bollinger have just released their highly anticipated R.D. 2007 vintage. Described as Bollinger to the core, the R.D. Cuvée, standing for Recently Disgorged, focuses on the true essence of Bollinger Champagne; it's signature taste. For the R.D., this is encapsulated by the contrast between a wonderful freshness and the exceptional aromas of a mature vintage.
---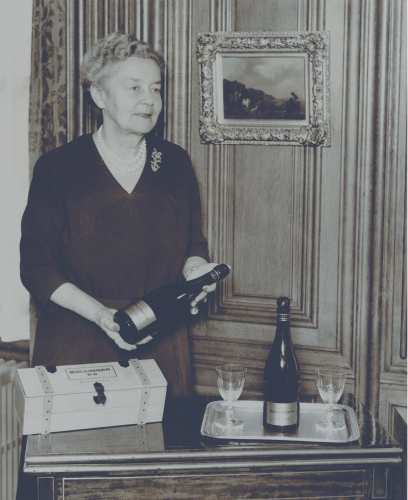 The story of Madame Bollinger

The story behind Bollinger R.D takes us back to the mid 20th century and the pioneering spirit of Madame Bollingers, a phenomenal woman ahead of her time. Whilst many other Champagne houses were focusing on increasing their portfolios and adding yet more prestige cuvée's to their repertoire in the 50's, Madame Bollinger had another idea. The story goes that after a delicious dinner at one of the many houses located along L'Avenue de Champagne in Épernay, guests would descend into the cellars to find a mature bottle of Champagne and disgorge the bottle there and then to enjoy with friends that very evening. With her astute business head on, Madame Bollinger had the bright idea that this would be a wonderful experience to share with her customers and it was in that moment that the foundations of Bollinger R.D. were laid and it was time to put the wheels into motion.


Bollinger is Born
In a bold move for the time, Madame Bollinger made the decision to look back through exceptional vintages and hold back the very best for more time on lees. Right from the very first vintage, Bollinger put the date of disgorgement on the bottle, unheard of at the time. Madame Bollinger set about creating a completely original tasting experience, with the aromatic intensity of the finest vintages contrasting with a fabulous freshness on the palate. This being a result of the natural acidity of the grapes during harvest underscored by the Extra Brut dosage. And so, the legendary Bollinger R.D. was born, "R.D. is the ultimate expression of rarity: with very few vintages reaching the desired standard to be an R.D. cuvée. Each vintage is limited in volume, with every bottle riddled and disgorged by hand."" Champagne Bollinger. Just twenty five vintages of Bollinger R.D. have been launched prior to the 2007, the very first being the 1952 vintage released in 1967.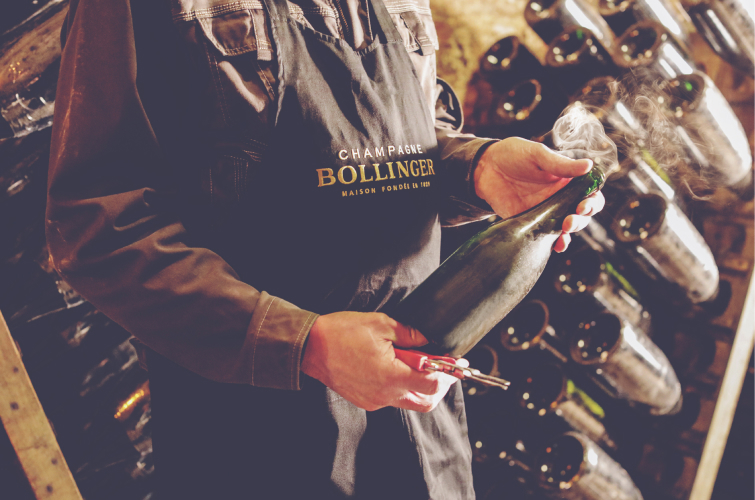 When many Champagne houses started creating unusual bottle shapes in the 60's, Madame Bollinger remained true to her style and bucked the trend, keeping the traditional bottle shape. Unsurprising since she already had a bit of a reputation for not following the beaten path. This classic bottle style is still used for the Bollinger R.D. today, maintaining the focus solely on the tasting experience.


Now let's move on to the latest release...
Bold just like its creator, this vintage would make Madame Bollinger proud. Authentic and timeless, the 2007 is everything you would expect from a Bollinger R.D. Paying homage to R.D.'s roots the 2007 label has been redesigned using its original aluminium alloy material, with lettering in the legendary 1952 font and of course, the date of disgorgement appears once again.


2007 Vintage: Bold & Vibrant
Charles-Armand de Belenet, General Manager of Champagne Bollinger, commented "The 2007 vintage of the R.D. cuvée embodies the House's dedication to hard work and Madame Bollinger's vision. It underscores our belief in the authenticity of our expertise. The contrast between freshness on the palate and the spicy aromatic intensity of Bollinger R.D. 2007 brings a new experience of the cuvée to lovers of fine wine."


Tasting Notes
The 2007 Champagne harvest was of exceptional quality and one of the earliest for a century. The contrast between the intensity of the spicy aromas, the notes of fruit, brioche and honey, and the Champagne's freshness make for a rare tasting experience. It is vibrant in appearance, with intense amber glints, to the nose, where spices are revealed in many different forms and on the palate, revealing notes of white plum, walnut and aniseed. The vintage is made up of 70% Pinot Noir, 30% Chardonnay and 14 crus, including 91% Grand Crus and 9% Premier Crus. - Champagne Bollinger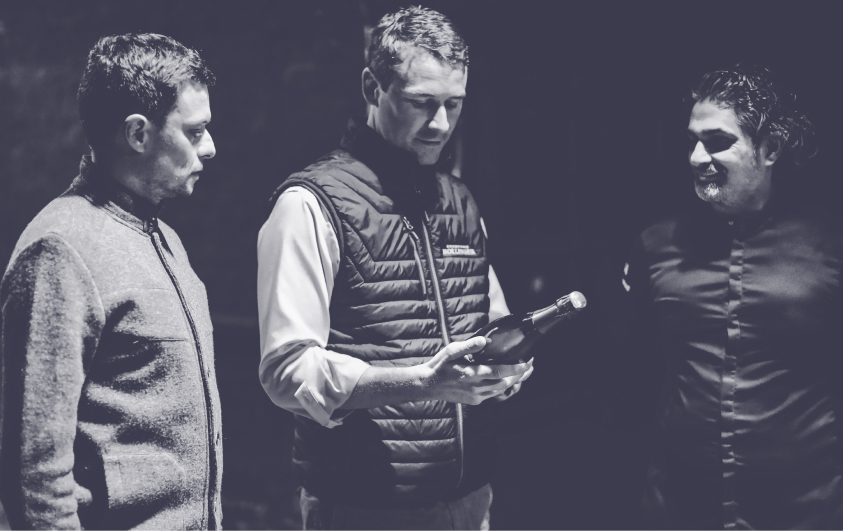 "The nose is very complex. It starts with ginger and caraway and evolves into notes of golden raisins, yellow apple and brioche. The palate is very clean and focussed and displays notes of white plum and walnut. It has great energy and tension. This is an extremely fine and elegant vintage of R.D. that will go a very long way." - Bordeaux Index


Critic Reviews and Scores
Antonio Galloni 97 points
Bollinger's 2007 R.D. is superb, but it is also a wine that reflects the nature of a unique and challenging growing season. In most vintages the R.D. is marked by the distinct creaminess and breadth of Aÿ Pinot Noir. Two thousand seven, though, was a difficult year marked by very dry weather, rain at the end of the growing season and an early harvest in August, something that was not as common as it has become. Selection was essential. For the 2007, the blend is composed of just 14 villages compared to the more typical 18-25. Verzenay is the main Pinot component while Cramant plays the leading role in the Chardonnays. For these reasons, the 2007 is an R.D. driven by more focus, energy and tension than readers are used to seeing. Lemon confit, dried flowers, sage, mint, crushed rocks, almond and ginger are some of the aromas and flavors that give the 2007 its complex, multi-faceted personality.
The 2007 can be enjoyed now, but I would prefer to cellar it for a few years. It will age effortlessly for decades as it moves through the various phases of its life. I was reminded of the way Champagne can magically traverse time by magical bottles of the 1976 R.D. and 1996 Vieilles Vignes Françaises I tasted recently. The blend is 70% Pinot Noir and 30% Chardonnay, 91% Grand Cru fruit and the rest Premier Cru. Bollinger fans will notice the return of the original label, with the disgorgement date clearly visible, a tribute to Madame Bollinger, who was a pioneer in so many ways. Disgorged: July 10, 2020. Dosage is 3 grams per liter.
William Kelley 97 points
Disgorged on July 10, 2020, with three grams per liter dosage, Bollinger's eagerly awaited 2007 Extra-Brut R. D. is beautiful, unwinding in the glass with aromas of crisp orchard fruit, citrus pith and white flowers mingled with hints of honey, orange oil, buttery pastry, English walnuts and delicately spicy bass notes. Full-bodied, vibrant and incisive, it's unusually elegant and structurally fine-boned for what is routinely one of Champagne's more muscular tête de cuvées, with a bright spine of acidity that's cloaked in vibrant, concentrated fruit, complemented by a pearly pinpoint mousse and concluding with an intensely sapid finish. Long and penetrating, this is a tightly coiled R. D. that will reward bottle age.
The fruit of an early harvest, beginning on September 1st, Bollinger's superb 2007 R. D. is an unusually delicate, fine-boned rendition of this habitually muscular cuvée. An additional seven years on the lees has brought additional textural and amplitude to the acid spine that was already evident in the 2007 Grande Année, and the slight loss of pressure during aging on cork makes for a more refined, pearly mousse that complements the wine's enhanced texture and amplified sapid nuance. Fermented in used oak cooperage, with tirage under natural cork and disgorgement without added sulfur dioxide (but now with jetting to ensure consistency), it's one of the few tête de cuvée bottlings still made very much as it was 40 years ago. While I don't tend to comment on packaging, Bollinger's decision to revive the tasteful aluminum label that graced this cuvée's debut 1952 rendition, when the redoubtable Madame Lilly Bollinger still presided over this house, does underscore what is a real and not merely superficial commitment to artisanal traditions.
Essi Avellan MW 96 points
2007 is a rather scarcely declared vintage and not one recognized for its Pinot Noir, yet Bollinger have managed to create something so fresh and delicious from it. Its secrets are in rigorous selection and in unusually high proportion of crunchy Verzenay fruit (29%). Glossy evolving lemon colour. The coolly fruity nose comes with golden raisins, yellow apple, orange zest, juniper wood and ginger. The spiciness gets enhanced over time in the glass. The palate has rare energy and tension for an R.D. , really driven and pure. The palate is still tight and reserved, palate cleansingly dry. Seems like a really slowly ageing R.D. worth cellaring. A great call from the winemaking team to release this La Grande Année vintage as R.D. (bottle disgorged 10th July 2020).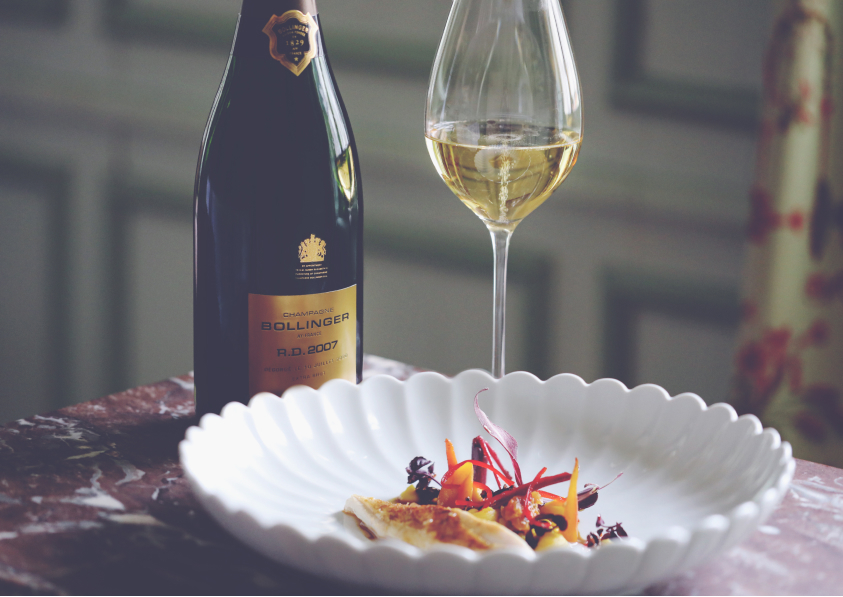 Saffron and R.D. 2007
Madame Bollinger was famous for recommending that sommeliers taste her Champagne with a meal and for this particular vintage it is saffron that has been selected as the perfect choice to enhance this very special cuvée, due to its rarity and scarcity. The particular varietal grown by the Corsican producer Sylvain Martinez Ciccolini has been used to pair dishes created by the two Michelin star Dutch chef, Soenil Bahadoer. We recommend serving a fillet of halibut in a saffron crust with this exceptional bottle, to really make this Champagne sing.