A Day in The Life of Ian Kellet, Founder and Managing Director of Hambledon Vineyards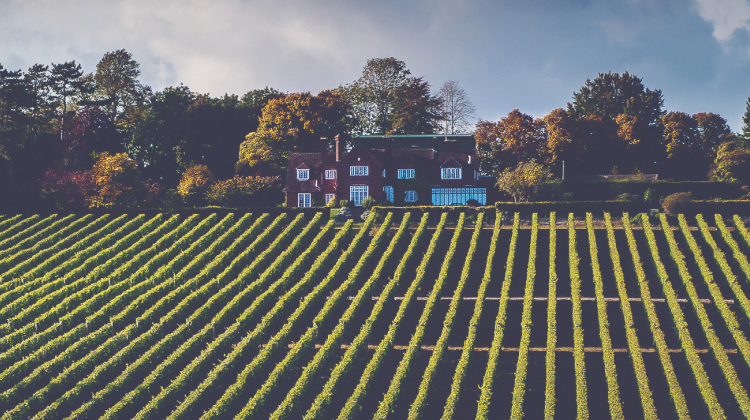 A talented biochemist, accountant, vigneron and entrepreneur, discover what Ian Kellet, Founder and Managing Director of Hambledon Vineyards does on a daily basis. With such a wealth of experience and knowledge in so many sectors, Ian ends up turning his hand to almost everything at Hambledon. We sat down with Ian and discussed his 'normal day' and most memorable moments running England's oldest commercial vineyard.
My alarm goes off at...
My three month old daughter just started sleeping through the night, so my wife and I are lucky to make it to 6-7am. We divide and conquer – I get my 2 year old ready for breakfast while my wife takes care of the baby. A cup of good coffee makes everything possible. I don't have breakfast until 2-3pm. On winery days we usually start tasting at 0830 or 0900, starting with Base wines first. The vins clairs for English Sparkling wine can be brutal and it can be a palate shock as a wake up, but after the first tank sample we are in the zone.
My commute is...
For 10 years I woke up at 4.30am in the morning to commute to London from Hambledon, to get to my desk at Kleinwort Benson before the stock exchange announcements were released daily at 0700. It was brutal. Today however our house sits on top of Windmill Down, where England once played cricket beneath our vines, with the vineyards in front and around the house which overlooks our 'Home Vineyard' plot, and the winery is behind. Not much of a commute for me now...
I'm responsible for...
Biochemist by education, accountant by qualification, vigneron by hard work over 2 decades, entrepreneur by aspiration, sparkling wine palate by hard experience….(shame, poor me) - I end up doing pretty much everything.
My typical day...
Most days are glued to a PC writing email and words, but at least looking out at the vineyard. It's just like running any SME from that point of view, and it's hard work. BUT...... some days I take out of the office and get to go round all of our vineyards on foot, with our Ridgeback, or when I can spend days with our wines and the winery team, thinking, tasting, planning – they are the fun days that make it all worthwhile. I try very hard to go into the vineyards every day, even for just 30 minutes, but the winery needs a more concentrated focus; close everything else out and focus on the wines.
My most memorable moment...
Family moments, the birth of my children and my Buddhist Temple wedding to my wonderful wife. Oenologically, tasting the first juice coming off our new Coquard PAI 400 in 2011. Winning Noble Rot 2015 tasting was a big moment and the 2020 tasting was another!
What I am most proud of...
Honestly? My wife and kids for putting up with me! Putting the family through penury whilst I develop this vision to show what England can do in the wines world. Also, I am so proud of our wines – they are like a gift from God for all the hard work we have put in over the last 20 years; the studying, the sacrifices, the frost battered mornings that feel like bereavement, the funding challenges and the many, many other battles that have had to be fought.
What would your Plan B have been?
I was once commissioned by a leading French drinks group to create from scratch a whole new Champagne brand for them – hard to believe but there it is – they even paid me some money – but it did not proceed in the end. I would think buying a small Medoc vineyard and continuing to work in the city would have been the other route in my life, but Hambledon is both much harder and much more interesting. I never really intended for Hambledon Vineyard to take over my life the way it has, but if you want to really succeed at something you have to be totally dedicated to it.