An interview with Fiona Morrison MW, Managing Director at Domaines Jacques Thienpont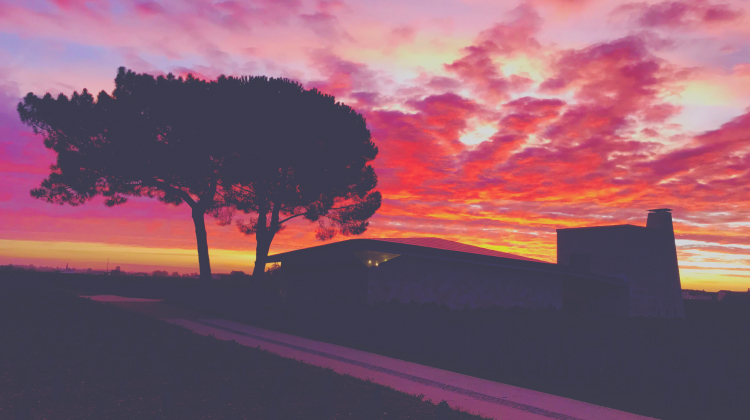 Fiona Morrison MW
7 May 2021
We had the pleasure of talking to Fiona Morrison MW, who with her husband Jacques Thienpont is owner of prestigious Thienpont estates Le Pin, L'If and L'Hêtre, home to some of the most celebrated wines in the world. Fiona gave us some insight into the vineyard and winery processes and techniques they use to create such sublime and globally loved wines. Fiona gives her opinion on the 2020 vintage and the incredible freshness that has prevailed through the wines.
Tell us about the 2020 vintage
We have never had a trilogy quite like this; the 18, 19, 20 is really special. Considering how hot and sunny it was, with temperatures reaching 40 degrees at times, this is a fantastic result. August was actually quite cool and quite dull, which was great for the vines because it calmed everything down. It was quite interesting because the Left and Right Bank here in Bordeaux experienced different weather conditions. The Left Bank had quite heavy rainfall and big storms in mid-August, whereas the Right Bank did not receive much rain at all.
Similar to 18 and 19 we had a wet winter followed by a hot, dry summer. This was certainly the case in Saint-Émilion: where it remained dry until the rains came during the weeks of the 14th and 21st of September which reduced alcohol levels by almost a whole degree. Before the rain the skins were thick and the berries were small - the rain swelled them out a bit but in fact there was no dilution at all.
Our grapes were perfectly healthy, so our selection tables were pretty useless! We barely needed them. After the rain we had on 19-20 September, we resumed picking on the 21st and everything was fine, the grapes were cooler and the dust had been washed off.
You could compare the 2020 vintage to the 2016 although we know that the vine tolerated the heat better in 2020 than it did in 2016. The vines are beginning to understand climate change. We are seeing the same sort of survival mechanism that they have after a year of bad frosts. If you look back to 1992, the vine compensated for the frost in 1991 by producing a large crop the next year, mainly based on secondary buds. Nowadays with the higher temperatures and prolonged dry spells, photosynthesis slows down considerably but the vine does not shut down physiologically. Some of the lightness and freshness we see in the wines is due to that.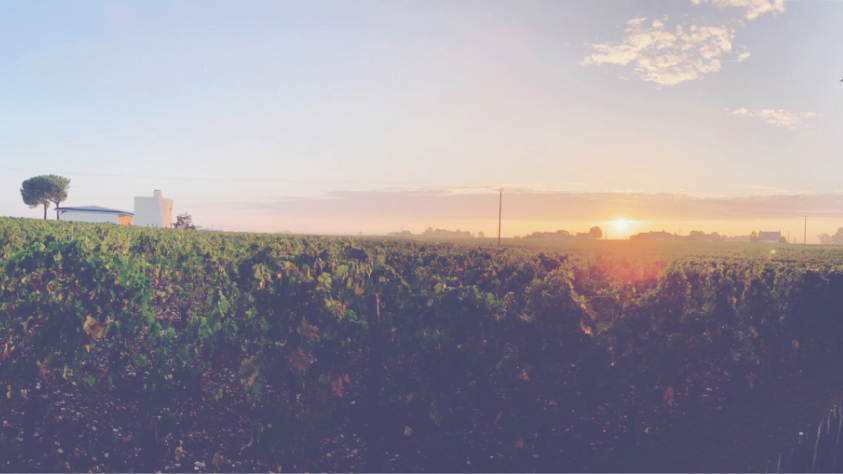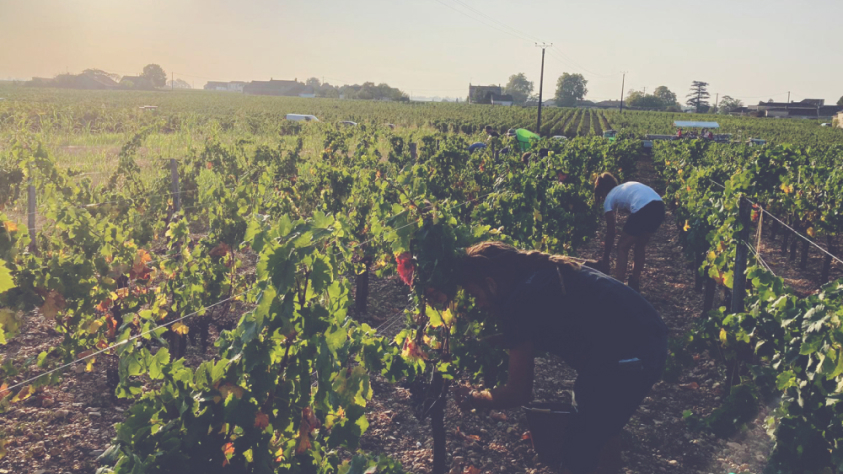 You spent a couple of days on the Left Bank, how was the harvest there?
Having spent 3 days on the Left Bank, it was interesting to hear them talk about using Merlot to build the palate. We look at it as also giving aromatic power to the wine. Palmer and Pichon Baron for example have a lot of Merlot; many Médoc growers were really impressed by their Merlots this year. A lot of producers are talking about using less remontage/pumping over; there was less oxygenation of the must. Concrete tanks and clay (amphora) are being used more than in the past to facilitate parcel selection and very few producers are using 100% new oak. More large-sized 300-500 litre barrels are also being used to temper the alcohol levels in the wines. There is more talk about biodiversity throughout Bordeaux; estates are planting plants and trees around their vines to encourage birds and insect pollination around the vines.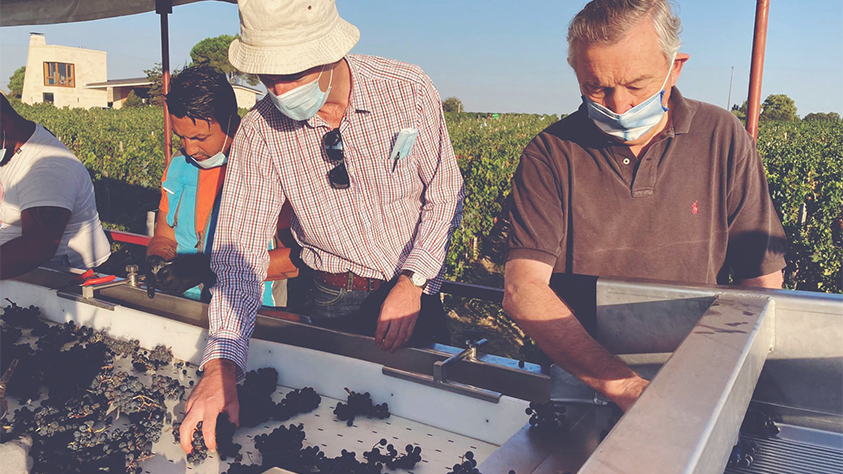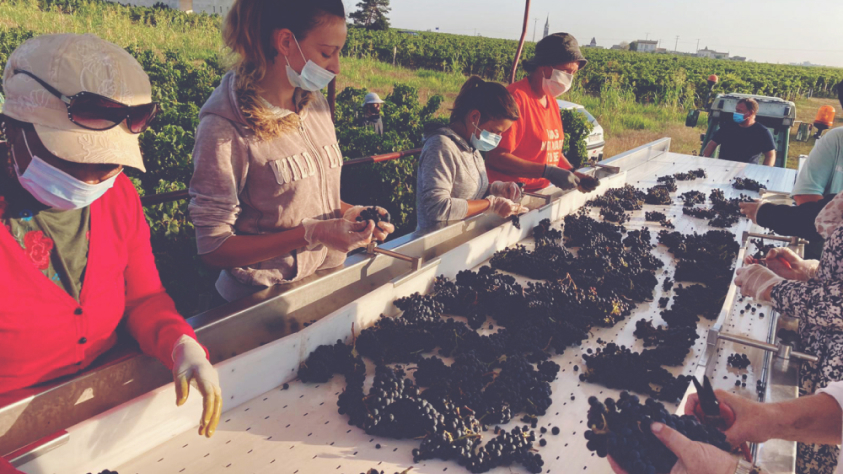 How do you think Covid has impacted the 2020 harvest?
On the Left Bank many of the estates are almost 100ha in size compared to about 5-10 ha on the Right Bank, so the Left Bank Chateaux, Lynch Bages and Talbot for example, have several teams on hand to do the harvest. As you can imagine we were all very worried about Covid breaking out between our pickers as we may have had to isolate an entire team. Several estates had machine harvesters on standby just in case.
Our team is max 30 people, they were all tested and their temperature was taken every morning and everyone wore masks. For the first week starting on the 14th September, it was 32 degrees so wearing masks was quite uncomfortable. Thankfully the temperature then cooled down making it slightly more bearable.
We were so busy social distancing and wearing masks, I think it was only when we started running off the juices that we realised what a good vintage we had to hand. We had to jump through so many hoops this year thanks to Covid, that we had not really had the chance to stop and appreciate it beforehand.
How was the harvest at L'Hêtre?
We were harvesting L'Hêtre, Le Pin and L'If simultaneously for the first time ever. I help look after L'Hêtre and it is so interesting because it shows how climate change is a great leveller. When you have perfectly ripe grapes it is important to pick them at the right moment. At L'If in Saint-Émilion, our neighbour, Troplong Mondot picked 3 weeks before we did. Timing the picking dates is important for the philosophy and the style of wines that you want to make. The Left Bank picked at the same time as us - climate change has changed what we thought were hard and fast rules of Bordeaux! Cabernet does not ripen later than Merlot anymore, it can ripen at the same time. Today the Cabernet Franc on the Right Bank is bringing more freshness than the Cabernet Sauvignon.
L'Hêtre and L'If are both works in progress. L'If is 8 ha and we have replanted 4 of those with cover crops and the difference in the soil is amazing. Even the young vines that are starting to appear in the blends at L'If are displaying really good quality. L'If is starting to appear on everyone's radar now.
How was the 2020 L'If?
It was quite intense in December when we first started looking at the blends; it has now calmed down and it is rather glossy and glamourous, there is much more freshness in the wine. Today it is all about the tannins; the freshness seems to come from the tannins, not from the juicy grapes as in 2019. I have never seen tannins like in the 2020, they are so zippy and energetic, for me the only vintage I could possibly compare it with is 2016. At some estates, I would put 2020 in a higher category than 2019, because of the quality of the tannins; in 2020 vintage the top wines show perfect poise and precision, they are not as opulent as the 2019. It is also a question of style.
Le Pin suits the more reserved character and composure of the tannins in 2020. Collectors can probably buy Pomerol this year with their eyes closed - and on another note, L'Evangile is now being made by a new female winemaker, Juliette Couderc, and it is fantastic. Petit Village, also made by a woman, Diana Berrouet, is super too.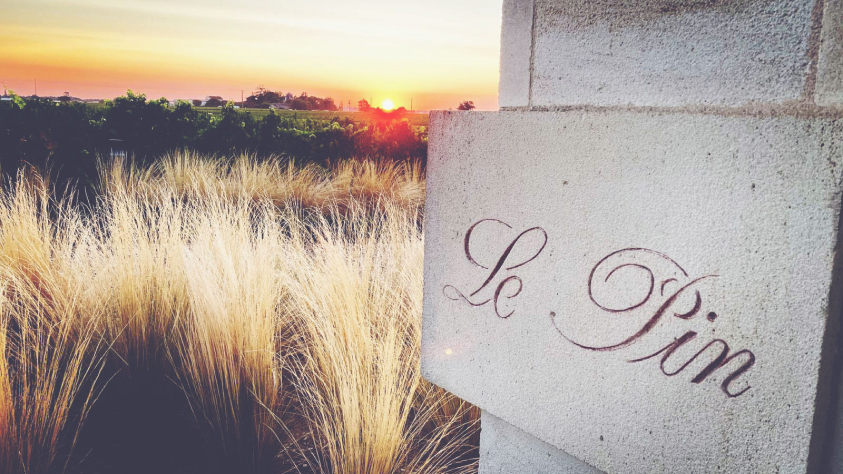 If you could sum the 2020 vintage up in terms of character, what would you say?
We are talking about style and freshness. Where did that freshness come from with 50 days of sun? This year, everything has come together, the rainfall, the picking time, the vine memory, everything. We also understand our soils so much better than we did before, we understand that we must take our foot off the pedal when it comes to winemaking. We throw out the textbook, taste the grapes, do the ripeness analysis to make sure we have got the phenolic ripeness right. To get that ripeness and freshness together is something that is quite new in Bordeaux.
Climate change has thrown up extremes in terms of frost, hail, heat, rain but if you can adapt your viticulture to that then you can really benefit from the ripeness. It is more about the vineyard than the winery, it is also about parcel selection; precision viticulture has made a huge difference.