En Primeur 2022 New Release: Château Grand-Puy-Lacoste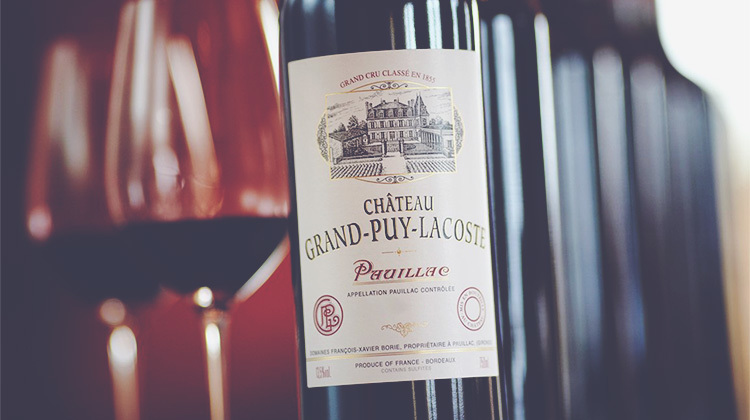 Bordeaux Index
30 May 2023
If we were forced to pick a "most popular Pauillac" then Grand-Puy-Lacoste would be right up there. A Bordeaux Index favourite and one of the most consistently over-performing estates in the whole of Bordeaux.
Their 2022 has been released at GBP 715/12 and with 96-98 points from Neal Martin and 95-97pts from William Kelley, it will – as ever – appeal to lovers of this most gloriously traditional, terroir-expressive Pauillac.
"Classy and integrated, it is somewhat reminiscent of a modern-day and less forbiddingly structured version of this estate's brilliant 1982." William Kelley
Under the stewardship of Francois-Xavier Borie, his family and team, Grand-Puy-Lacoste – fondly known as GPL – regularly reaches such heights of quality and vineyard expression which estates with considerably higher price tags do not. The GPL story began in the 1500s when then owners, the De Guiraud family, first planted vines in Pauillac. The estate, via marriage, then passed through the hands of the Dejean family, and subsequently the marriage of one of the Dejean daughters into the Lacoste family gave birth to the name and the Château that still stands today. In 1978 the Borie family bought a 50% stake, acquiring the rest of the shares in instalments. In an age of corporatisation, this friendly, warm, family-run estate has retained a strong sense of modesty in all that they do. It's no surprise that it is unquestionably one of Bordeaux's best-loved properties.
Following significant investment in the vineyards, cellars and château, the results in recent years at GPL have been remarkable, rarely missing a beat since that stunning 1982 vintage. And the 2022 vintage is another "wow" vintage (the first word of my notes from tasting at the estate in April). 2022 GPL has a huge structure and significant density to the tannins, but these tannins are so very fine and just brilliantly managed. There is no suggestion of a hot vintage on what is a very classic nose, with gorgeous aromas of blackcurrant leaf and gravel lending a cool impression, and the acidity is so bracing and fresh, and seamlessly integrated. We particularly loved the sapidity on the finish, which just went on, and on…
"There is a peacock's tail of mineral-rich, quite peppery black fruit on the finish, completing a Pauillac endowed with huge potential." Neal Martin
This vintage is a must-have for any GPL (indeed any Pauillac) lover.
Other New Releases: