En Primeur 2022 New Release: La Mission Haut Brion, Le Clarence de Haut Brion, La Chapelle de La Mission Haut Brion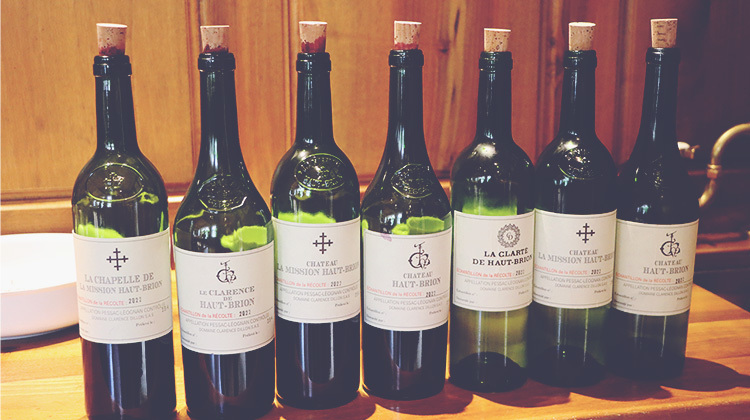 Bordeaux Index
21 June 2023
The 2022 La Mission Haut Brion has been released at GBP 3180/12.
As is ever the case, while some opt for Haut Brion in any given vintage, others will opt for La Mission; in this vintage, it is La Mission that gets the marginal nod from Neal Martin, achieving 97-99 points. Jane Anson also leans towards La Mission, noting the supreme intensity of colour and density.
"At the moment, it has got its nose just in front of its First Growth sibling...at least at the moment. For sure, it's going to be one of the standouts of the 2022 vintage" Neal Martin

"Delivers an exceptional feeling of walking the line between excess and restraint, hard to resist" Jane Anson
When we tasted the wine a few weeks ago, what was most striking about the wine was the fine, seamless tannins that caress the whole palate. This year a blend of 51.7% Cabernet Sauvignon, 43.2% Merlot and 5.1% Cabernet Franc the wine is deeply expressive and pixelated with notes of pepper, black tea and gravel that waft from the glass. We found the wine quite simply irresistible, with plenty of charm and persistence.
"The balance here is just mind-blowing. What a wine!" Antonio Galloni
It's been said a million times but it bears repeating: if ever there was a revision of the 1855 Bordeaux Classification, then La Mission Haut Brion would surely be on the roll call for First Growth status. Boasting more 100 (RP) pointers than either Lafite or Margaux, the Dillon family can feel extremely proud that their work on La Mission has put it on a par with the very best wines of the region, and the world. Indeed in the panoply of great vintages, especially during the last 30 years, La Mission exceeds almost all other Chateaux! A feat that is nothing short of extraordinary.
Buy La Mission Haut Brion 2022


Today sees the release of the second wine of Haut Brion, Le Clarence de Haut Brion at GBP 1584/12.
In 2022 many properties were so happy with the quality of the vintage that a large part of the production went into the Grand Vin. Still wanting to be able to satisfy customers who have been following the estate's 2nd wine, many properties have taken to 'declassify' parts of what could have made it into the Grand Vin. It means at the right addresses, the second wine is a true value pick with more than a nod to its big brother. In 2022 the Clarence de Haut is exactly that.
"It's clearly an outstanding wine and has more than a hint of classic Haut-Brion style." Jeb Dunnuck
"Le Clarence is everything a second wine should be. In other words, a smaller-scaled version of the original" Antonio Galloni
Named after its previous owner, the debonair American Clarence Dillon, Ch Haut Brion's second wine delivers the nobility of its more serious sibling with an approachable charm its namesake would no doubt have been proud of. And the 2022 is another worthy contender for Best Second Wine of a First Growth in a supporting role – especially given the relative value versus its peers.
Buy Le Clarence de Haut Brion 2022


As quality of the 2nd wines of Bordeaux's most prestigious addresses continues to rise, with increasingly draconian selections for their respective grands vins, so their prices rise in tandem.
One prestigious chateau, however, stands aloof from these inflationary pressures on its deuxieme vin, the "6th First Growth", La Mission Haut Brion.
"In the final analysis, La Mission Haut Brion remains a wine of first growth quality" Robert Parker
This year a blend of 56% Merlot, 36% Cabernet Sauvignon, and the remainder Cabernet Franc, La Chapelle de la Mission 2022 is, not unlike the chapel after which is named, a joyous 2nd wine that offers the glory of its big sibling for but a fraction of the price. Benedictus sit Deus!
"The 2022 La Chapelle de La Mission Haut Brion is a powerful, dense wine, almost shockingly so" Jeb Dunnuck
With smaller quantities of second wines made in general in 2022, largely due to such high quality of fruit making its way into the Grand Vin, this year these wines offer more than just a nod to their larger siblings. This numbers among some of the best second wines of this vintage.
Buy La Chapelle de la Mission Haut Brion 2022


Other New Releases Today