Carol Lindstrom, Founder of Lindstrom Wines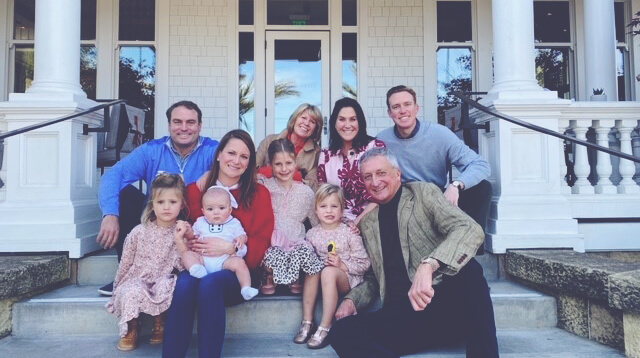 Carol Lindstrom
12 January 2022
We sat down with Carol Lindstrom, founder of Lindstrom wines along with her husband Greg to discuss the creation of Lindstrom wines and their unique terroir.
Tell us about Lindstrom and how it came about?
About twenty years ago at a charity auction, my husband and I bought a weekend at Silverado Winery. It is owned by the Disney family and is just across the street from us in Stag's Leap. We loved it and my husband decided he wanted to buy an acre of grapes, so he got on his bike and found this place. Twenty acres of rocky hillside, no grapes but a beautiful house. Which was not exactly what he set out looking for...! We lived in Orange Country at the time and when we went back home, my husband's law firm asked him to move to North California and so we decided to buy the property.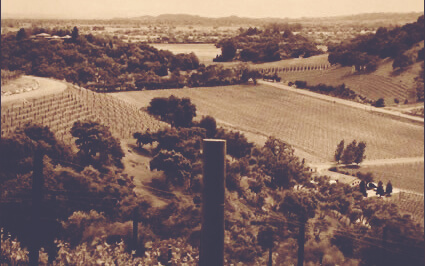 When you first purchased the property how did you see through the steep rocky hillside to what it is today?
Well in all honesty when we bought it we thought it would be the perfect site for a vineyard, and that shows you how ignorant we were! We knew lots about drinking wine but very little about making it. Fortunately for us, Nancy Duckhorn who owned Pine Ridge at the time agreed to be our consultant. She was managing two wineries, Scarecrow and us. She helped us navigate through everything. Nowadays, Nancy is more of a friend but whenever I get in to trouble I still give her a call and ask her what to do!
Tell us about the team at Lindstrom
Our site only spans four acres, so we are a very small team. When we first started out, Nancy helped us interview winemakers and we brought Celia Welch on board as winemaker, and she is still the winemaker today. She also does the winemaking for Scarecrow and has been with us from the very beginning. Celia is a fantastic winemaker and very meticulous. She walks the vineyard and works very closely with Mike Wolf who manages our vineyard, they very much work as a team. Aside from Mike and Celia, my husband and I started Lindstrom together and my daughter is Head of Marketing. It is a small family business.
From the twenty acre estate how did you decide on the four acre plot you have planted?
For the first four to five years we started working with a vineyard manager called David Pina, and at the time he and his team did the vineyard planting. When we first moved to Stag's Leap, we had no idea what it was like, do people compete, what's the industry like, how friendly will everyone be? The position of our property is quite tricky with the steep rocky hillside and the different sun exposure so we walked the land with the teams from Shafer and Stag's Leap for advice and did a lot of research into which clones would work best. It was a very difficult decision on where to plant, that's for sure. We have a 360 view over all of Napa, the views really are incredible but that brings its own challenges. On one of the steepest parts of the hillside where we couldn't get a crane to dig into the rocks, we used a little bulldozer which worked really well for four or five years but then they hit rock again, so four years ago we had to dig all of the vines out. This is why they remind you not to be in the wine business if you want to make a lot of money!
Tell us about your background? How did you first get involved in the wine business?
I guess you could say I first got into the wine business because I needed to drink a lot of wine working at Deloitte! Joking aside, I worked for Deloitte for a long time, I ran their technology consulting practice in the US. I was on the global board for eight years and at the time the CEO was from London. I also met Sharon Thorne through Deloitte who introduced me to Bordeaux Index. I retired about five years ago from Deloitte and although 2005 was our first vintage at Lindstrom we had never really lived at the property full time. Now my husband and I have both retired we spend a lot of time here and it is a very happy retirement I have to say!
Tell us about your key influencers and where your inspiration comes from?
Our main inspiration comes from our neighbours, including Shafer and Stag's Leap. My husband and I love to travel and we love French and Italian wine. We are always trying to learn more but there is something about Stag's Leap that gives the wines their silky character and boldness. Our neighbouring wineries continue to be so helpful for us and we actually market the district together. The district comprises fourteen wineries and every year we hold a big event to raise money for Stag's leap district marketing where we offer a mixed case.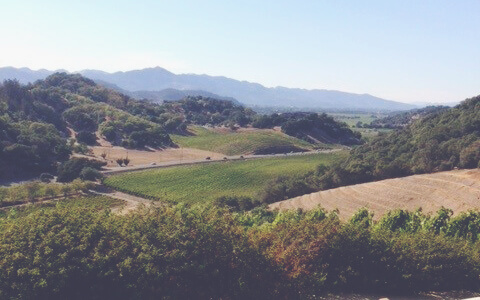 Tell us about your range
One thing Celia does better than anybody is the way she blends her wine. They are always extraordinary. The Cabernet Sauvignon is very distinctive but it was probably most interesting when we went into the Pinot business. We decided we needed to make a new wine and after a bit of looking around, we decided as a family we all liked Pinot so let's try that. Celia was happy to make the wine but not until we had great grapes. We can't grow Pinot grapes on our property and it was very difficult to find really good grapes. It wasn't until the recession and people backed out of contracts that we managed to source some really good Pinot grapes from Dutton ranch in Sonoma and we started our Pinot adventure. It is the only Pinot that Celia makes and it is very interesting to taste. It is not a light Oregon Pinot or Burgundian, we say it is a Cabernet lovers Pinot. More recently we managed to get some grapes from a winery here in Stag's Leap called Cliff Lede, who owns a vineyard called Savoy in Mendocino. We have always loved the Savoy Pinot and we kept asking for grapes and finally we have managed to get hold of some, so we will be doing about 250 cases starting in 2020, which is very exciting!
Which is your favourite?
That is a hard question, I think your palate changes with age and occasion. I have always loved Cabernet Sauvignon and still do but we have moved to lighter wines like the Pinot recently, especially if we're not eating food. If we are eating, I still love drinking Cabernet Sauvignon. I have to say it was very nice to have the Pinot during the pandemic, we had lots of our kids living with us and we went through a lot of wine!
Tell us about the production process?
When we bought the property there was nothing here, we planted everything and even went through the process of obtaining a permit to build a winery. It was quite challenging because we were not allowed to build at the top of the property because the road was too steep to get up there. Initially, Celia started making the wine at Laird which is where she also makes her own wine and Scarecrow. It is a big facility only five minutes away from here and there are several winemakers that work there. We wanted to move the winemaking to our own facility having obtained a permit to build a winery in a cave on the property but when we really started looking into it, we realised it didn't make any sense for us when we are only making 500 cases at most of wine. We own our own equipment at Laird and are very happy with the production there. We thought Galloni and Parker might not like it if we didn't have our own winery but thankfully not!
How many bottles do you tend to make in one year?
In an average year (whatever that is) we make about 400 to 500 cases of Cabernet and about 400 of Pinot Noir.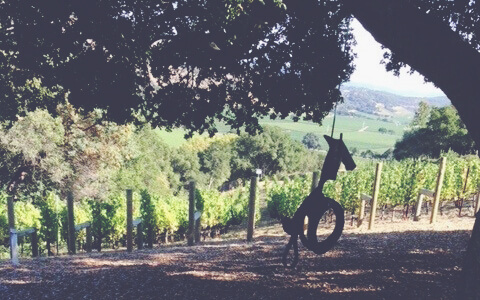 A Day in the Life of Carol Lindstrom….
I am an early riser, first thing I do when I wake up is make a cup of coffee and take the dog for a walk. We walk for an hour every morning, I think if I can walk up and down our hill every day then I am doing ok! We basically do a tour of Stag's Leap, there is a winery called Odette at the base of our hill which we walk to and then walk through a couple of the other wineries before heading back home.
After retiring from Deloitte, I am on several board of directors, zoom calls seem to be a very important part of our life now. We also have a couple of charitable commitments in Napa and it has been great to get to know people in the community. The St Helena hospital has been critical through covid, especially for all the farm workers. The fires have also put a strain on the system, so many people didn't make wine in 2020 and it has hit the employment. The Hospital board has spent a lot of time working on improving the health and care for people in the community.
My husband and I are big food and wine lovers, hence the creation of Lindstrom! We love to go out for lunch, we are lucky to have lots of fantastic restaurants in Napa. I also have a passion for cooking so we usually have dinner back at our house. there are several great grocery stores in Napa. Fortunately, my family loves to eat so they appreciate it!
My most memorable moment…
My family is the most important thing to me – I would say something that has been really memorable is how much fun Lindstrom wines has been for the whole family.
What I am most proud of….
We always said that we would do whatever it took to produce the best wine we could given the constraints of the terroir. We are very small, we do one Cabernet Sauvignon release and one Pinot release each year which we send out to our mailing list and it sells out right away. It keeps us in touch with everybody and people love it, which is really important to us. We get pictures and emails saying 'it's our anniversary, we have pulled out our 2005' it is a great connector. We also love people coming to visit the property and when they drink the wine hopefully, they have the memory of the fantastic setting and view.