En Primeur 2022: An Interview with Christian Seely, CEO of AXA Millésimes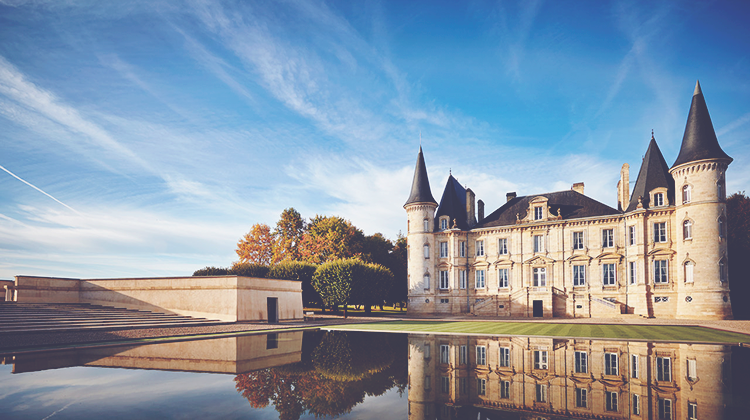 Robert Mathias, Senior Fine Wine Buyer
27 April 2023
As part of En Primeur 2022, we've interviewed leaders in the industry in Bordeaux to find out everything there is to know about the Bordeaux 2022 vintage.
For our second interview, Robert Mathias, our Senior Fine Wine Buyer, sat down with Christian Seely to hear all about the 2022 vintage and to find out what we can expect from Château Pichon Baron and Château Suduiraut's 2022 release.
Thank you, Christian, for joining us. It would be great if you could first introduce yourself to our readers and tell us a bit about Château Pichon Baron and Château Suduiraut.
I'm Christian Seely and I look after all the vineyards at AXA Millésimes. Today of course I'm here to talk about our two principal Bordeaux, Château Pichon Baron and Château Suduiraut. Baron is of course a 72-hectare vineyard in Southern Pauillac, one of the great super seconds, and Château Suduiraut is a Premier Cru Sauternes situated in the heart of Sauternes, with nearly 95 hectares under vine. Suduiraut specialises in Grand Vin Liquoreux, but at the estate we're also developing some rather thrilling dry white wines. We made both in 2022, and these are looking brilliant.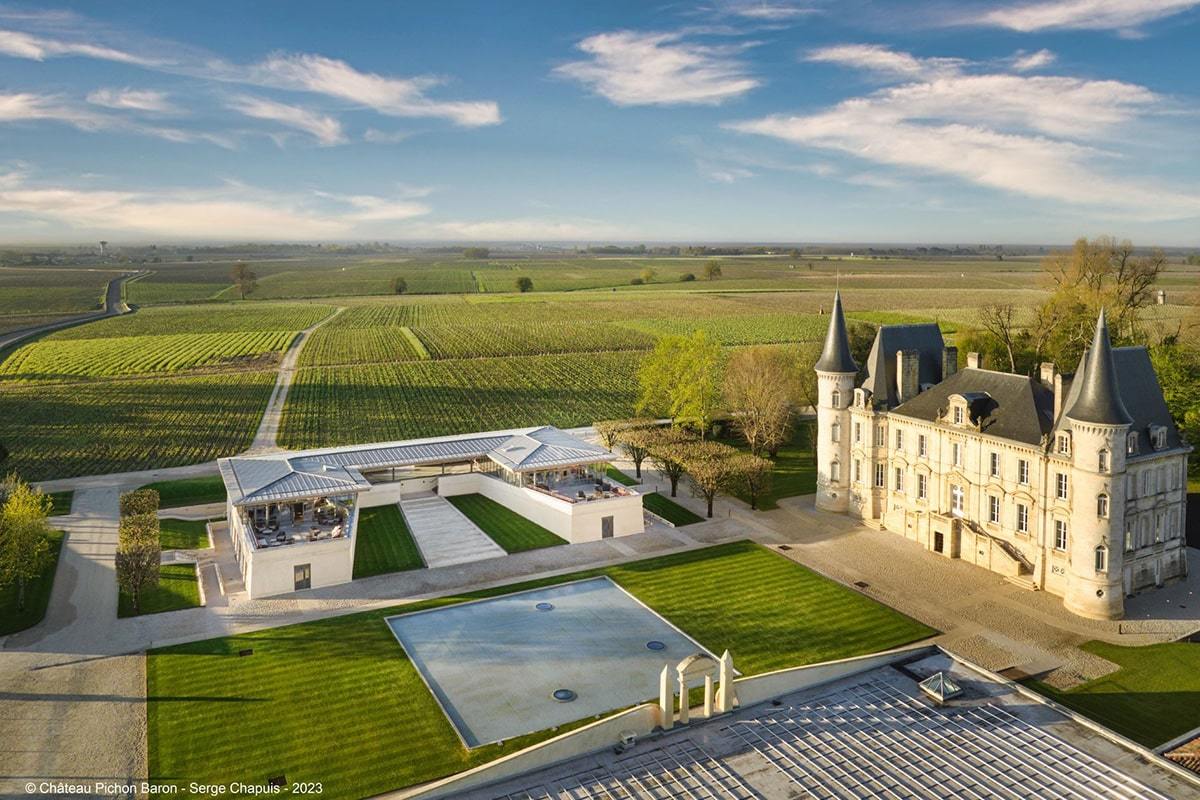 Wonderful, thank you for the introduction! Christian, could you begin by painting a picture of the weather conditions that you believe were formative of the vintage this year?
Yes, of course. Generally, it was a hot, dry and early year. Everything happened a little sooner than it usually would. It was extremely hot in summer, and it was pretty dry. However, I believe what really made the vintage great was the timing of the rainfall. We had episodes of rain that occurred at almost exactly the right time. This enabled the vines to counter the heat stress, and for photosynthesis to continue happening. If we had relentless heat for the season, the dry hot period could affect the ripening of the fruit, so these rainy episodes were vital. It was great news when this was happening.
It was also a year with plenty of difficulties. The resilience of the vineyard is important. It also helps to be lucky. There were episodes of severe frost in early April and Pichon Baron was more or less spared. Suduiraut unfortunately was not. We lost nearly 40% of our potential crop at that stage. Later in the year there was also hail, and as you know, it either falls on your vineyard or it does not. Pichon was spared again, but unfortunately Suduiraut suffered. That's just the way things turn out sometimes. Although, having said that, the results from both Pauillac and Sauternes are just remarkable.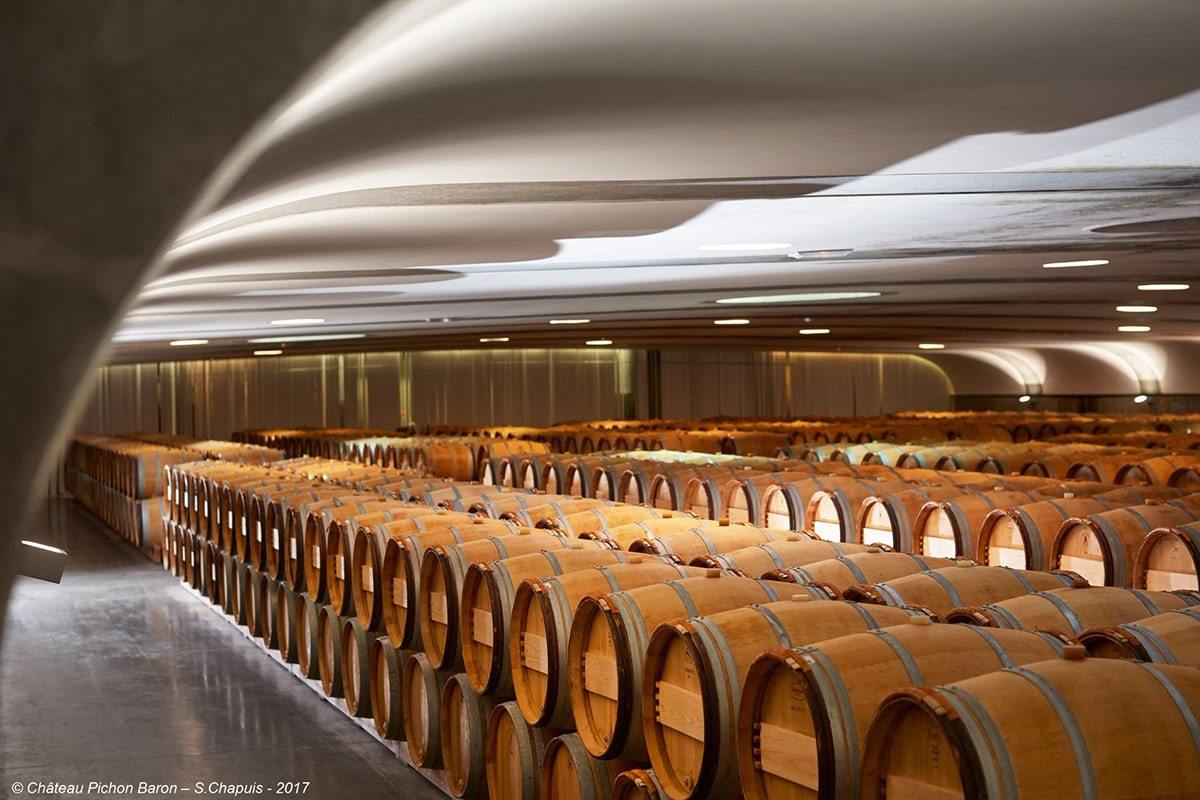 Thanks, Christian. It leads me very nicely to my next question, which is around the final blends for 2022. How are your 2022's?
If we look at Pichon Baron, this is a fantastic year truly marked by the outstanding quality of the Cabernets. We were able to take our time and wait until the grapes were perfectly ripe. The resulting blend was 81% Cabernet and 19% of Merlot. We've finished the blend at Pichon, and you know it really is a solar year. It was a very hot year, with peaks in the summer months. We were often in the high 30's. The wine has power and plenitude, and it really has the charm of one of those hot and sunny years. As I've already said, we had the vital episodes of rain at exactly the right time to enable the vines to continue to ripen in a balanced way. There's a remarkable freshness, purity and finesse, which is why its wonderful when you have a year that enables the wine to have this richness and this power, but also freshness and finesse.
The combination of those two characteristics is really what makes 2022 for me. This is truly one of the great Pichon Barons that I've been involved with.

In the case of Château Suduiraut?
At the end of the last days of August and the first days of September, we harvested the dry whites and we now have three at Château Suduiraut. We have the Lions de Suduiraut Blanc Sec, Château Suduiraut Vieilles Vignes Grand Vin Blanc Sec and we also make a pure Semillon from time to time: Château Suduiraut Pur Sémillon Grand Vin Blanc Sec. This is due to the hot, dry character of the year. It was remarkably positive for the Semillon grape. Our wines always have a high percentage of Semillon and so really, the dry whites are outstanding. Unfortunately, we don't have too much, but they're exceptionally brilliant.
The botrytis was quite slow in coming. In September, there wasn't any botrytis, but things got really exciting in October. We had some rainfall in the beginning of October, and then an extraordinary development of botrytis on very ripe Semillon grapes and we made wines that are some of the most concentrated botrytis wines that we've ever seen at the Château. Unfortunately, there's not very much of it, but it is outstanding. For us, it's one of the purest botrytis wines we've ever seen, with a very high concentration of sugars. There's an extraordinary complexity and power in the wine, and it's undoubtedly a very great Château Suduiraut.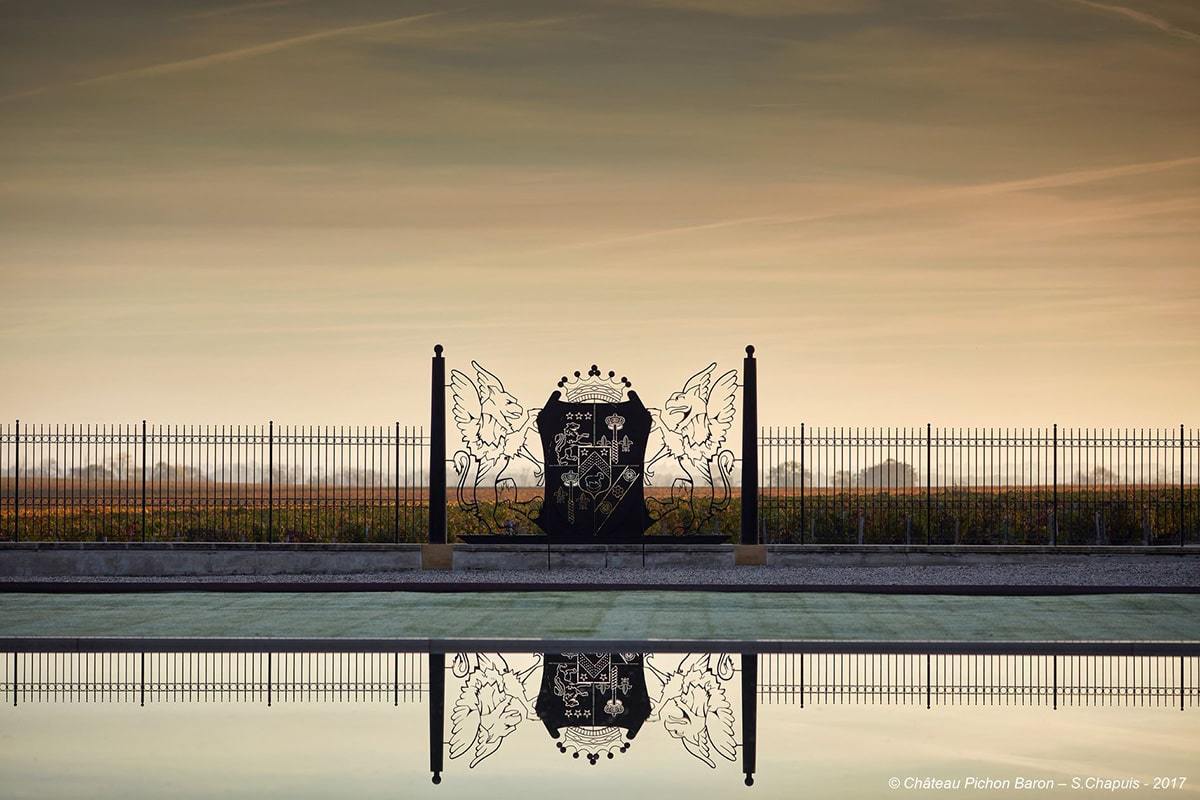 You've mentioned the quantity at Château Suduiraut, what about the quantity at Château Pichon Baron? Was it also a relatively small yield due to the heat?
At Pichon Baron, our yields never tend to be that high. We have a very high proportion of old vines, and we like to keep it that way because it makes the wines extraordinary, concentrated and complex. So, we averaged 35 hectolitres a hectare across the vineyard of Pichon Baron, rather less on the Great Plateau which makes the Grand Vin. Yields were low, as they always are. Yields of Grand Vin slightly lower as well. However, its still a respectable amount of the Grand Vin Pichon Baron, and above all, outstanding and exceptional quality.

Fantastic news! Solar vintages are becoming more and more normal for vine growers in Bordeaux with vintages like 2003, 2009, 2015 and 2018 coming to mind. How has the practice in the vineyard changed over this time to create the most balanced wine possible in a vintage with a lot of heat and not a lot of water? Also, with a few US gems in your portfolio for example, are you following any techniques from New World regions in terms of managing these conditions?
When making wine, it's important to always have your eyes open. We want to see what people are doing in other parts of the world. Bordeaux, of course, has its own tradition of making great wines but I do think its vital to keep looking elsewhere. One of the principal changes that you're currently seeing, certainly in Left Bank properties and as a consequence of hotter years, is an increasingly high proportion of Cabernet Sauvignon in the Grand Vin. Broadly speaking, in any given weather condition, if both the Cabernet Sauvignon and the Merlots get perfectly ripe, the Merlots will probably have at least 1 degree of alcohol more than the Cabernet. Therefore, in order to retain the freshness and balance in our wines, we are using more and more Cabernet. The proportion of Cabernet Sauvignon is rising, and I think that's a trend we'll continue to see.
In the Left Bank, for example, there aren't many 100% Cabernet wines. In Napa there are plenty, and they're wonderful. 30 years ago, we might have been 60% Cabernet. However these days, with the rise in the quality of the Cabernet, we're more at 80%. This is of course hugely important to us to understand, in terms of our long-term planning for planting. For most of Pichon Baron we have terroir for Cabernet, we are planting more and more of it. Its really an important and positive trend because great Cabernet is what it's all about in Pauillac.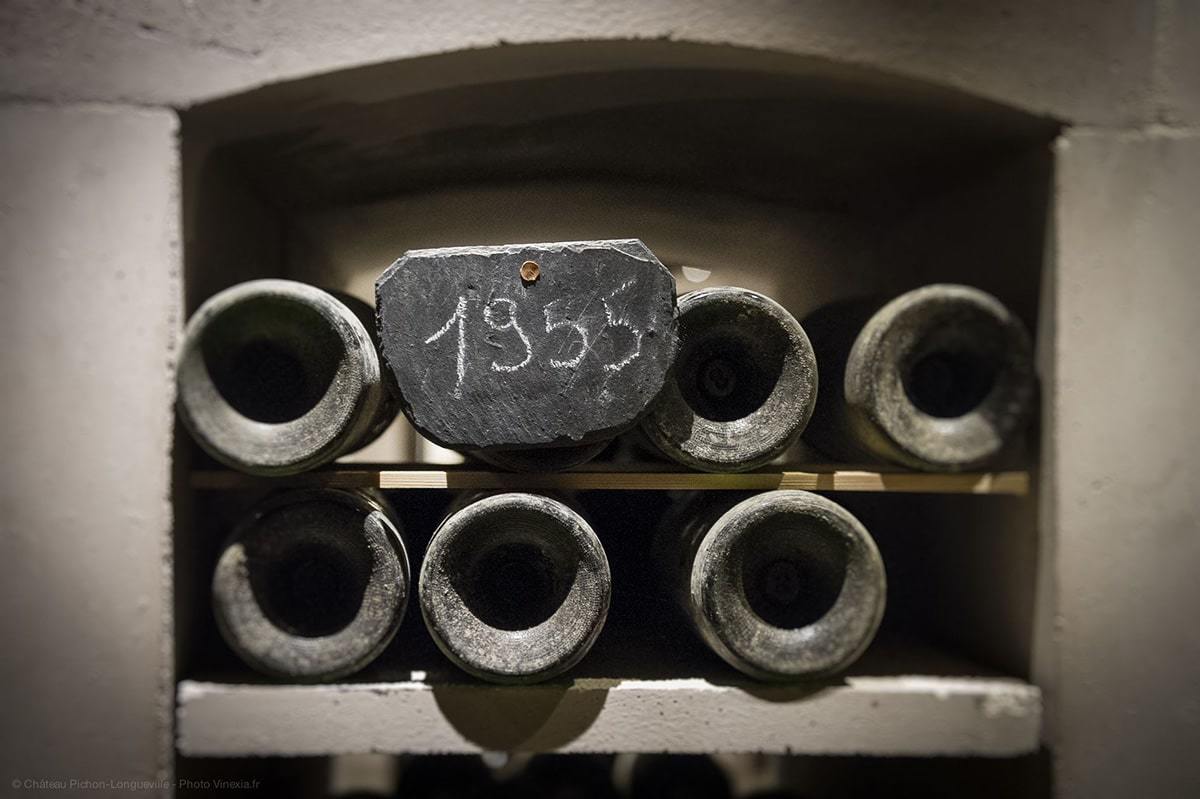 I completely agree! It seems like water usage and conservation is becoming a growing concern for many winemakers around the world. How is your property adapting to this necessity both in the vineyard and in the cellar?
Well, it's something we have been doing for over 25 years at Pichon Baron. We've had a programme and procedure in our winery for a while which manages and conserves water. We measure our water usage for each task, and we set a target of reducing it as much as possible every year. We've significantly reduced the amount of water we use and continue to do so each year.
As you know, we're not allowed to irrigate in the Medoc, so there is less of a concern for water usage in the vineyards. It's not like in California where irrigation is widespread. We're dry farming anyway and we're all very conscious of how precious water is as a resource.
Referring specifically to 2022, as I've mentioned, we had episodes of significant rainfall - what we call 'useful rain'. It came just at the right time, and when that happens it's extremely lucky. We're also well equipped at Pichon Baron, as we have very deep beds of gravel. We're on 'Grand Terroir'. In these deep beds, we have old vine Cabernets growing which push their roots deep, deep down. This is part of the reason why the wines are so great. The leaves are so green, even in very hot and dry vintages like 2003, because the roots of the vines are drawing moisture from deep in the soil. We are very lucky in the Medoc, these gravelly soils have plenty of water and there is a huge resilience in our terroir.
Due to the warm season you've just had, of course there is a risk of high tannins due to the thick skins and relatively little juice. Great concentration of course, but how has the extraction process adapted in the winery to meet a vintage like 22?
It's very important in a vintage like this to have a light hand on extractive techniques. In 2022, we maintained maceration temperatures between 25 and 27, we did most of our extracting mid-fermentation and during post-fermentation maceration we continued to adjust as we tasted the wines in the days and weeks after the harvest. We're extremely conscious in years like this, where there is also huge potential. We want to have a light hand on extraction, there's no need to try and extract a lot from the wines, this will happen naturally. In fact, in order to retain the finesse of the tannins, is it absolutely vital for the wine to be harmonious. We place a great sensitivity to the individual characteristics of each lot that comes in.

To move back to En Primeur particularly, how important is the En Primeur release of the wines for you? Why should buyers be paying particular attention to the En Primeur 2022 releases?
En Primeur is of course of vital importance to Bordeaux. One of the things that is wonderful about the process, is that the world comes to Bordeaux during this time. We have journalists, brokers and the top wine merchants in the world visiting, so its an incredibly exciting period.
I absolutely love the En Primeur period, it's not really a week anymore, it's a month! I'm practically glued to the tasting table at Pichon Baron, just receiving people and tasting wine all day long. It's a thrilling process, tasting the wines and discussing them with wine experts of the world. Bordeaux is very lucky that this phenomenon exists. It's exciting as producers, and anyone working in the world of wine, particularly for a great year like 2022.
I think there are so many reasons one ought to be interested in buying En Primeur. Firstly, there are years where wines are not easy to get hold of later. This is the first opportunity to secure these wines, and to get them into your cellar. Secondly, you have access to all the different sizes. You can buy magnums and double magnums, for example, which aren't easy to get hold of again. There's also of course the potential increase in value of the wine. I've personally never bought a bottle of wine thinking I might sell it for more one day, but it's a nice feeling when you drink your wine. I'm a consumer so wine for me always has the intention of drinking, but it's great tasting something 15 years later and seeing what you paid for it and how much it's grown in value.
If I might add, it's also not essential to buy En Primeur. Just over half of our production goes to EP, we then keep the other half back to age in our cellars. That provides another great buying opportunity, it will just of course be more expensive in future years. It's a choice for the wine consumer to make.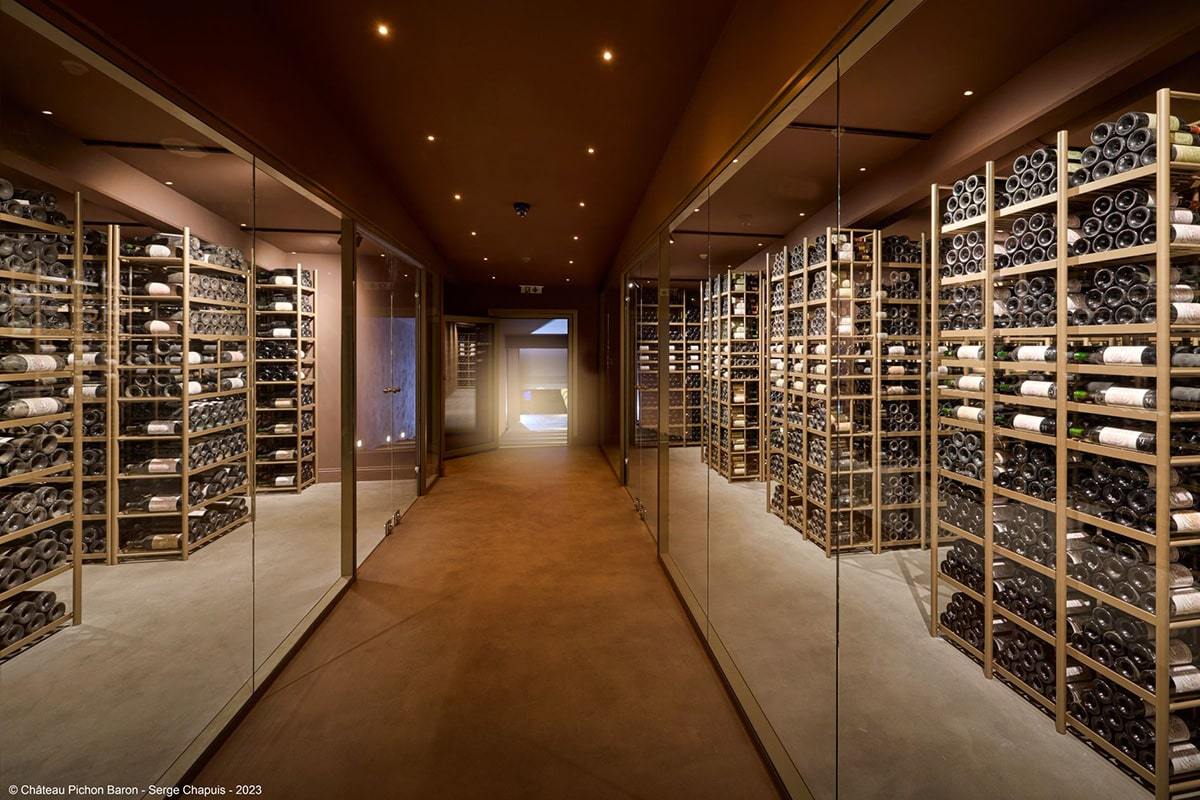 In terms of your long-term vision for your estates, where do you see them in 5-10 years? What can we expect in the future?
We'll, we've just finished completely rebuilding the winery of Pichon Baron. So, I hope we don't have to do that for another 20 years! It's absolutely magnificent, and 2022 was the first year we got to use all of our new toys.
I trust we'll continue the trend we've been seeing at Pichon Baron, which is to strive to make the greatest wine that nature allows us to make every year. We're constantly questioning and refining, with the aim to make it that bit better if we possibly can. We remain dedicated to those principles.
For Château Suduiraut, we're investing significantly and expanding our winery. There's going to be a big shift, particularly in the production of these exciting Semillon dry white wines. These white wines I think are going to take their place amongst some of the very best white wines in the world. We'll see an evolution over the next 10 years and we're going to devote ourselves to this, it's a very exciting development!

It sounds hugely exciting! Thank you for that insight.
And finally, if you could sum up the Bordeaux 2022 vintage in three words, what would those be?
It's hard to put it into three!
I think, harmonious….
Actually, I think I need something more.
Four words. Power, plenitude, freshness and finesse.

Thank you Christian. It was wonderful speaking with you and the 2022 sounds like it's going to be hugely exciting. We can't wait to try the wines….