Bring me Sunshine: Solaia in focus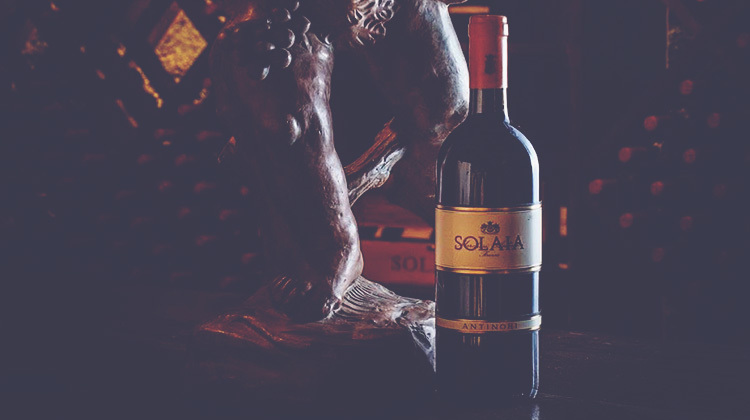 LiveTrade Team
21 July 2022
Meaning 'the sunny one', Super Tuscan Solaia was created almost by accident.
Having changed the game in Chianti Classico with the launch of Tignanello in 1974, which dared to include Cabernet Sauvignon and Cabernet Franc in the blend at a time when veering off-piste in Tuscany was largely frowned upon, four years later Marchese Piero Antinori found himself with an abundance of high-quality Cabernet on his hands; far more than he could use in Tignanello, which typically includes around 15% of the grape. Not wanting to let such stellar fruit go to waste, Antinori had a cunning plan – to create a new wine based around Cabernet Sauvignon to complement and contrast with Tignanello.
"The success of Tignanello coupled with a modest but essential quantity of Cabernet inspired us to plant more vines of this elegant international grape. In 1978, the yields were incredibly generous and exceeded the quantity we used for Tignanello. We couldn't sacrifice the excess of Cabernet, so we made it into a single varietal wine and aged it to better understand its long-term potential. The results were so encouraging that the following year we decided to produce a new wine made exclusively from Cabernet; an idea that was certainly not in our plans," explains Antinori's CEO and director of winemaking, Renzo Cotarella.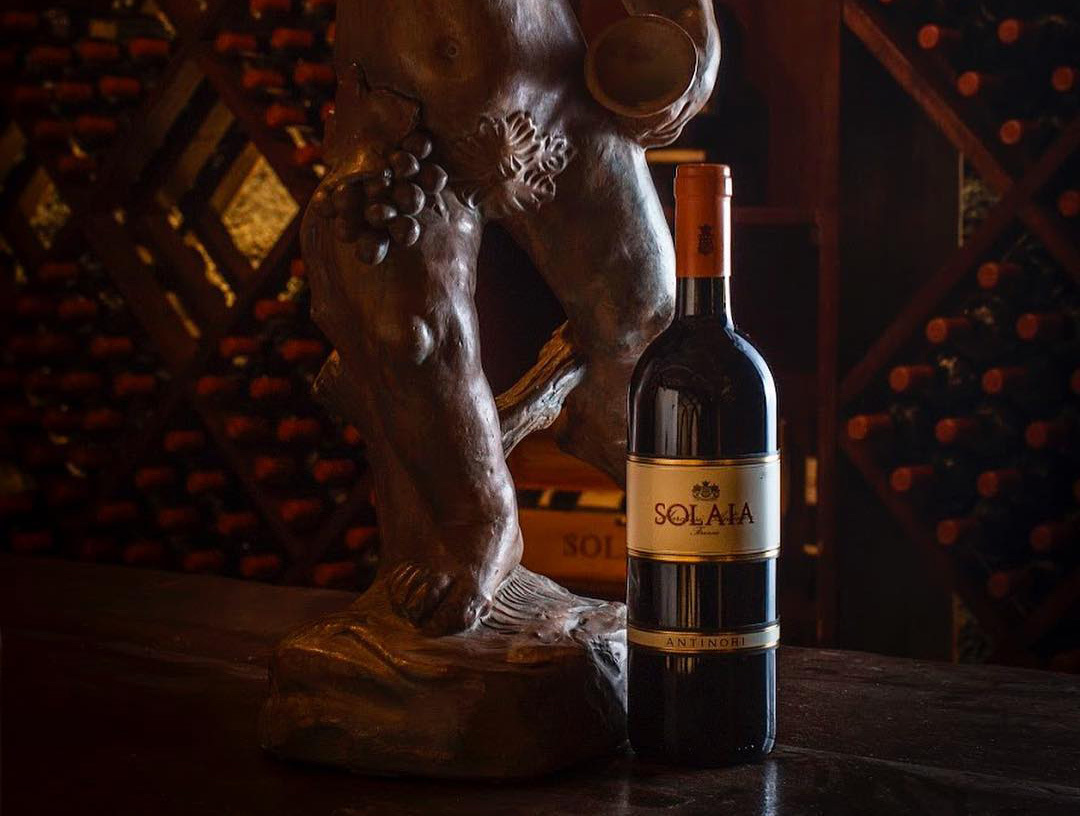 After two vintages a portion of Sangiovese joined the party, and today Solaia is made from around 75% Cabernet Sauvignon, 20% Sangiovese and 5% Cabernet Franc. Aware they were onto something special, once Solaia started proving its mettle, a 20-hectare, southwest-facing vineyard on a gently rolling hillside within the Tignanello estate was devoted exclusively to the wine. As its name suggests, the Solaia vineyard is flooded with sunshine and shares the same limestone-rich marine marl soils as its older sibling.


A Solid Investment
Around 7,000 cases of Solaia are produced annually – far fewer than Tignanello's 30,000-case output – though in some years much less is made. In 2018 just over 5,000 bottles were produced in Solaia's smallest vintage yet.
The strict selection process in 2018 seems to have paid off, with Antonio Galloni of Vinous praising its bright, energetic nature and striking purity. "I can't remember ever tasting a young Solaia with this much sheer appeal and balance so early on," he says. Due to its smaller yields, Solaia is priced higher than Tignanello, which has been out-performing its younger sibling on LiveTrade – Bordeaux Index's fine wine trading platform – of late. However, Solaia's consistently high scores and impressive ageing potential make it a solid investment, particularly with the lower production, a fact which is not as well-known as it should be in the market.
While grown side by side, Tignanello and Solaia are made at separate facilities and are treated differently in the winery. Tignanello is aged in 50% new oak, while Solaia gets the 100% new oak treatment. Given its high proportion of Cabernet, Solaia can be a little shyer than Tignanello in youth, taking slightly longer to open up and grow into its tightly woven tannins. "There is definitely a close relationship between the two wines, as they are grown next to each other on the same hillside," Cotarella explains. "The main difference lies in the varieties as the wines are structural opposites; Solaia being based on Cabernet with a quota of Sangiovese, and Tignanello being Sangiovese-based with a quota of Cabernet. The winemaking differs due to the tailor-made approach that we pursue for all our wines, which is adapted to the grapes and the vintage. That's why the wines have two dedicated cellars, both for the vinification and ageing." Offering notes of blackberry, espresso, graphite and sweet spice, Cotarella describes Solaia as "a wine with remarkable finesse, grace and supple tannins".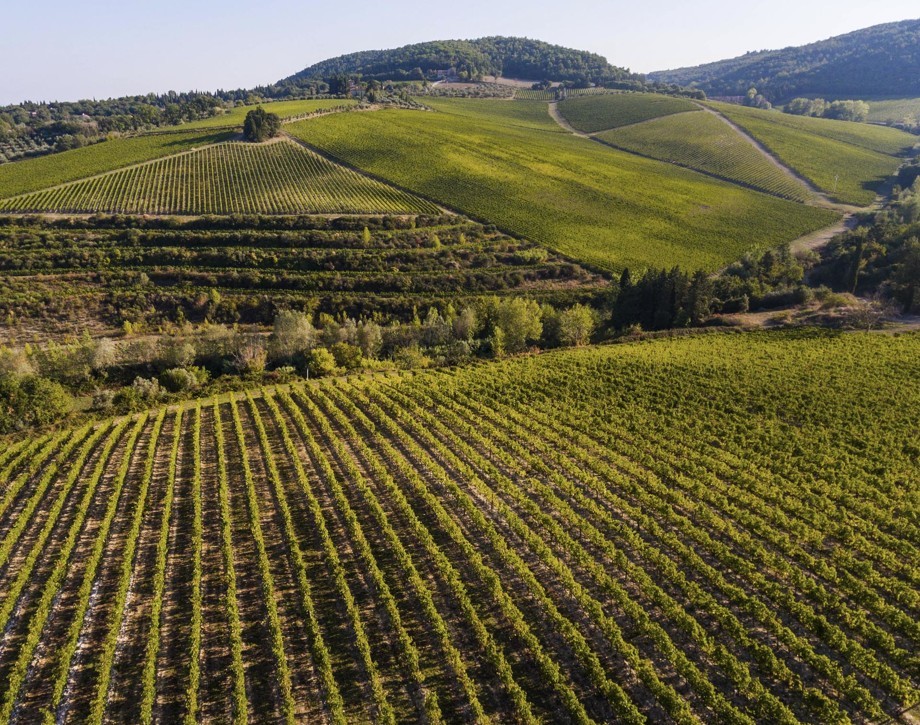 "The greatest Solaia ever made"
Scoring it 98 points, Galloni describes the 2010 vintage as "the greatest Solaia ever made". "It has it all; expressive aromatics, nuanced fruit and tons of supporting structure.
This wonderfully complete Solaia represents the height of finesse Antinori started to achieve with the 2004. In time, the 2010 will be recognised as one of the all-time legendary Solaias," he says. Seemingly unsurpassable, Galloni went on to award the "epic" 2016 vintage 99 points, dubbing it "a beguiling wine of extraordinary nuance and finesse".
Uncompromising in his quest for perfection, Cotarella only makes Solaia when a certain level of quality can be achieved – not a single drop was produced in 1980, 1981, 1983, 1984 and 1992, while the 2002 vintage doesn't include Sangiovese as it wasn't up to scratch that year. In 2014, Cotarella told Wine Spectator that he didn't believe he'd made his finest vintage yet, but his recent run of high-scoring bottlings suggests otherwise. "We are getting closer and closer to our ideal Solaia. The 2015, 2016, 2018 and 2019 vintages, though different from one another, all fully express our idea of Solaia," says Cotarella, who recommends ageing the wine for at least a decade before diving in, singling out the 2010, 2007, 2001 and 1997 vintages as particularly impressive (and expressive) at the moment.


Solaia on LiveTrade
Solaia is a strong performer on LiveTrade and has enjoyed price appreciation across all vintages on the platform over the last 12 months, albeit at a slightly lesser rate than Tignanello, which posted an average 12-month gain of 31%.
Among the top performing Solaia vintages on LiveTrade right now are 2012, which is currently up by 16% (last 12 months), followed closely behind by 2013, with gains of over 15%, and the critically acclaimed 2016 vintage, which is up by 12%.
While Tignanello and Sassicaia lead the charge among the Super Tuscans in terms of price appreciation on LiveTrade, annual sales of Solaia continue to grow significantly on the platform, with mainland Europe, Asia and North America being the most active trading regions.
Cotarella's attention to detail in the vineyard and winery is paying off, the fine-tuning creating ever more elegant expressions of Solaia. The grape selection process is becoming increasingly scrupulous, and the attention paid to tannin management and barrel ageing more forensic, with Cotarella noting: "We believe that in our recent vintages this approach is evident as soon as you take your first sip."