Tsar performer: Cristal in focus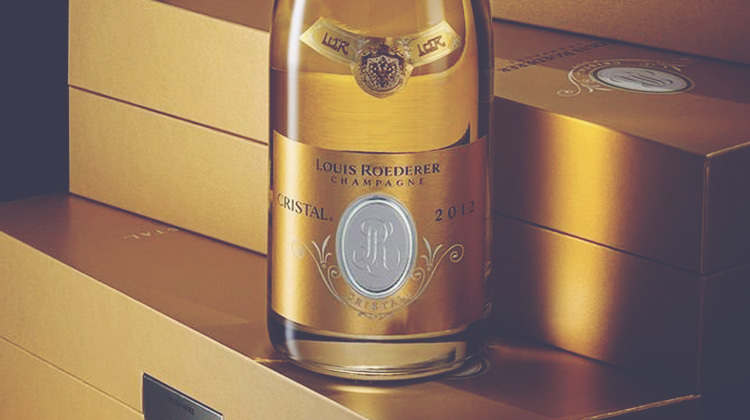 LiveTrade Team
2 June 2022
Tsar performer: Cristal in focus
The jewel in Louis Roederer's crown, Cristal, has a fascinating history. The sparkler was created in 1876 at the request of Tsar Alexander II of Russia. A long-time fizz fan, the Tsar was particularly fond of Louis Roederer, and desired his own special blend for personal quaffing, and the bragging rights that came with it. With a brief to create the finest fizz the house could muster, as it owned its own vineyards, Louis Roederer was able to rise to the challenge. Knowing its vines intimately, the house could cherry pick grapes from its best-performing parcels – later classified as grand cru vineyards – to be used in the royal blend, which turned out to be the first prestige cuvée ever created.
Enjoyed exclusively by the Tsar and his court, fearing foul play, Alexander II requested that the Champagne be bottled in clear glass, so he'd be able to see if the wine had been tampered with, and poison added. His final wish was for the bottle's bottom to be flat rather than boasting a punt, to prevent bombs being hidden in it. His suspicions were not without reason – six of the previous 12 Tsars had been assassinated, and he too met the same fate in 1881 on the streets of St. Petersburg.
When the reign of the Tsars came to an end following the Russian Revolution in 1917, Louis Roederer chose to continue making Cristal, which was first commercially released in 1945 and today has an annual production of around 400,000 bottles. Its maker, Louis Roederer, is the largest independent, family-owned house in the Champagne region, and is currently overseen by seventh generation family member Frédéric Rouzaud.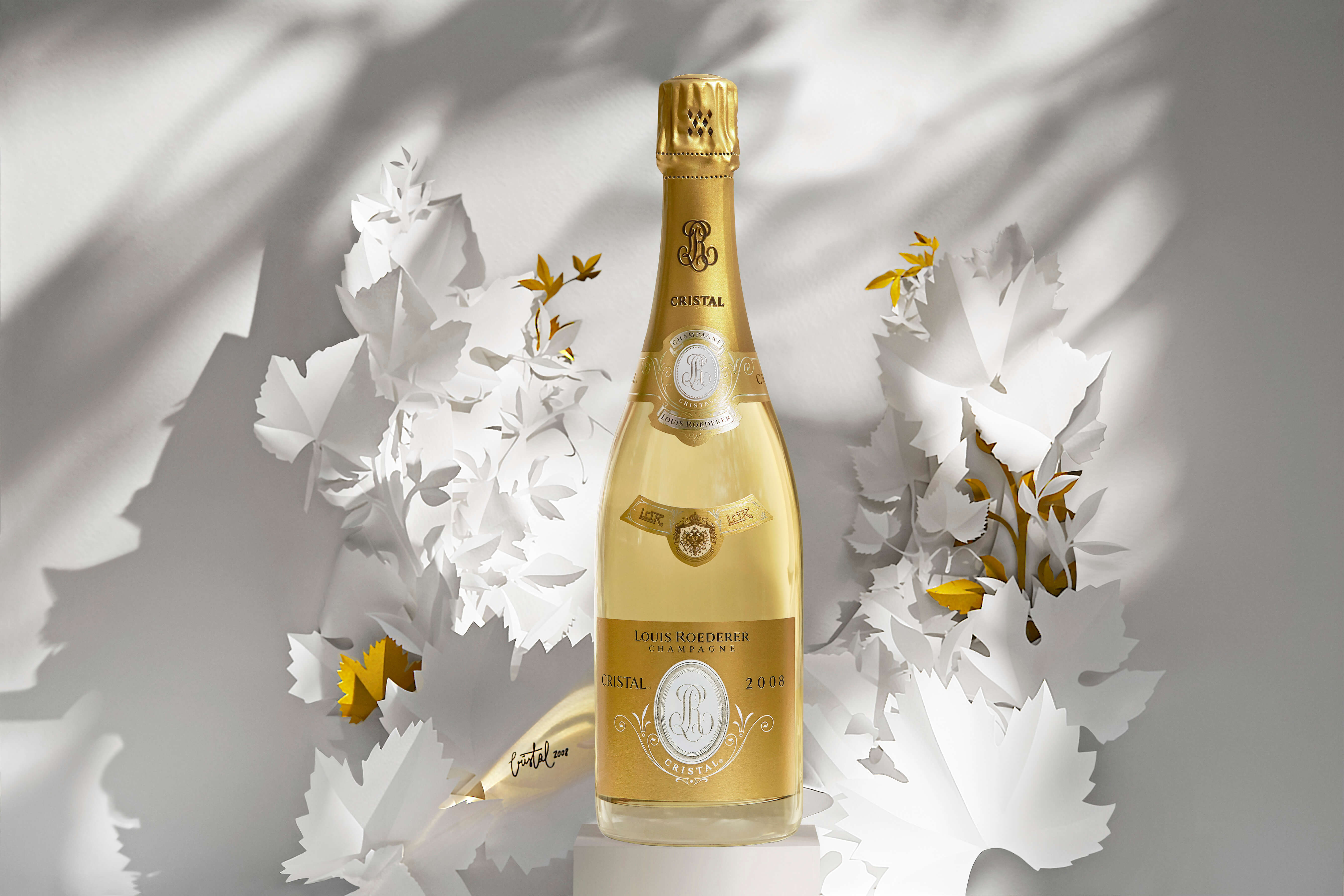 Purity and precision
Cristal remains a study in terroir, purity, precision and power. The fizz is made from 45 plots across seven grands crus vineyards in the Côtes des Blancs, Marne Valley and Montagne de Reims boasting a minimum vine age of 20 years, though some are as old as sixty. Older vines are favoured as the extended time in the ground allows them to become deeply rooted in their chalk soils. For continuity of style, Cristal's blend of 60% Pinot Noir and 40% Chardonnay rarely changes; the Pinot bringing power and Chardonnay elegance.
The wine is aged for six years and kept in the Roederer cellars for a further eight months after disgorgement, with up to 30% of the blend aged in oak casks for added complexity and length. Rather than a flamboyant flourish, the fizz's signature gold cellophane wrapper is used to protect it from harmful UV light penetration. Cristal enjoys a reputation as one of the most age-worthy Champagnes in existence. It's a wine that rewards cellaring, unveiling its many layers over time.
Eco-minded in its approach, Louis Roederer has been farming biodynamically since 2000 and produced its first 100% biodynamic Cristal in the 2012 vintage. "We realised we had to change our practices and eliminate pesticides and fertilisers as a way of fighting against climate change and reducing our carbon footprint, while at the same time gaining more taste and character in our wines. It was important to increase the biodiversity at the estate and re-introduce life into our soils, while planting trees and bringing back cover crops to create a resilient ecosystem. By reducing our carbon footprint we've also become more resilient to climate change – things work together better now," says cellar master Jean-Baptiste Lécaillon, who believes dry farming is the only way to make exceptional wines. "Irrigation can be helpful but we will never be able to copy what's happening underground in the soil, and the slow feeding from the vine's deep root system. I prefer to have a self-efficient system with organic matter like mushrooms doing the job. Vines are like us, they're lazy; so if you feed them the roots come back up to the surface and they become more sensitive to climate change," he says.
The latest Cristal bottling – the late-picked 2014 vintage – was released in February, with Lécaillon dubbing the vintage "a year of clear extremes". He believes the estate's biodynamic approach has increased the precision of Cristal, giving the sparkler more texture and definition, making it more approachable at a younger age while increasing its ageing potential. "With our switch to biodynamics we saw a change very quickly in our Pinot Noir, but Chardonnay took longer – perhaps Pinot has a greater capacity to translate the terroir more exactly. It took three to four years to see the differences. The juice changed, and the vines did too. We're getting more balance in the wines and the fruit is more concentrated and complex. In taking this approach we're delivering more on the flavour front and are going back to a more tasty expression of the site," he says.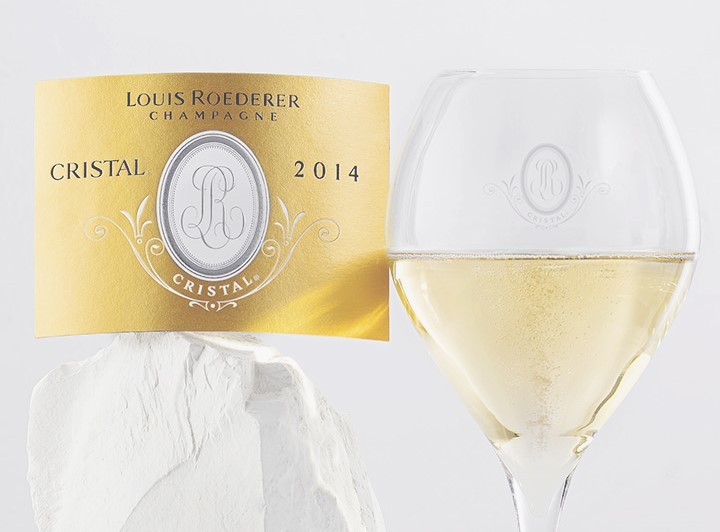 Top of the pops
Cristal has emerged as a runaway success story on LiveTrade – Bordeaux Index's fine wine trading platform. The Champagne has been one of the top-performing wine brands on the platform during the last 12 months. Over the last year the average price of Cristal on LiveTrade has risen by over 50% and no less than five of LiveTrade's 10 top-performing Champagnes are Cristal. The 2012 vintage currently tops the leader board, having increased its bottle price by 76% in the last year. Meanwhile, Cristal 2007 and 2006 are currently in fifth and sixth position, with year-on-year gains of 63% and 62% respectively. Towards the end of the top 10 are Cristal 2008 and Cristal Rosé 2008 in joint ninth place, having both grown their bottle price by 59% over the last 12 months.
"Cristal has been one of the market's best performers, perhaps most clearly ticking the box due to its powerful combination of brand recognition and consistently high scores. It's a natural go-to for wealthy collectors, particularly those new to Champagne. The impressive progress Roederer has made on organic and biodynamic viticulture is definitely a tailwind to the wine's increased following," says LiveTrade's CEO, Matthew O'Connell. "Interestingly, the early release schedule Cristal follows had possibly been a moderate impediment to performance previously, but now the presence of three strong recent vintages – 2012, 2013 and 2014 – is a positive for Champagne-hungry buyers," he adds.