2019 Chateau d'Yquem
Giles Cooper, Bordeaux Index Buyer
22 March 2022
"There is no other wine in the world like it, and there is no other luxury wine that can possibly justify its price as much as Yquem. The remarkable amount of painstaking labor necessary to produce the nectar known as Yquem is almost impossible to comprehend." Robert Parker
Today sees the release of 2019 Chateau d'Yquem – a wine which absolutely typifies Parker's observation above (from his review for the 1986 d'Yquem, of all things, back in 1998). We are well used to the stories of multiple 'tries' or shifts of picking over several weeks in order to make sure the fruit is picked at its botrytic best; however the magic in 2019 happened in just a few days.
One of the warmest and driest summers in recent memory was aided by a significant downpour in late July which revitalised the tiring vines. Summer returned with a vengeance, and it required rain in the last week of September to kick-start the botrytis, which itself required almost a fortnight to set in. Therefore the lion's share of the (now perfectly affected) fruit was picked between the 10th and 14th of October (including on a Sunday! Miracles will never cease…). This is where the power of LVMH's operational machine adds such amazing value to d'Yquem – without this speed of action, it is unlikely that the 2019 would be quite as outstanding as it has proven to be.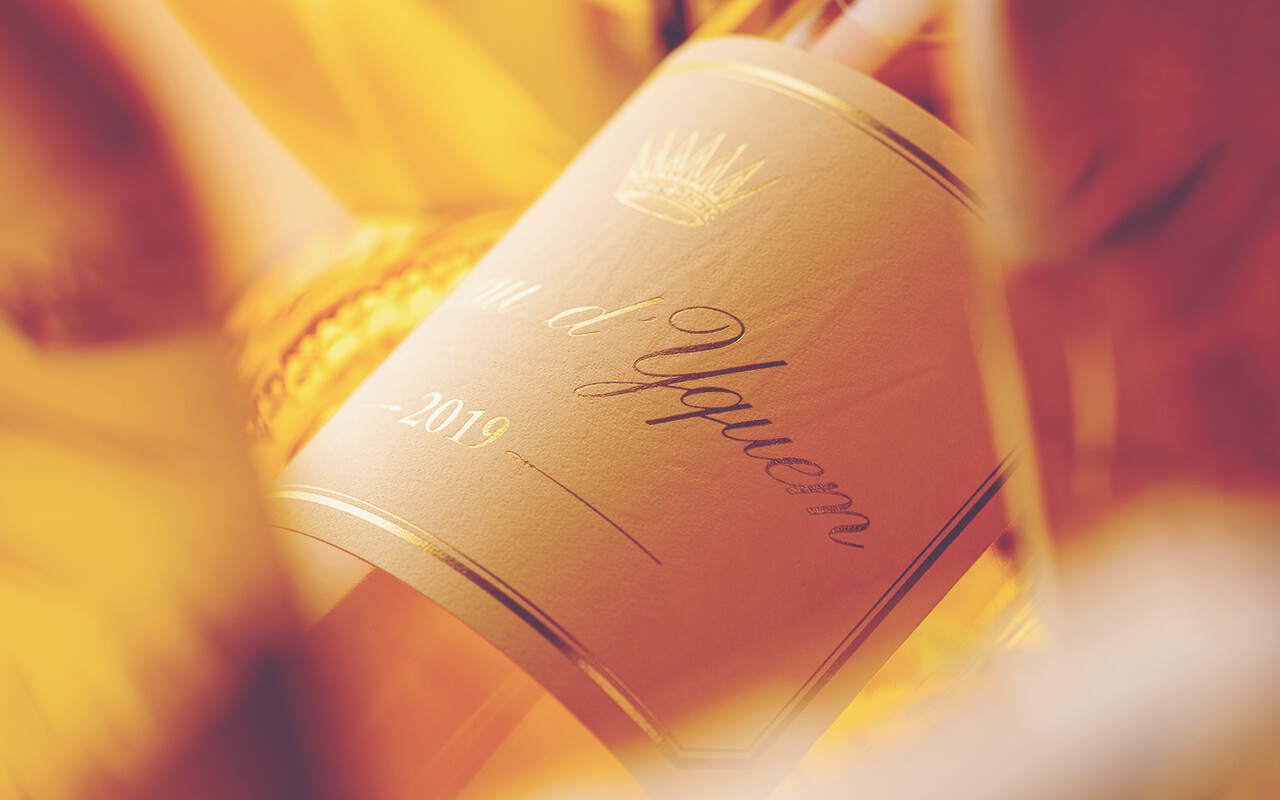 'Having tasted through nine decades of Yquem, I found absolutely nothing here to dispel the notion that it fully deserves its reputation as "Sauternes ne plus ultra."... there is no denying that as a group of wines, they are thrilling and as much as I want to step back to view them objectively, they correspondingly step forward with their utter charm, richness, complexity and poise.' Neal Martin
Chateau d'Yquem's fame and status is not down to coincidence: the estate's naturally elevated, steeply sloped position, free-draining soil (assisted by over 50 miles of underground drainage fitted in the late 1800s) and constantly improving vineyard layout all encourage the growth of the noble rot botrytis cinerea which lends the wine its unique character. In fact, given just how unique is its terroir and consistently superior its quality, one could almost argue Chateau d'Yquem deserves its own appellation.
The fabulous 2019 with its "Clear push and pull between acidity and lusciousness" (JA) also marks its card with a higher than typical percentage of Sauvignon Blanc, making it both more accessible in youth and yet with more potential complexity as it ages.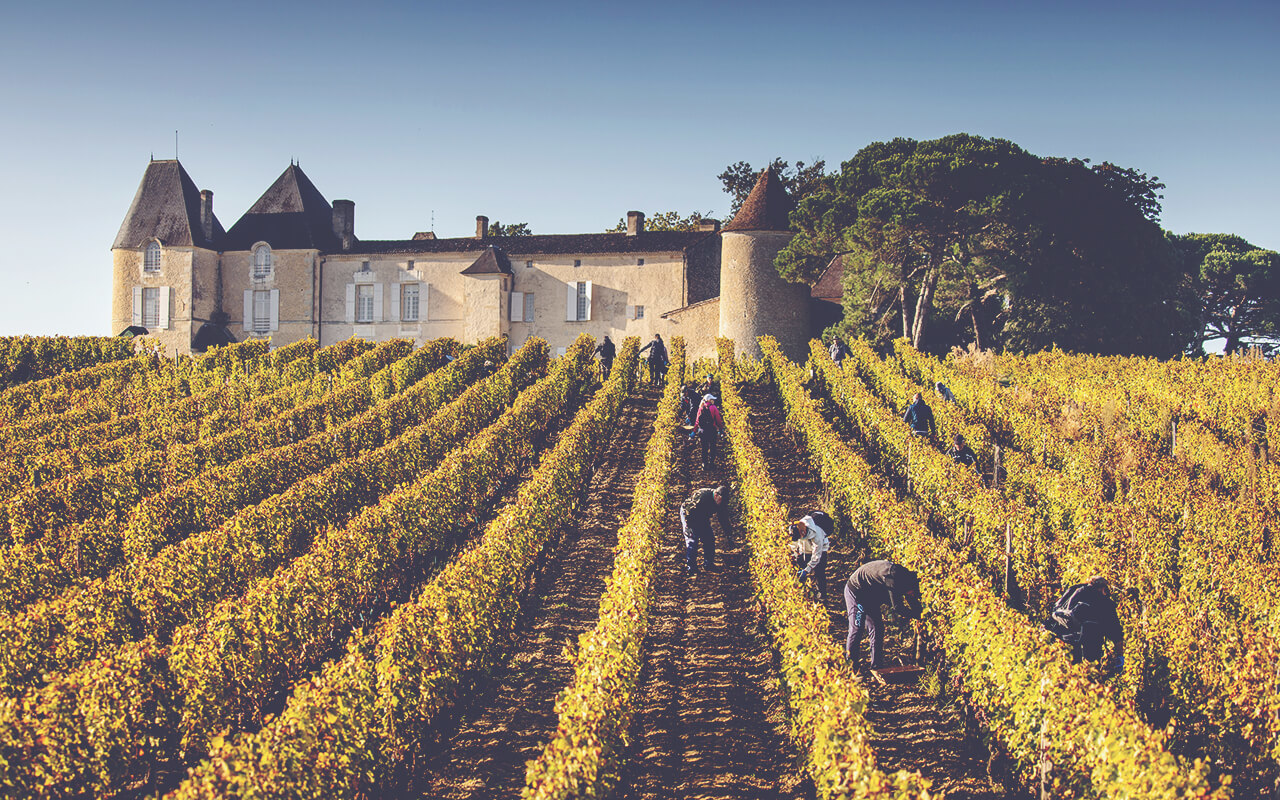 98pts Neal Martin, vinous
"Tasting the 2019, I noticed that it has a slightly paler hue compared to recent vintages (though I never read too much into the colour of young Sauternes.) For certain, it has a highly-aromatic bouquet that is beguiling in purity, enticing aromas of honeysuckle and saffron, soon joined by camomile, white flowers and orange blossom. It has wonderful delineation and gains intensity with aeration. The palate is supremely well-balanced with fine bead of acidity. Very harmonious and armed with just the right amount of viscosity, this Yquem is surprisingly understated at first but gains presence, offering irresistible flavours of layers of honey, lemongrass, lemon thyme and orange pith. Yquem is so tempting in its youth, but I feel that this vintage will repay those with the nous to cellar for at least a decade."

97+pts Lisa Perrotti-Brown, Thewineindependent.com
"Pale lemon-gold in color, the 2019 Château d'Yquem springs forth with confident, alluring scents of lime blossoms, mandarin peel, and candied lemon slices over a core of fresh pineapple, white peaches, and crushed stones, plus a hint of shaved ginger. The palate absolutely pops with vibrant citrus flavors accented by tropical fruits and peachy nuances, supported by an achingly velvety texture and seamless freshness, finishing with long-lasting mineral and floral fireworks. An irresistible fat-cheeked baby with that Mona Lisa smile at the moment, give it 6-8 years in the cellar to begin to reveal its opulent personality, and then drink it over the next 30-35 years+."

97pts Jane Anson
"Clear push and pull between acidity and lusciousness from the first moments. A higher percentage of Sauvignon Blanc than in a typical year, showing in sculpted gunsmoke and white truffle on the opening beats. Fresher flavours continue with lemongrass and lime zest, broadening out into luscious mango, grilled caramel, pineapple and brioche, and a welcome edge of bitterness on the finish with mandarin peel and oyster shell salinity. As has so often been the case in recent years, the team at Yquem needed to hold their nerve, as a dry September meant the noble rot took its time to get underway, with harvest finally taking place from around October 10 though to early November."