La Table Secrete de Troplong Mondot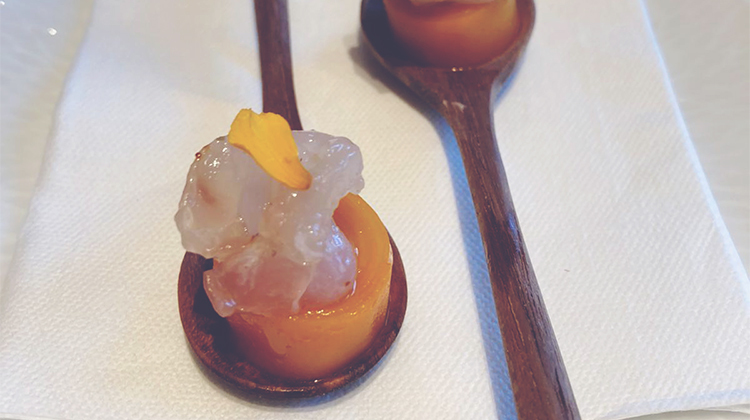 David Thomas
30 September 2020
Part 3 of our blog series following David Thomas's adventures in Pomerol is a very gastronomic one! David had the rare opportunity to go to an exclusive dinner at 'La Table Secrete de Troplong Mondot' last week having been invited by Le Pin owners and winemakers Jacques and Fiona Thienpont. David unveils the secrets behind this extraordinary dining venue and walks us through the many delicious dishes famed chef David Charrier created and served throughout the evening. When you have finished reading this blog, I think you'll agree with us that we were all rather jealous of both the food and wine drunk that evening!
---
As some of you might know the winery and facilities of Château Troplong Mondot are in the process of being redeveloped and substantially upgraded for the future generations – it is a massive project, one of several currently being undertaken in St Emilion at the moment. Interestingly enough Jacques Thienpont's late grandfather, Georges, purchased Troplong Mondot back in 1921. It was the first wine estate to belong to the Thienpoint family and this was the start of the winemaking dynasty which is now well established here in Bordeaux, Georges also purchased Vieux Château Certain just three years later in 1924. Sadly due to the Great Depression in the 1930's he had to sell Troplong Mondot in 1935 but the Château still remains - well the four outside walls are the same but the interior has been re-developed into the ultimate luxury dining experience.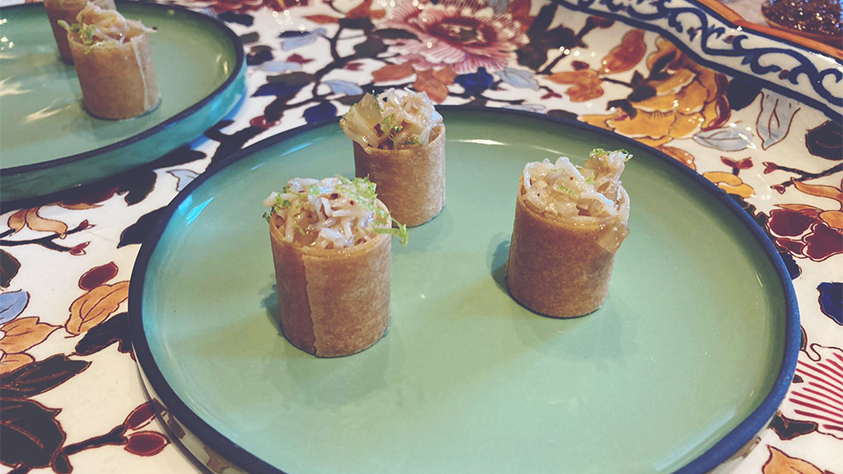 Troplong Mondot is home to the celebrated 1 Michelin starred St Emilion restaurant, Les Belles Perdrix. This fine dining oasis is run under the watchful eye of the brilliant young chef David Charrier. During the redevelopment, the restaurant had to temporarily close and understandably the owners were extremely worried that they might lose David to another estate or restaurant. So they made a generous offer - allowing him to use the ground floor of the Château as his playground and experimental kitchen, thus the 'Table Secrete de Troplong Mondot' was born...
'The Secret Table':
One table for 12 guests
Only one sitting on either Thursday or Friday evening
No menu to choose from…. The dishes are purely the chefs' inspiration and creations from the local produce received at the Château during the week
And you have to be 'in the know' to secure a place at the table - it's exclusive.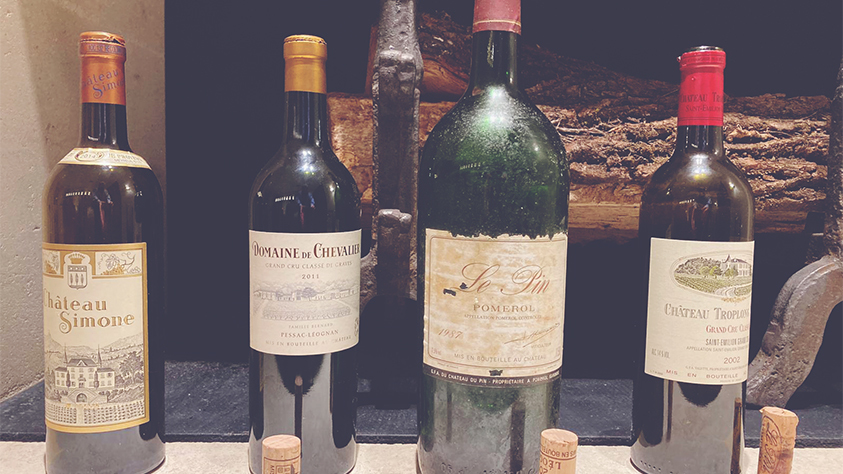 Jacques and Fiona had very kindly organised for a small group of us to experience the magic of an evening at 'La Table' and I have to admit it was some of the best cooking I have experienced in France for some time. As you may have guessed, the wines selected and served were not bad either, there were some stars of the show, which I will dive into a little later in this blog.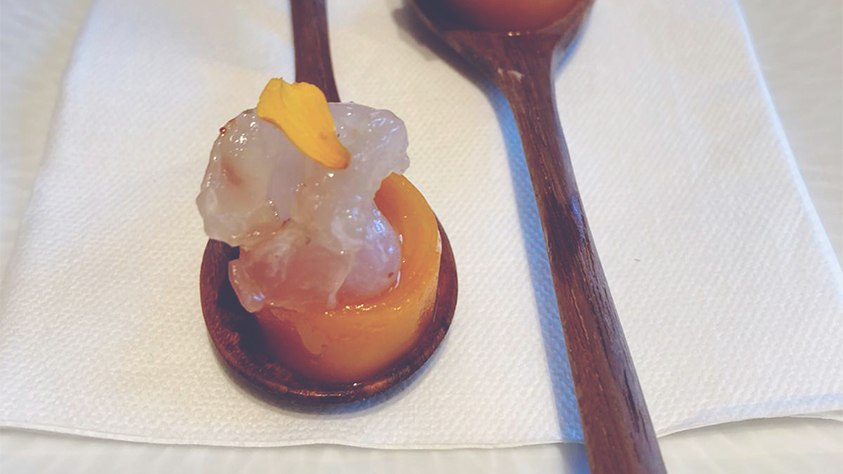 We kicked things off with some wonderfully inventive and beautifully presented nibbles accompanied by a glass of Billecart Salmon Brut. We devoured these sitting in the lounge, enjoying the breathtaking views across the vineyards towards St Emilion – you can understand exactly why Georges fell in love with the Château and its elevated position up in the hills looking down over the village of St Emilion. The canapes were truly exquisite, we started with a selection of sweet carrot with Sea Bass ceviche, Duck & Cassis tartlets, thinly sliced Jamon wrapped around delicate breadsticks and perhaps my favourite of all - a cauliflower mousse topped with fresh crab and served in micro-thin pastry... this gives you a little taster of the quality of the dishes to follow.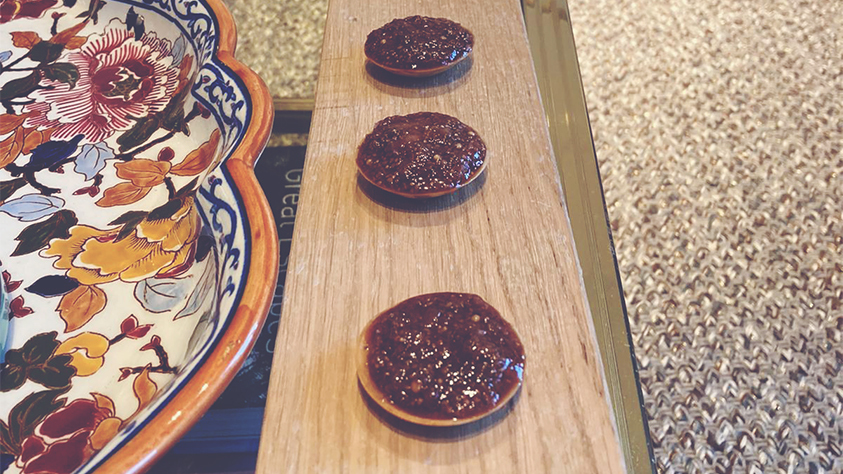 Having woken up the taste buds and savoured the vineyard views we moved into the dining room for the rest of the evening. The dining room has one long table with two sliding doors at one end. Just before each course was served the sliding doors would open and reveal the experimental kitchen, where the chefs would be adding the finishing to each dish, it was fascinating watching the masters at work.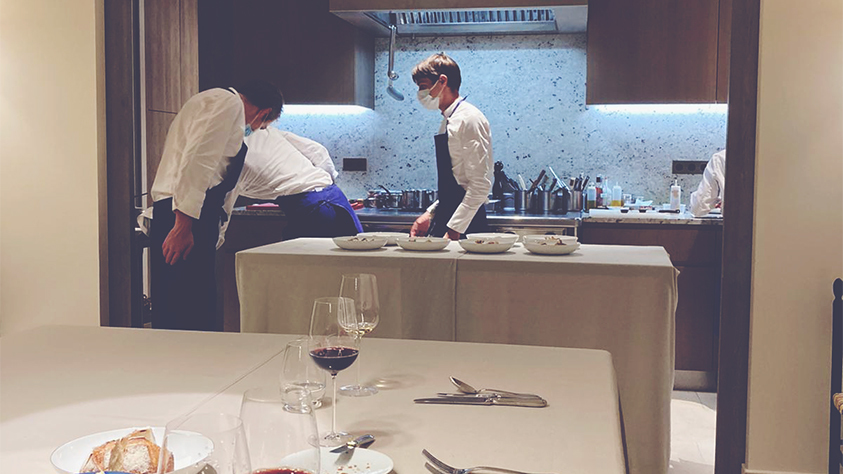 We started with a bottle of 2011 Domaine de Chevalier Blanc which worked absolutely perfectly with one of my favourite dishes of the evening: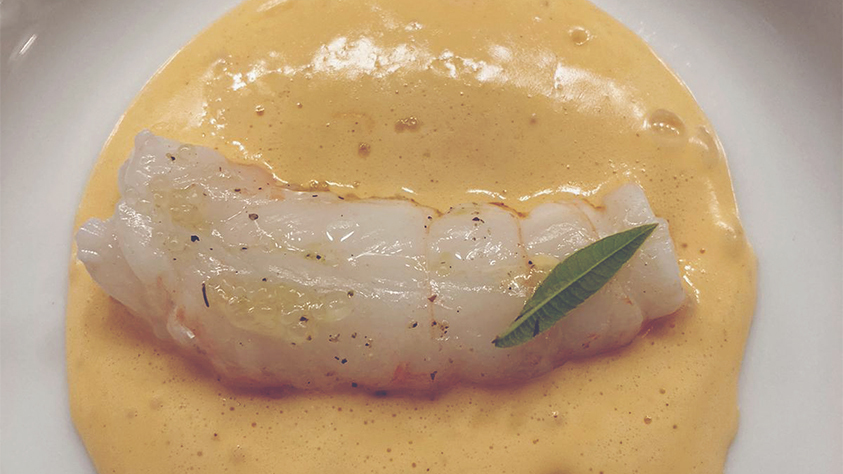 Langoustines de casier
Roties a l'huile de crustace et citron caviar
Parfum de verveine et cocos de Sainte-Terre
One perfectly cooked and sweet langoustine tail sitting in the most intensely flavoured foam with just a subtle citrus hint. This dish perfectly matched the slightly sweet Chevalier Blanc (from the bottle age) but it had the palate weight and freshness to match the richness of the shellfish sauce and clean the palate – great length of flavours of both dish and wine.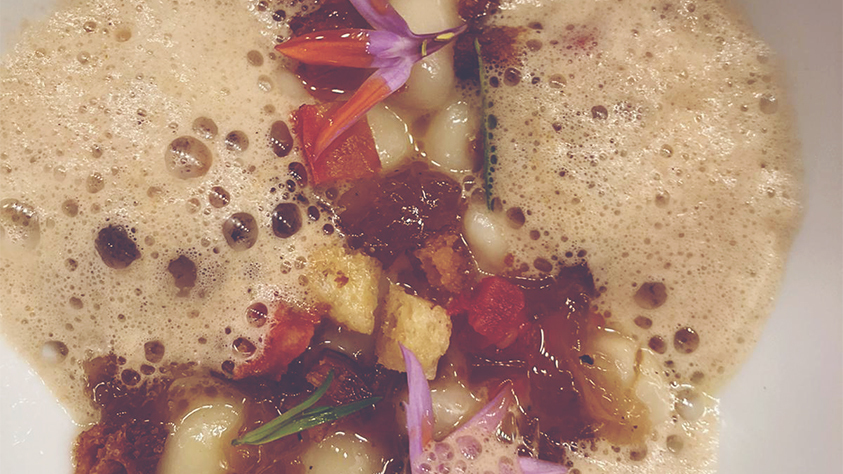 Next up was some of the very best smoked eel I have ever eaten - textured and oily, but sweet and smokey, sitting on a bed of artichoke puree and lentils with an essence of foie gras running through the dish.
Anguille fumee,
Velouté d'artichauts et lentilles vertes de Blasimon,
Neige de foie gras et herbes acidulées
Moving away from Bordeaux, we ordered a bottle of the brilliant Château Simone Blanc 2014 – the aromatically graceful white from Provence dominated by 80% Clariette Blanc and 10% Grenache Blanc it is full of ripe stone fruits and white peach, with a richness coming from barrel aging and also a little bottle age, but with remarkable freshness and enough texture to balance the richness of the eel and artichoke.
I have to admit to an almost unhealthy obsession with mushrooms – ceps, pied de mouton and morels being top of list – but the next dish was without doubt my favourite of the evening and might be my top food / wine pairing of the year so far.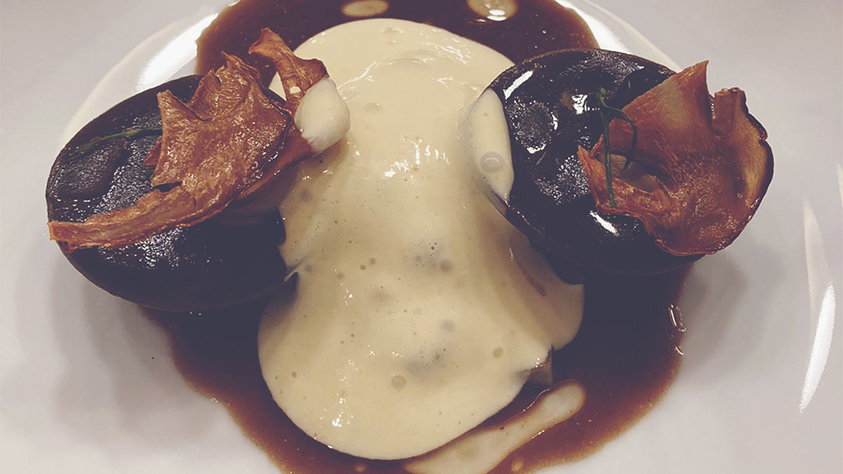 Cepes
En raviolis cremeux, leveche et sabayon au vin jaune
Ohhhh my lord... let me eat this on a daily basis. Two perfect ravioli filled with the most intense cep puree, sitting on the richest vin jaune and cep sauce and served with wafer thin dried ceps. Cep overload you might say? No chance - cep heaven more like! We were poured a glass of wine blind and boy did it work with the dish. It was one of the most 'burgundian' Bordeaux aromas I have experienced – intoxicating sweet wild strawberries, Indian spice, truffles, game, leather and the sweet essence of roasted meat – it was absolutely magical and served alongside this fungi masterpiece it was truly special. The wine in question was a Le Pin 1987 magnum. And if you just stop and think about that, 1987 was regarded as a terrible vintage in most people's eyes, with a wine made in an old shed of a winery, dirt floor and basic equipment with two men, neither of which were trained wine makers, managing to produce a wine of pure elegance – magical terroir!!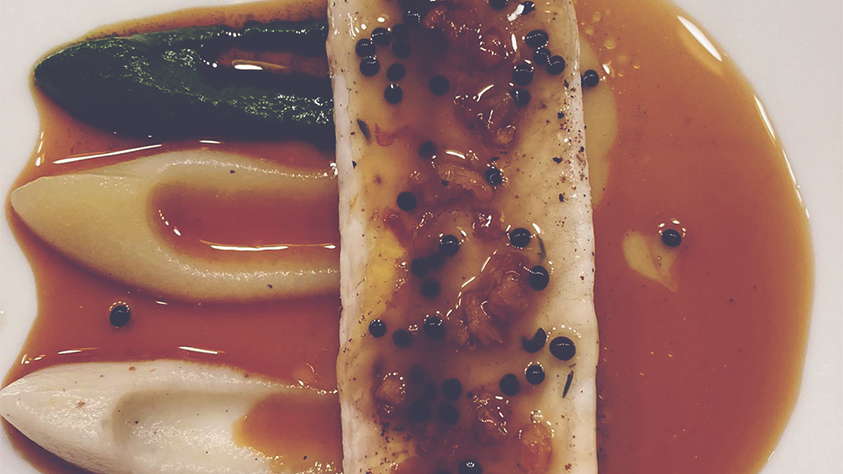 Sole de Saint-Gilles-Croix-de-Vie,
Le filet cuit à plat à la graisse de volaille,
Jus de poulet rotie, caviar d'Aquitaine
As we continued to wax lyrical about the magnum of 1987 Le Pin the next dish was served – and let's be honest it was always going to be a struggle for me personally to match the mushroom magic of the previous plate. A very delicate piece of sole, again cooked to perfection, with an intensely rich 'roast chicken' jus, with crispy diced chicken skin and caviar on top. We had three purees served alongside – artichoke, cauliflower and apple – the first two worked magically with the delicate fish and salty chicken fat, but the apple was far too sweet and in my opinion overpowered the delicate sole.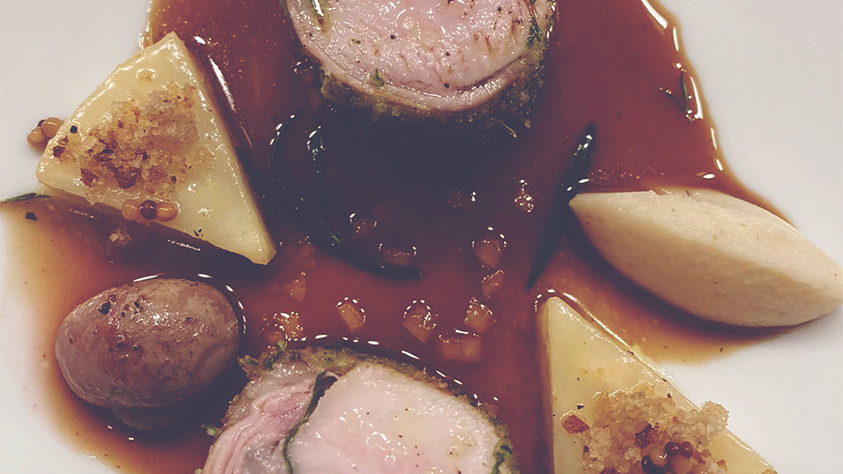 Lapereau de Dordogne,
Le rable a la chapelure beige, celery boule de moutarde,
La cuisse servie comme un ragoût
I do hate to think of eating 'baby rabbit' but when it tastes as sweet and delicate as this, I will overcome my remorse and just enjoy it. The meat was so moist, almost melting in your mouth and although I normally object to fruit and especially pineapple with meat – the freshness really worked with the intensely reduced sauce and saltiness of the poached kidney. Given the location we thought it was polite to order a bottle of Troplong Mondot from the list – 2002 – which was surprisingly rich and intense, dark berries and cassis, hints of pepper and spice and actually young with some refreshing energy... it had to follow the 1987 Le Pin and it held its own... just.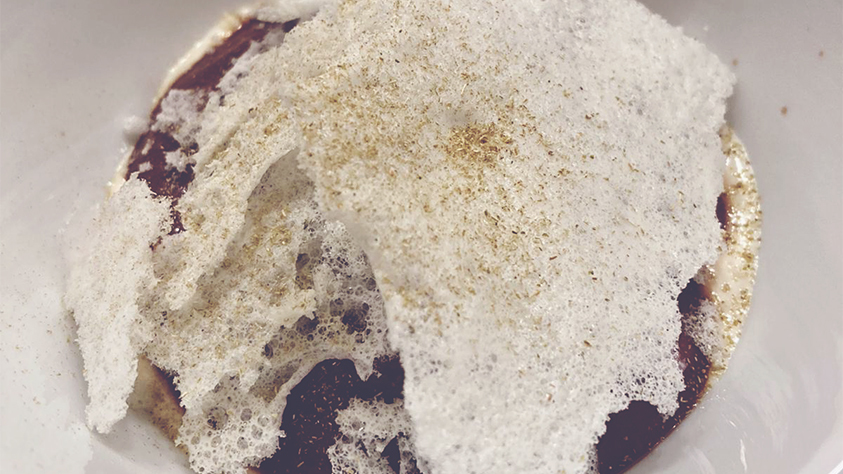 Two fabulous puddings arrived in quick succession...
Poire et fenouil,
Crème de lait, sorbet à la poire et jus acidulé
Magically refreshing and cleansing – essence of pears with crispy milky shards and sharp pear sorbet underneath. A perfect treat to refresh the palate with just enough spice to almost warm the taste buds.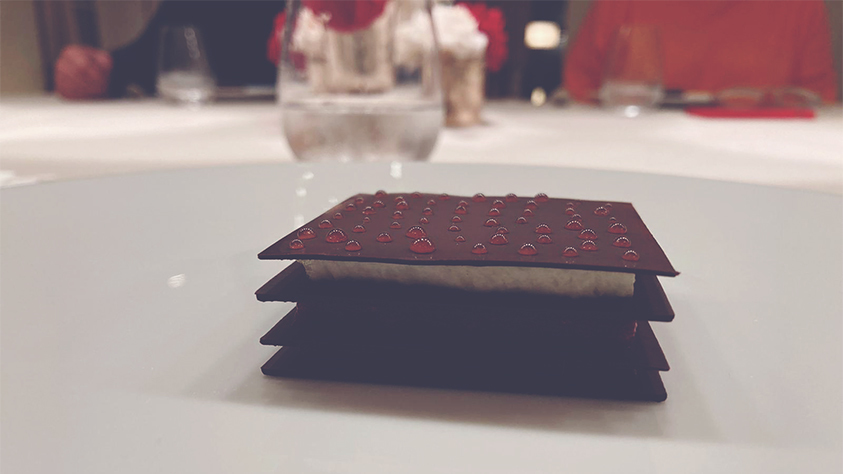 Choco-framboise,
En mille-feuilles croquant et mousse mascarpone
This dish looked so good I had to take a couple of pictures, to show just how delicate this was. There were four squares of delicate yet rich dark chocolate with heavenly chocolate mousse underneath, sweet and aromatic fresh raspberries and mascarpone mousse – it was a shame to smash it to pieces(!) - but most of us did and enjoyed every mouthful.
What a night...
I cannot wait for the new 'Les Belles Perdrix' to open its doors and once again have the pleasure of tasting the magical cooking of David Charrier. The grand opening is set for 2021 once building work is complete but if you are in St Emilion before then and can secure a place at the table... it is something not to be missed.
I cannot thank Jacques and Fiona Thienpoint enough for dinner in Jacques' grandfather's old house and serving the magnum of Le Pin 1987. It was without doubt one of those evenings you just don't forget.