En Primeur Releases: 15 June 2021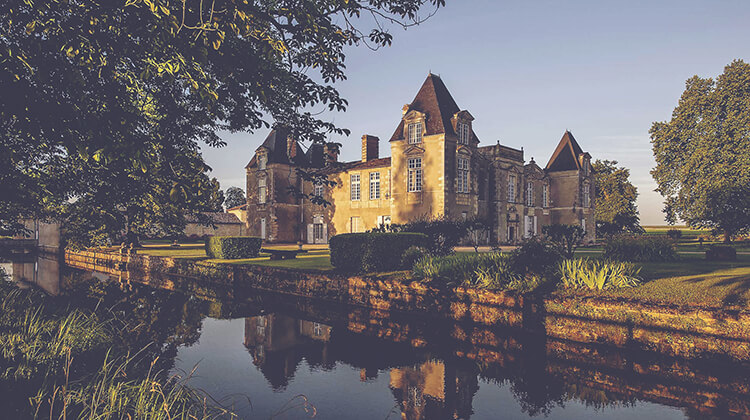 Giles Cooper
15 June 2021
Another extremely successful 2020 Margaux arrives today in the form of Chateau d'Issan, which has been released at GBP 506/12. The wines from this central part of the appellation on the Cantenac plateau continue to amaze in this benevolent (in this part of Bordeaux) vintage.
"very beautiful tannin texture, and superb length to finish. Very Margaux-discreet, a most complete and beautiful Issan." Michael Schuster
The critics bear witness to the continued improvements at the address with the 2015 starting the roll which, with the possible exception of the lighter 2017, has run through to the current 2020 vintage. Jane Anson (96) leads the way, calling it a "powerful and forward-moving wine with a sense of momentum" and Lisa Perrotti-Brown (93-95) admires its "impressive energy with crunchy red and black fruits and compelling tension, framed by fine-grained tannins, finishing long and mineral laced." Neal Martin and Antonio Galloni (both 93-95) consider it "a sophisticated Margaux in the making, full of breeding and class" which is "shaping up to be a jewel of a wine."
D'Issan is one of the oldest wine producing estates in Bordeaux, with roots back to the 12th century; however it is the modern story, from 1945 onwards where the Cruse family took control, that really matters. From 1998 to 2013 the estate was managed by Emmanuel Cruse, driving quality up and starting to re-establish the name. In 2013 entrepreneur and owner of Paris rugby club Racing 92 Jacky Lorenzetti (also owner of Chateaux Lilian Ladouys and Pedesclaux) took a 50% stake in D'Issan and this investment saw another leap in quality – and a sense of adventure and experimentation. Nearby Chateau Pontac Lynch was acquired and through special dispensation a portion of the vineyards were added to the main estate, not only to expand the overall production but to allow the addition of new vines – meaning that D'Issan is now one of the few top Bordeaux estates to have all 5 permitted varietals planted and in production! The resulting wine has more muscle, more richness, and more power, but also more precision and energy. It is a noticeably new style and one which appears to be destined for great success.
Margaux is certainly the appellation to stash away in 2020 and this is another extremely well-priced wine which continues to punch above its historic weight…
D'Issan 2020 tasting notes and prices
96pts Jane Anson, Decanter "This is a sinewy, powerful and forward-moving wine with a sense of momentum. Moreish, with the elegance and plump damson fruits that Issan delivers so well, but more muscular than some years with the impact of both Petit Verdot and Malbec that are in the blend for the first time in this vintage. These add layers of spice and the overall architecture is clear. Peony and violet notes add a kick upwards on the finish, this has a delicacy even though it is intense. Less Cabernet in the blend in 2020 than in 2019, as is often the case in the Médoc due to low yields. This new blend in Issan will be seen going forward after the addition of plots from the purchase of Château Pontac-Lynch."
94-96pts Jeff Leve "The first vintage to include 5 Bordeaux varietals in the blend starts out with violets, wet earth, spice, cherries, espresso and currants on the nose. From there the wine is fresh, energetic, elegant and complex. Full-bodied, silky, long and intense, with the essence of minerality paired with spice and fruit in the finish. This will age and evolve for at least 2-3 decades. Produced from a blend of 55% Cabernet Sauvignon, 30% Merlot, 2% Cabernet Franc, 2% Petit Verdot and 1% Malbec."
93-95pts LPB, robertparker.com "The 2020 D'Issan is a blend of 55% Cabernet Sauvignon, 39% Merlot, 2% Petit Verdot, 3% Cabernet Franc and 1% Malbec, aging in French oak barriques, 50% new. It has an alcohol of 13.29%, a pH of 3.71 and an IPT (tannin index) of 73. Displaying an opaque purple-black color, it has vibrant notes of Bing cherries, boysenberries, ripe redcurrants and juicy black plums, plus hints of pencil shavings, wild thyme, lavender and forest floor. The medium-bodied palate has impressive energy with crunchy red and black fruits and compelling tension, framed by fine-grained tannins, finishing long and mineral laced."
93-95pts Neal Martin, vinous "The 2020 Château d'Issan, picked from September 17 to October 2 and blended in early January, then matured in 50% new oak, has a beautiful and very pure bouquet of blackberry, blueberry and light cranberry notes intertwined with crushed stone and subtle potpourri and violet scents, all wonderfully focused and exquisitely defined. The palate is medium-bodied with gentle but insistent grip on the entry. The tannins are very chiseled and the acidity lends plenty of tension that is palpable from start to finish. This is a sophisticated Margaux in the making, full of breeding and class."
93-95pts Antonio Galloni, vinous "The 2020 d'Issan is the first vintage that incorporates Cabernet Franc, Petit Verdot and Malbec to complement the traditional Cabernet Sauvignon and Merlot in the blend. Pretty floral and savory accents complement a core of ripe red/purplish berry fruit. Medium in body and vibrant, with superb persistence, Issan is shaping up to be a jewel of a wine. The purity of the flavors is striking. Harvest took place over three weeks between September 17 through October 2, which is only about a week earlier than normal, so not that displaced relative to what was the norm in much of Bordeaux. Tasted three times."
93-95+pts Jeb Dunnuck "More backward, dense, and concentrated, the Grand Vin 2020 Château D'Issan offers darker currant and cassis notes as well as gorgeous floral, sandalwood, graphite, and chocolate nuances. Medium to full-bodied, voluptuous, and layered on the palate, with sweet yet building tannins, this is a gorgeous Margaux that brings ample depth and richness while still showing the classic elegance of the appellation. The blend is 55% Cabernet Sauvignon, 39% Merlot, and the rest Petit Verdot, Cabernet Franc, and Malbec, raised in 50% new oak, and it's a selection of only 45% of the total production. It's going to have some up-front appeal and a broad, lengthy drink window over the following 2-3 decades. Tasted twice."
93-94pts Michael Schuster, WOFW "A most seductive nose promised here, finely gravelly, gentle in blackcurrant fruit; rich, dense, fresh, particularly fine in tannin; freshly sweet, long, subtle, complex, a gravel-infused gentle blackberry succulence to taste, within a very beautiful tannin texture, and superb length to finish. Very Margaux-discreet, a most complete and beautiful Issan. The proportion of exceptional-quality Merlot is clearly important here, and the newly acquired neighboring plot of old vines, a little Malbec included, has certainly offered an extra depth and complexity. Wonderful wine. 2030–55+."
97-98pts James Suckling "Extremely floral and fruity with currants and blackberries. It's full-bodied and very layered with delicious, dense character. Full-bodied with dusty, layered tannins. Rich, but not heavy. Long and chewy on the finish. 55% cabernet sauvignon, 39% merlot, 3% cabernet franc, 2% petit verdot and 1% malbec."


GBP 506 per case/12 IB
Other formats are available:
Halves – 526 GBP per case/24 IB
Magnums – 516 GBP per case/6 IB
Double magnums – 596 GBP per case/3 IB
Imperials – 383 GBP each IB