Bordeaux En Primeur 2021: Right Bank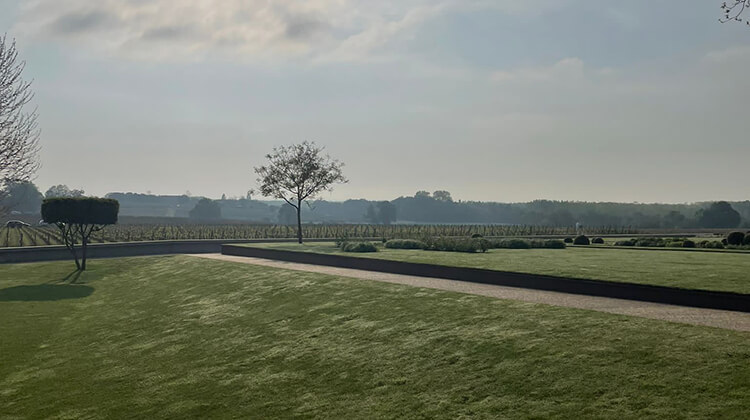 Giles Cooper, Bordeaux Index Buyer
3 May 2022
There are few finer things in life than waking up to a sunny morning in St Emilion. This beautiful town was to be our home for the next couple of days while we explored the 2021 Right Bank offerings. Having heard from many of the Medocain producers – and a number of early reports back in Blighty, perhaps from people who hadn't yet tasted anything - that this was not a Merlot vintage, we had our trepidations; but having visited Pavie Macquin and tasted through the Nicolas Thienpont stable at the close of Tuesday, hopes were higher than we had initially imagined as we had found Merlots of good richness, freshness and character within their collection of estates. Larcis Ducasse and Pavie Macquin continued their good form whilst BI value favourites Alcee and Puygueraud seemed equally up to scratch.
We started the day on the Pomerol plateau covering La Conseillante, L'Evangile, Le Gay and L'Eglise Clinet before genuflecting at the altar of Lafleur. Whilst none of the wines display the sheer hedonism and power of the last three vintages, they all showed pure Pomerol character, with plenty of fine, dense, powdery tannins and a very fine sense of sweet fruit. L'Eglise Clinet continues to thrive under Constance and Noemie Durantou, following the spirit of their father, and Lafleur once again proved that nothing is beyond them, fashioning a vintage of superb quality. At these early Pomerol tastings we were once again reminded of the sheer volume of work required to manage the extremely complex growing season. Both Lafleur and L'Eglise Clinet made the point that owner/winemaker facilities had the distinct advantage of being able to make rapid decisions and see them immediately executed – sometimes at 3am to protect from frost for example – whereas larger estates with more complex hierarchies, and especially those without the financing available to pull workers in at the drop of a hat, were in somewhat of a pickle. Even a few hours delay can cause significant losses so it was vital to be immediately reactive. We also learned that 'not a Merlot vintage' is a line you can take with a pinch of salt.
The afternoon was spent on the plateau and Cotes of St Emilion, taking in Cheval Blanc, Angelus, Pavie, Canon, Ausone and La Gaffeliere. Terroir was once again purely expressed in these wines, with the lower alcohol and more restrained sense of sweetness allowing for the naturally saline, stony mineral characters to come through, whether on the clay and gravels of Cheval Blanc or the limestone of Ausone. Cabernet Franc has certainly done well in 2021 and there was much of this in evidence, sometimes simply because of lack of volume of Merlot, and at other times because of its sheer quality. Ausone and La Gaffeliere in particularly showcased their plateau terroir through the power, precision and indeed flesh of their Cabernet Franc and the wines have a beautiful freshness and energy.
One must eat during these tastings – it's hard work you know – and so a takeover at BI stalwart eatery Caffe Cuisine in Branne was arranged for the evening where we ate, drank and danced through the night with some of our favourite winemakers. A light-hearted taste-off between Cheval Blanc 2008, La Conseillante 2008 and Dominus 2008 was a particular highlight as was a bottle of Clos St Martin 1959. The end of the night followed a typical BI pattern: Sauternes in the taxi home, wine out of coffee cups pinched from the pre-laid breakfast tables in the hotel, and probably not quite enough sleep. Some traditions persist for a reason…
Thursday morning saw our swift return to Pomerol where we took our pilgrimage to Vieux Chateau Certan and Clinet. Sandwiched between was a visit to the new winery at Figeac where a beaming Freddie Faye showed us his many new toys and an extremely impressive 2021. We've been telling you for a decade that Figeac was perhaps the hottest estate in Bordeaux right now and this visit, with the astonishing and beautiful new winery now on stream, does nothing to dispel this notion. His 2021 is a masterpiece, being both very 'Figeac' and representative of the best aspects of the vintage. The family ownership's approach, allowing Frederic to have enough tools and resources at his disposal to be able to take last minute, sometimes risky decisions and then pull it off, is paying dividends. We are doubtless watching one of the all-time great comebacks in modern Bordeaux history.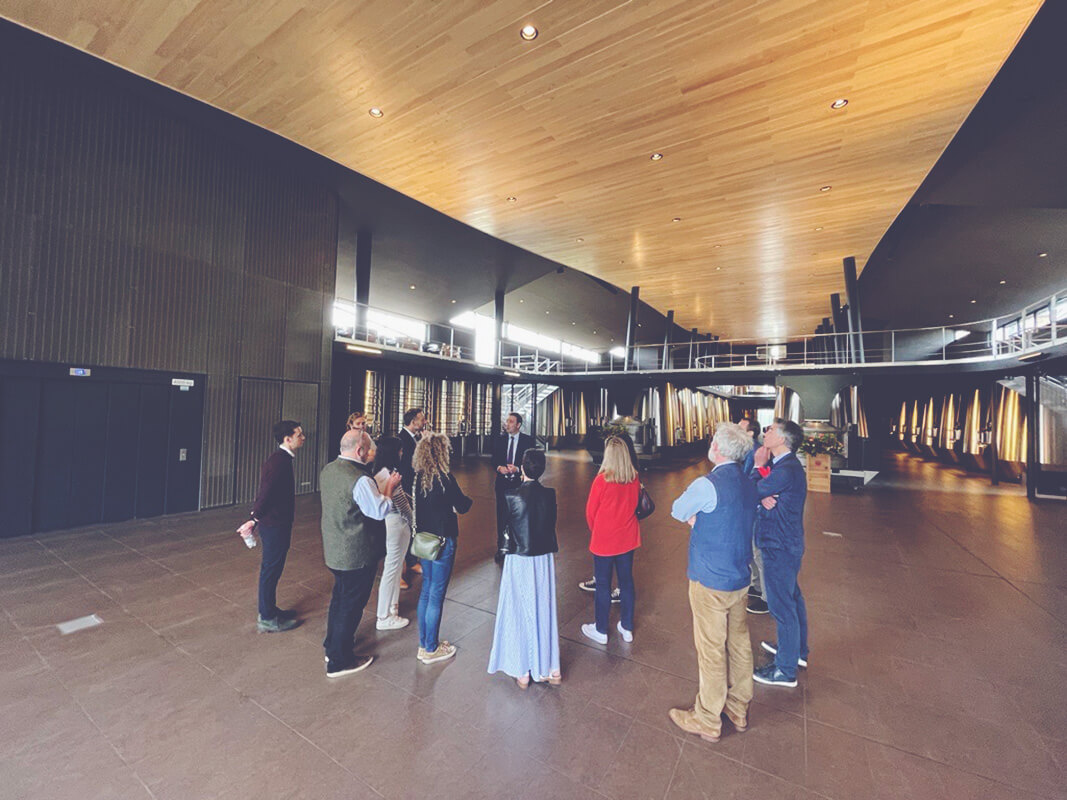 Belair Monange is another of the most impressive estates in St Emilion at the moment, certainly one of the brightest jewels in the Mouiex crown, and it was here that we met with Edouard Mouiex to taste their 2021s. Also being the beautiful home of Edouard and his wife Kelly and their young family, it must be one of the warmest and most welcoming properties in the region and thus we were delighted to accept an invitation to join the family and team for lunch. The magnums of 2010 Belair Monange being poured were mighty fine and whilst we enjoyed a glass of champagne on the terrace prior to sitting down, we learned about the unique nature of this south-facing side of the plateau and its constant gentle winds (which guard against frost and hence the name 'Bel Air') and ancient limestone, into which the house is partially constructed. A huge treat to be welcomed so warmly – and their 2021s are well worth your attention, too.
The warm welcomes continued into the evening at the miniscule Chateau Seraphine, a bijou Pomerol on the outskirts of Libourne owned and run by ex-Chateau de Sours owner Martin Krajewski and his daughter Charlotte. For a new property they are coming on leaps and bounds; the only challenge is the mere 3200 bottles of 2021 they have made for the world to share. If you get a chance, grab some of this up-coming name as they have a fine future ahead.
Day 5 and with a growing number of cobwebs to shake off each morning we packed the suitcases into the Renault like a game of automotive Tetris and bombed our way down to Smith Haut Lafitte where we would begin the final stage of the journey in Pessac-Leognan and Graves. We often find that in some more challenging years the wines made south of the city have an added level of ripeness and intensity due to the proximity of the city and its intensely built up nature. There was certainly a significant frost impact on the more exposed vineyards which reduced yields at Smith Haut Lafitte, Domaine de Chevalier and Haut Bailly, due primarily to the sheer depth of the cold air (it was still below zero several hundred metres above ground level, so wind machines and helicopters had no impact at all, unlike in years where the ground frost only impacts a few metres above the soil surface and so can be easily disrupted). This was followed by an attack of mildew that occurred so fast as to be almost impossible to manage entirely so further losses were recorded. However, from mid-August to late September the summer was far less cool and unseasonable than it was north of the city, and to the east in Libourne, and this is evident in the aroma and flavour profiles of the wines. Whilst still boasting plenty of freshness and firm but fine tannins, they have a richness of fruit and texture that marks them out from the rest of the vintage. It may be the best single region in terms of quality, but it will certainly be one of the smallest in terms of production; as the saying goes – he giveth, and he taketh away.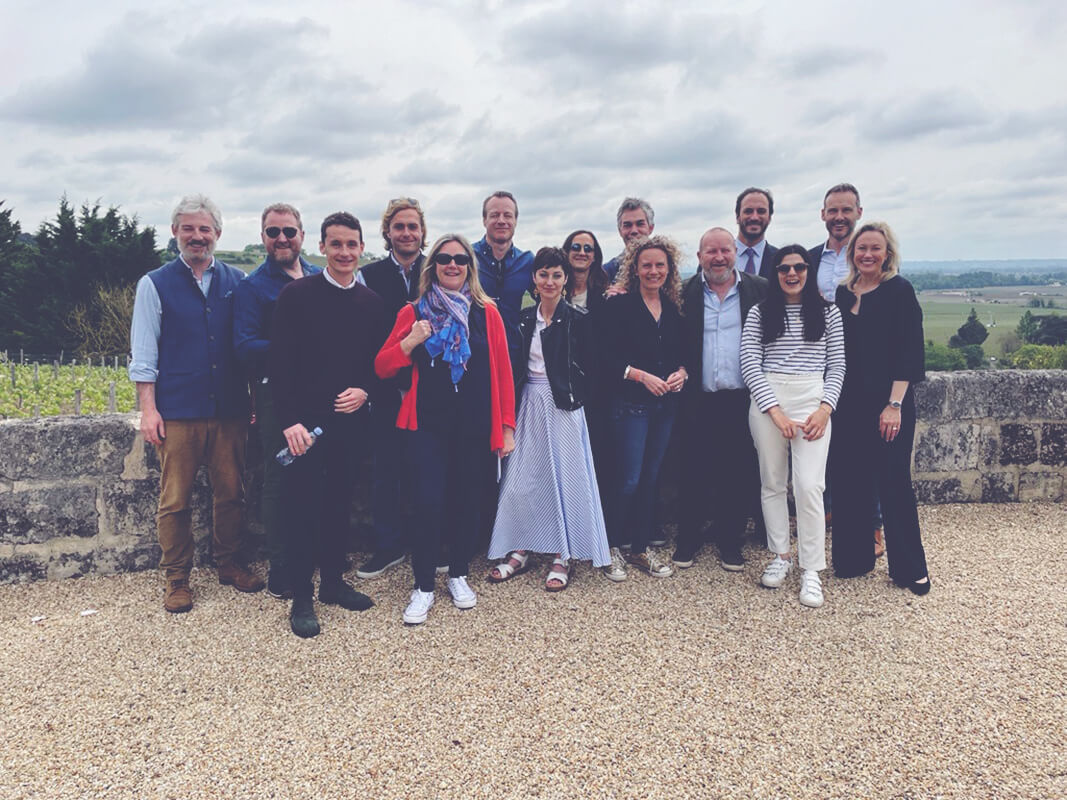 It makes sense to finish the trip on a high and the trio of top Haut Brions – Les Carmes Haut Brion, La Mission Haut Brion, and Haut Brion itself – provided just such an exit. The focus on whole-bunch pressing and amphora at Les Carmes has at times seemed a bit gimmicky but the 2021 shows that they are on a path to greatness; its amazing freshness, texture and purity mark it out as one of the most distinctive and desirable wines of the vintage. And then to the big daddies of the region. La Mission showed its exuberance whilst Haut Brion had a level of richness and power that marks it out as one of the wines of the vintage; the whites are simply astonishing given the conditions, and ending the trip with the virtually perfect Haut Brion Blanc 2021 – surely one of the best vintages we have tasted from barrel in the last decade at least – was a welcome boost for some flagging spirits.
And so here we are. Our experiences have been many and varied, the stories have been on a theme, albeit all with their own nuances. We will explore the vintage across the regions in more detail in our full report due out soon. For now it's a wrap on another Bordeaux En Primeur tasting week; and we expect the releases to happen pretty quickly so watch this space…