En Primeur 2022: The Team visit Bordeaux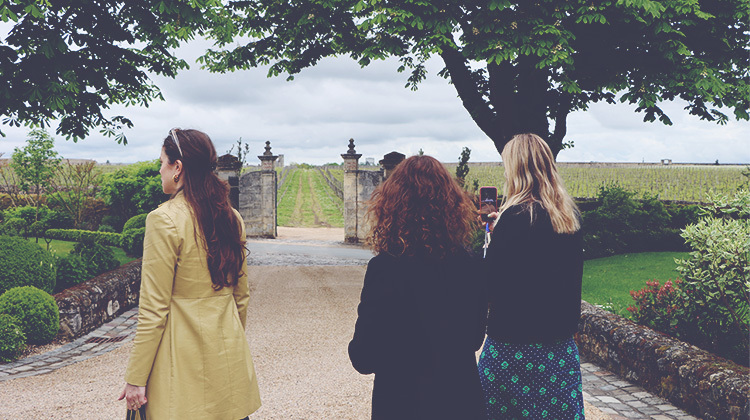 Amanda Sutcliffe and Tatiana Humphreys, Private Sales
15 May 2023
Amanda and Tatiana from our sales team recount their trip to Bordeaux for this year's En Primeur. Amanda first tells us about the Left Bank and Tatiana follows up with her experience of the Right Bank.


Bordeaux En Primeur 2022 - The Left Bank
Day One: A Trip to Sauternes for Château d'Yquem
En Primeur started with an early flight out of Gatwick, but what awaited us at the other end in Bordeaux definitely made the 4am alarm call worth it. As soon as we got off the plane we hopped into the 'BI Bus' and headed straight for Château d'Yquem for a BBQ. Despite Yquem being one of the crowning glories of Bordeaux in its own right, we had only ever tasted this elixir at Château Cheval Blanc (being under the same ownership of LVMH). However, it was decided that it was about time Yquem had its own presentation on its own turf, and the beauty of the château was a superb setting. It started with Yquem on tap – quite literally, two large formats were cleverly rigged up to a push-button tap so you could fill your glass with the new 2020 vintage or the lip-smacking 2005, as well as another for the Y de Yquem. We then sat down at long banqueting tables and feasted on BBQd seafood, followed by veal and finally sweet pineapple and French toast as a dessert as well as an impressive cheese selection. Needless to say the wines complemented the food beautifully, and reminded many of us how versatile Sauternes is.

This is not a wine to tuck away until the end of the dinner when many are too replete to have a glass; this is a delicious wine in its own right which can and should be served as an aperitif, to accompany various meat and seafood dishes and of course to pair with a sumptuous pudding and/or cheese course. Multiple trips back to the big bottles were deemed necessary to refill our glasses, both vintages were indescribably delicious. We then had a tour of the gardens and the chateau itself before heading eagerly down to the cellars to roam amongst bottles of Yquem going back decades, even centuries, and which we were assured were still drinking beautifully with their corks reconditioned every 20 years.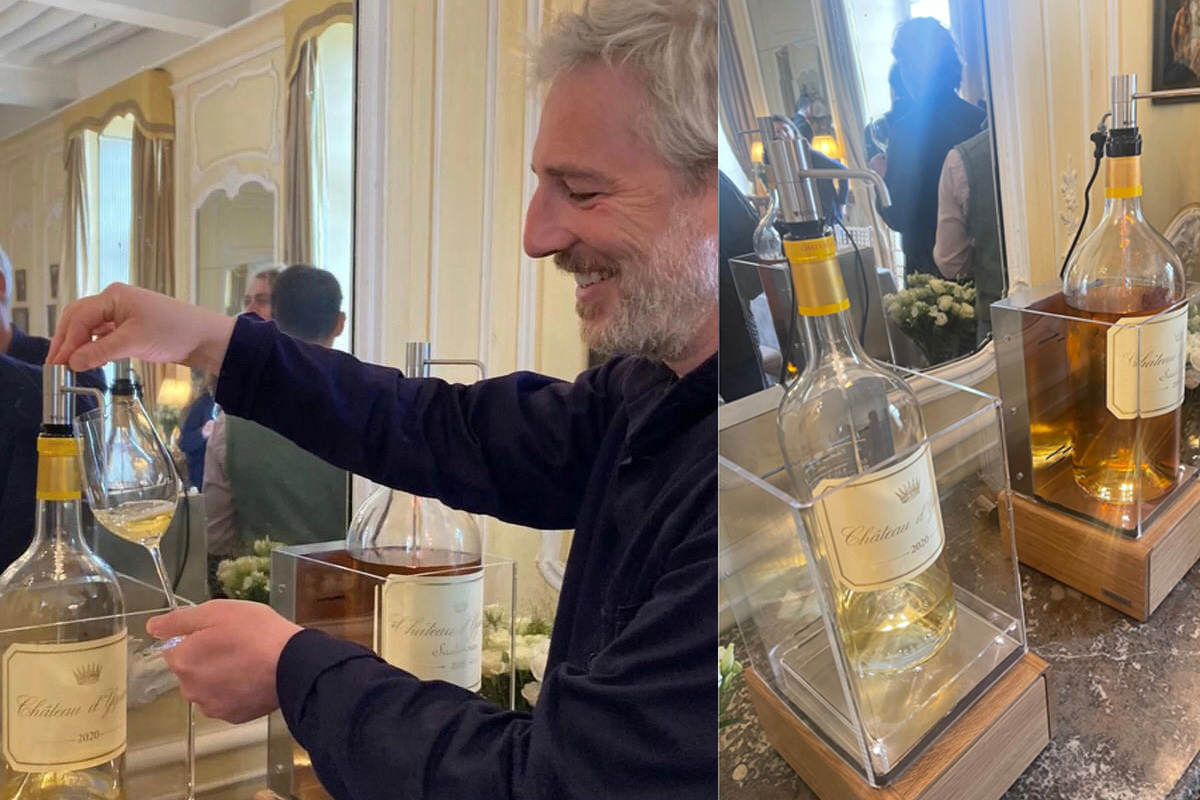 Château d'Yquem on tap
It was with some reluctance that we said goodbye to the wonderful hosts at Château d'Yquem and journeyed into the centre of Bordeaux to our hotel for a half hour turnaround before heading out to the nearest bar for a beer. It was then onto a local brasserie for some delicious côte du boeuf washed down with a few bottles, a round or two of cocktails in a lively little bar, and then bed after a 20 hour day.



Day Two: St Julien and Dinner at Château Lynch Bages

Monday dawned bright and breezy and we were off to St. Julien, with the first stop being a rather impressive 2022 Gruaud Larose, which served as an excellent insight into the style of the vintage with dark berry fruits, some subtle floral and mineral nuances, and a real richness. It was this density and concentration aligned so wonderfully with remarkable freshness which continued with our visits to Beychevelle and Talbot (both seriously good so fingers crossed for some attractive release prices here). These are big wines with power and depth, but the tannins are so beautifully polished and fine, the ripe fruit juicy without being jammy, and with such energy and precision that cropped up time and time again at various chateaux. Leoville Poyferre demonstrated the flamboyance of the vintage very well with a gorgeous aromatic nose and a ripe fruit core underscored with elegant floral notes, whilst Ducru Beaucaillou lead the way in terms of power and concentration, kept in check by a saline freshness and opulent fruit.

Lunch was an unusual affair whereby we abandoned our normal quest for a restaurant, and instead piled a shopping trolley high with charcuterie, cheeses, baguettes, a few bottles of Poujeaux 2016 (drinking beautifully) and beer, and set up our French picnic on the banks of the river for an hour before heading off to Pauillac.

First stop was Pontet Canet, followed by the fairytale castle of Pichon Baron, and then Grand Puy Lacoste. Subtle salty freshness, black fruit core and velvety tannins cropped up repeatedly in my tasting notes, with GPL displaying a gorgeous purity of fruit and charming perfume. Mutterings of comparisons with the 1982 vintage seemed to abound. I particularly enjoyed Pichon Baron which was seductive with layers of juicy ripe fruit, plenty of backbone but all wrapped up in silky and long, fine tannins. A shout out for Les Griffons de Pichon Baron as well, which should be a brilliant over-achiever if the price is right. Suduiraut was also served at Pichon Baron, which delivered exquisite freshness and concentration with layers and layers of flavours all jostling for prominence, and with a finish I could still taste on the bus afterwards.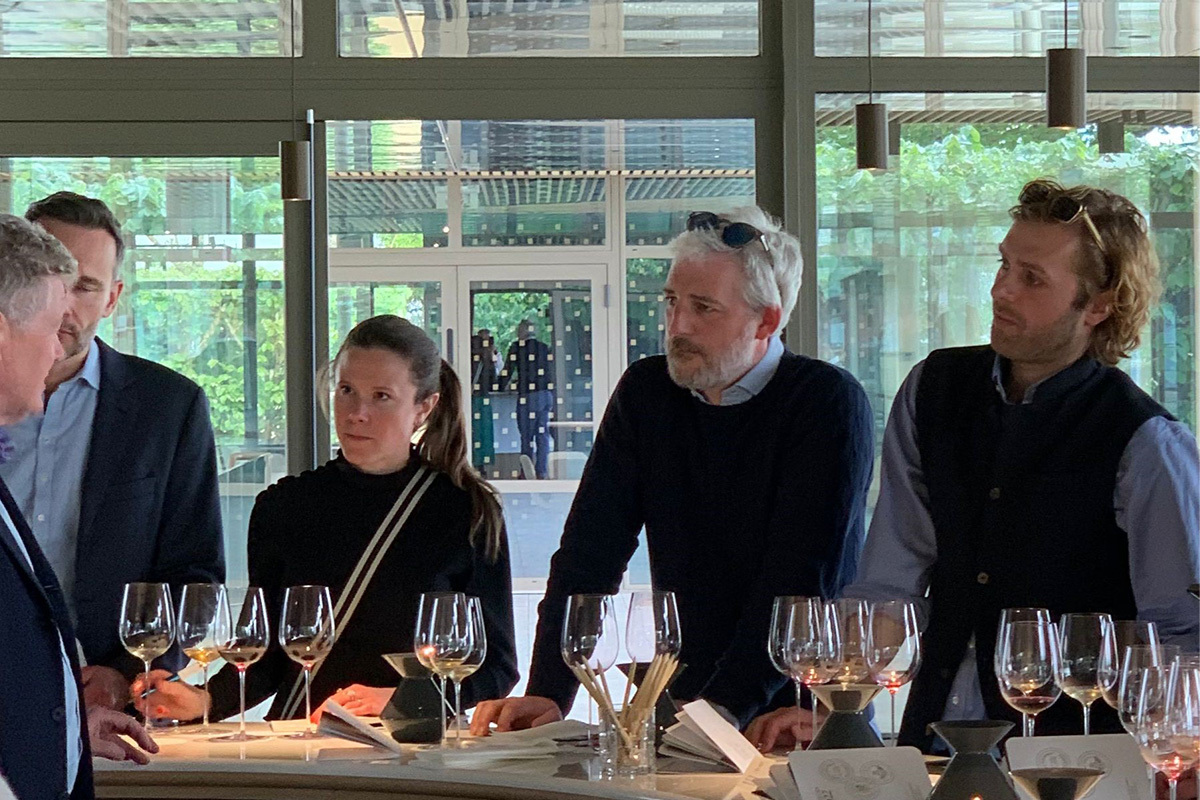 Tasting at Pichon Baron
Onto Château Clerc Milon to taste a surprisingly good d'Armailhac (one hopefully my bank balance can stretch to!), Clerc Milon and its second wine Pastourelle – both of which were beautifully ripe and fresh – and our first First Growth of the trip, Mouton Rothschild. Here there were murmurings of the perfect 100, so fabulous was structure and balance of this iconic wine. The Petit Mouton too was exceptionally good. Our last stop of the day was Pichon Lalande, which was one of my own highlights; it is truly incredible how such a young wine can have so much complexity, depth and balance at this early stage in its life.

It was a super quick turnaround at our new hotel in Margaux before we were back on the road to Château Lynch Bages where a sumptuous dinner awaited us. After tasting the new vintage – wonderfully classic, "controlled power" with masses of deep dark fruit and fabulous tension – it was down for Champagne and then a blind tasting to accompany the monkfish starter, veal main and tiramisu pudding. Our Masters of Wine's (to be), Victoria and Robert performed admirably with their answers of a white Chateauneuf du Pape (Clos des Papes CNDP Blanc), a Grand Cru white Burgundy (Bonneau du Martray Corton Charlemagne 2006), a left bank claret (Ormes de Pez 2009), Lynch Bages 1982 and Lynch Bages 1990. The 1978 Suduiraut was also a fabulous treat. The whole evening was exceptionally generous of the Lynch Bages team and their wines performed superbly well.
Day Three: A Last Day (for some) at Lafite, Latour and Margaux
The next morning was another early start with croissants on the bus before our first stop at Cos d'Estournel, followed by Lafon Rochet and Lafite Rothschild. Whilst Cos showed the power of the vintage, Lafite showed the majesty. This was arguably one of the best Lafites the team had tasted out of barrel. It was extraordinary, and warranted 99-100 pts from my own parsimonious scoring. Duhart Milon was also exceedingly good, as was the Carruades. Next up was Montrose, Calon Segur and Latour. All three of these ranked very highly on my wishlist; indeed the Latour was absolutely profound.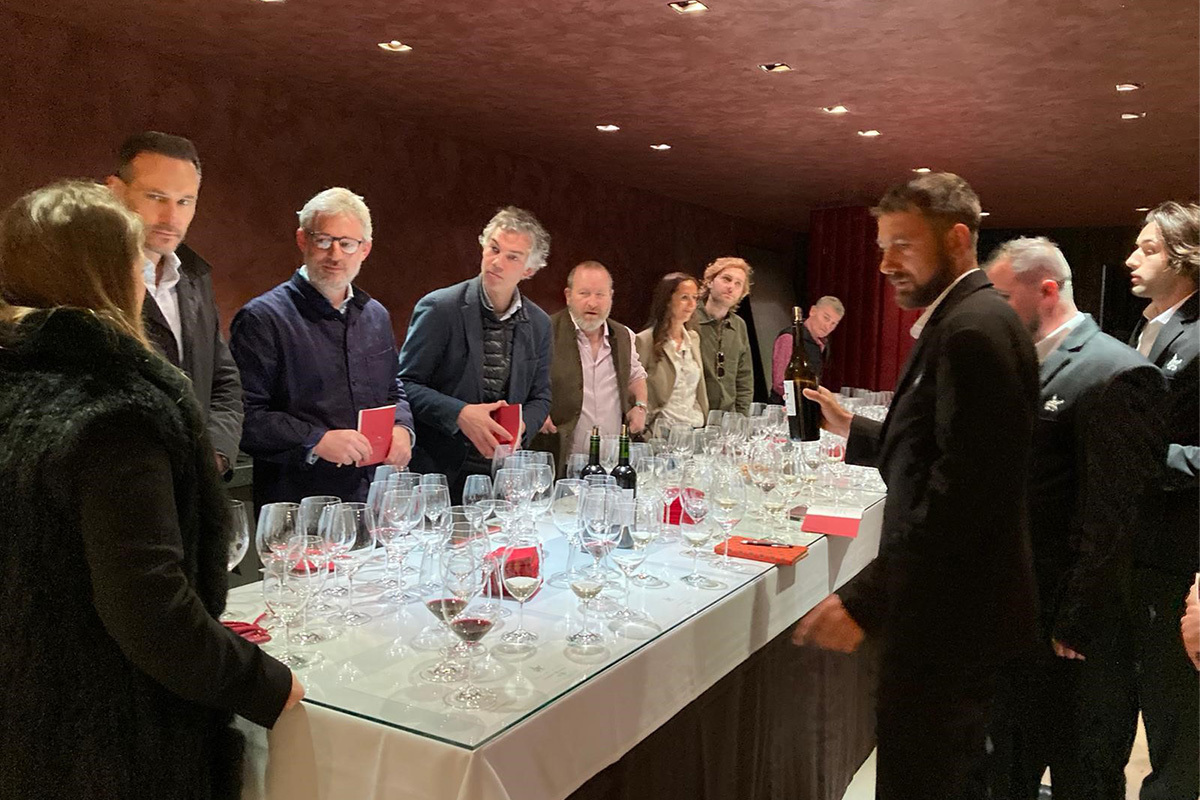 First tasting of the day at Cos d'Estournal
Lunch at Château Belgrave was a rushed affair before dashing off to Château Margaux – one of the prettiest châteaux in the region in my view – and which delivered one of the most powerful versions of Margaux I have ever tasted. An aromatic and perfumed nose with extraordinarily fine tannins and divine depth of flavours on the palate, this is one for the wishlist alright. The Pavillon Rouge was stunning
too. Next up was Palmer – another powerhouse but beautifully balanced, and finally Rauzan Segla to round off our trip, which was absolutely charming and delicious.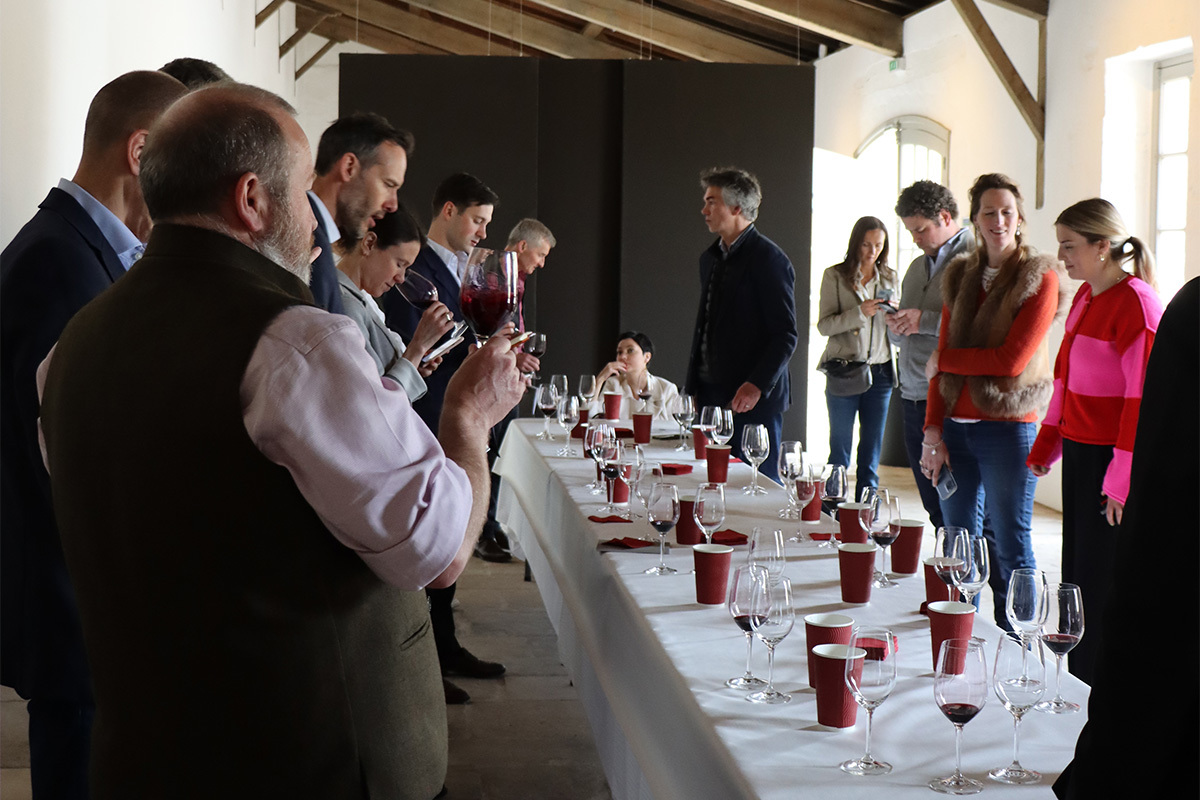 Tasting at Château Margaux
Although the plan was to go for a quick drink in St. Emilion before heading back to the airport, the Bordeaux traffic was at such a standstill that we ended up jumping ship with our bags whilst queuing at a roundabout and making our way cheerfully to the centre of Bordeaux for an aperol spritz / glass of champagne before catching our flight. What a trip, and what a vintage. Stay tuned for the new releases and make some space in the cellar - you'll be glad you did.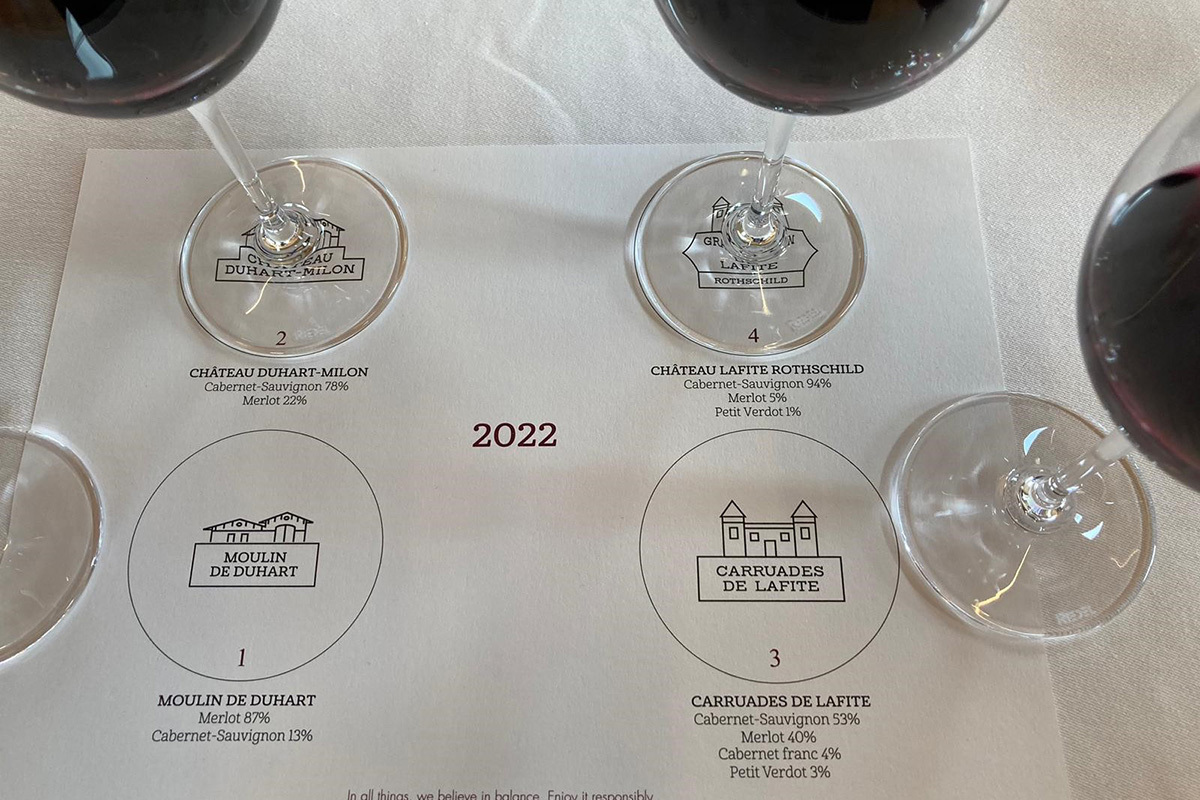 Tasting at Château Lafite


Bordeaux En Primeur 2022: The Right Bank
Day Three: Cheval Blanc starts us off with a bang
Early on Tuesday morning, a group of us travelled from London to Bordeaux for the second part of the Primeur tasting trip. The Right Bank is where we would be spending the majority of our time, with the last day spent back on the Left Bank in the Graves region.
I had heard great things about the 2022 vintage so I was very excited to taste and thankfully the wines lived up to expectations, possibly even exceeding them. We joined the other group for a few tastings on Tuesday, fortunately for us these included Château Margaux and Château Latour. Not bad for a first day. This resulted in a long drive back to St. Emilion due to the intense Bordeaux traffic.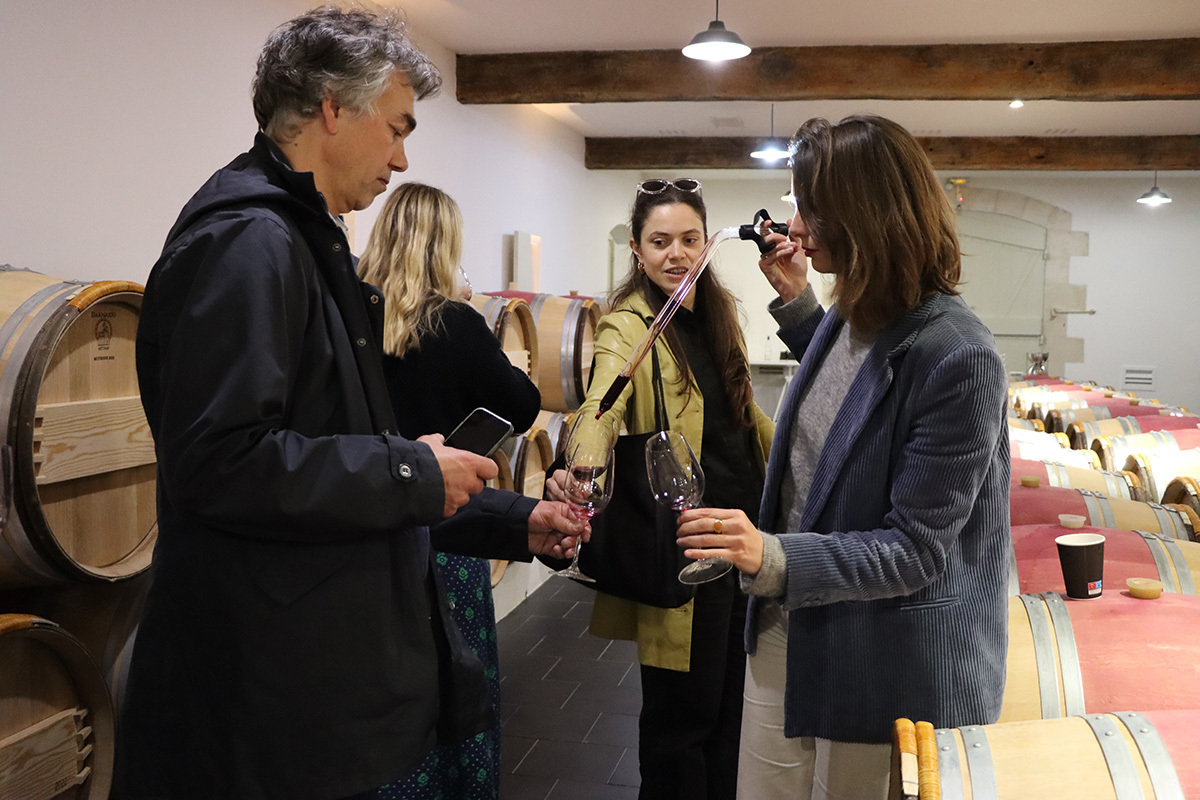 Tasting at Château Canon
Bordeaux is a great region to visit but I think it's fair to say that St. Emilion wins the award for prettiest place to stay. Our hotel was right in the middle of the village, a short walk from the Cloisters, which we managed to explore one morning. As ever with Primeur week, it's always a quick turn around from tasting to dinner and Tuesday must have been the quickest yet. We hopped off the bus, checked in and changed for dinner in ten minutes, an EP record for most of us. We had to be quick though because we were heading to Château Cheval Blanc for a tasting and dinner.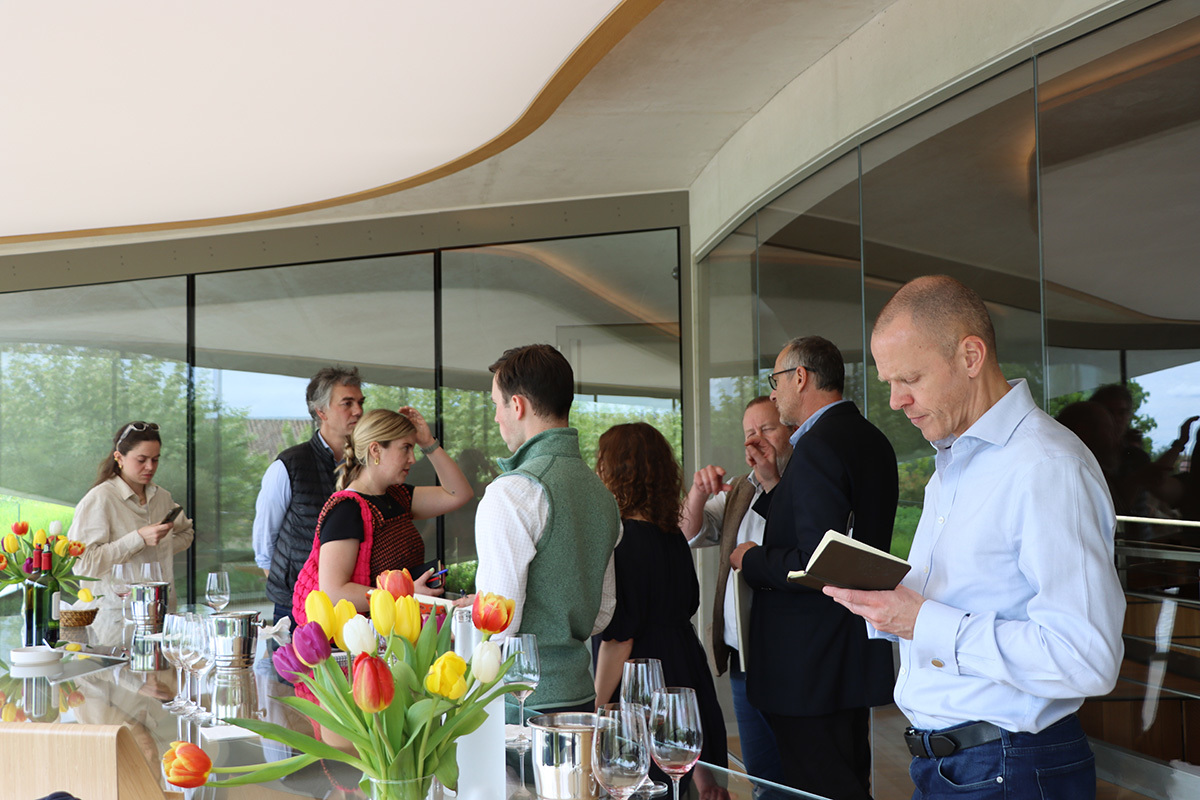 Tasting at Haut Bailly
Cheval Blanc was the first time we had tasted wines from the Right Bank and they kicked things off with a bang. A wave of calm came over us the minute we drove into the Estate. After a busy day of travelling and tasting, Cheval Blanc is an oasis. The winery moulds perfectly into its surroundings and the gardens are stunning with an array of plants and herbs. The place is a feast for the senses. We tasted with Arnaud de Laforcade, the Commercial Director, and after one sip of the 2022, the room was silent. This is always a good sign! The wine is sublime, full of cranberry fruit, sweet spice, pencil shavings with a structure that defies the wine's acidity level. After a tour of the winery, where Ellie continued the tradition of getting into one of the tanks, we walked over to the main château for dinner. A glass of Petit Cheval Blanc 2020 was fresh and citrus-fuelled started the evening, which was a welcome break from all the red wines we had been tasting. During dinner we were treated to 2012, 2010 and 2009 Cheval Blanc, alongside delicious dishes with mushrooms at the forefront. We even had a morel mushroom feature in the dessert! The 2010 shone in this line-up and the whole evening reminded us all of the vision and prowess of Château Cheval Blanc.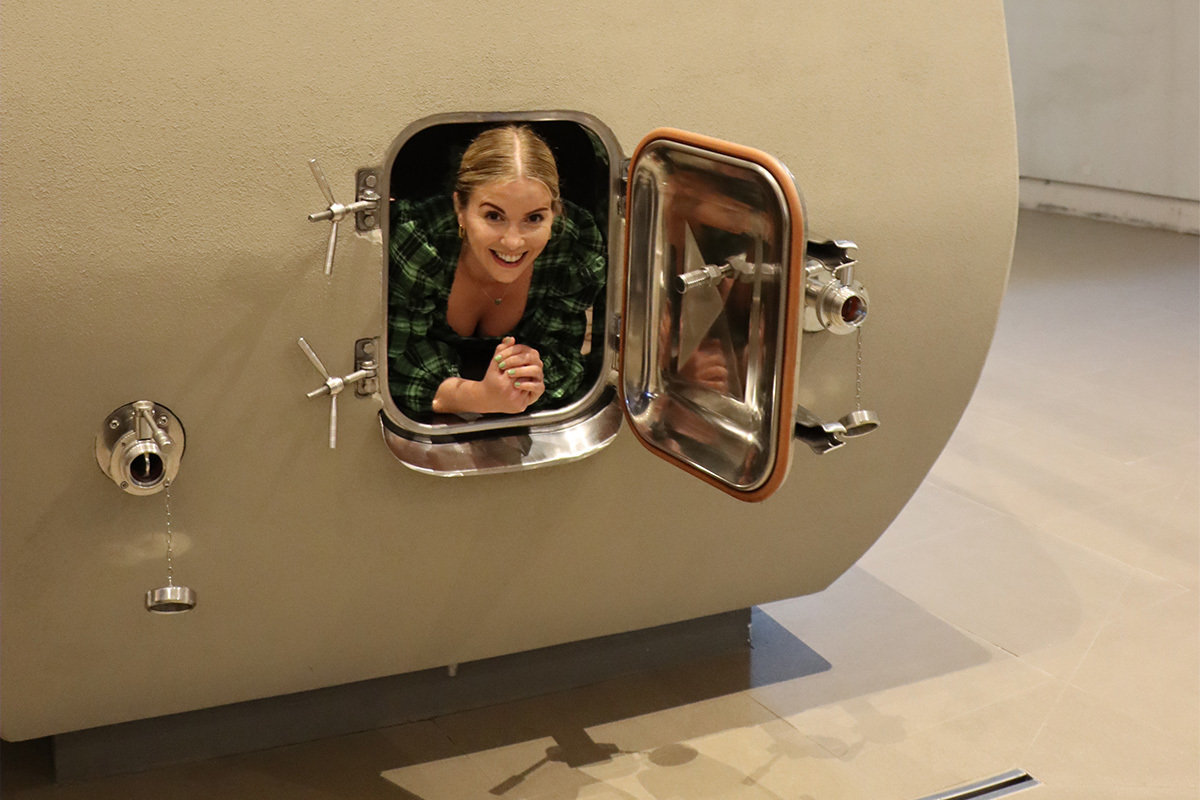 Ellie in the tanks at Cheval Blanc
Day Four: A long day tasting L'Eglise Clinet, La Conseillante and La Gaffeliere
Wednesday started in Pomerol with an 8:30am appointment at Château L'Eglise Clinet. They produce a few wines, which had a common thread of being juicy and glossy. Onto Château La Conseillante, always a favourite of mine, and 2022 does not disappoint. Marielle Cazaux was extremely happy with how the wine had turned out and on the 2022 vintage she said that you should "always be ready to be surprised." This was a common theme amongst the winemakers, the conditions of 2022 shouldn't have produced wines of this calibre! Quick stop offs at Château l'Evangile, Château Le Gay and Château Clinet gave us an informative insight into Pomerol. Notes of violets, cherries and cigar box kept cropping up in my tasting notes.
The afternoon took us back to St. Emilion. Château Angelus is an impressive place, and the Grand Vin and second wine, Le Carillon were singing. Fine grained tannins and crunchy blackcurrant and red cherry fruit. Château Canon was a highlight, with the 2022 firing on all cylinders. Unlike other châteaux, we were treated to a barrel tasting where we tasted the impact of different cooperages' oak barrels on the 2022 wine. 2022 Château Canon is classy and fully formed. The day closed with visits at Château Ausone, Château Canon La Gaffeliere and Château La Gaffeliere. Château Ausone shone with the wine being both sumptuous yet full of attack but don't forget about Ch. Moulin Saint-Georges, which was stunning. I'd like to mention Château La Gaffeliere, which sits below Ausone on one of the few limestone slopes of Bordeaux. The wine had a lovely salinity to it with red fruit flavours coming from the Cabernet Franc in the blend.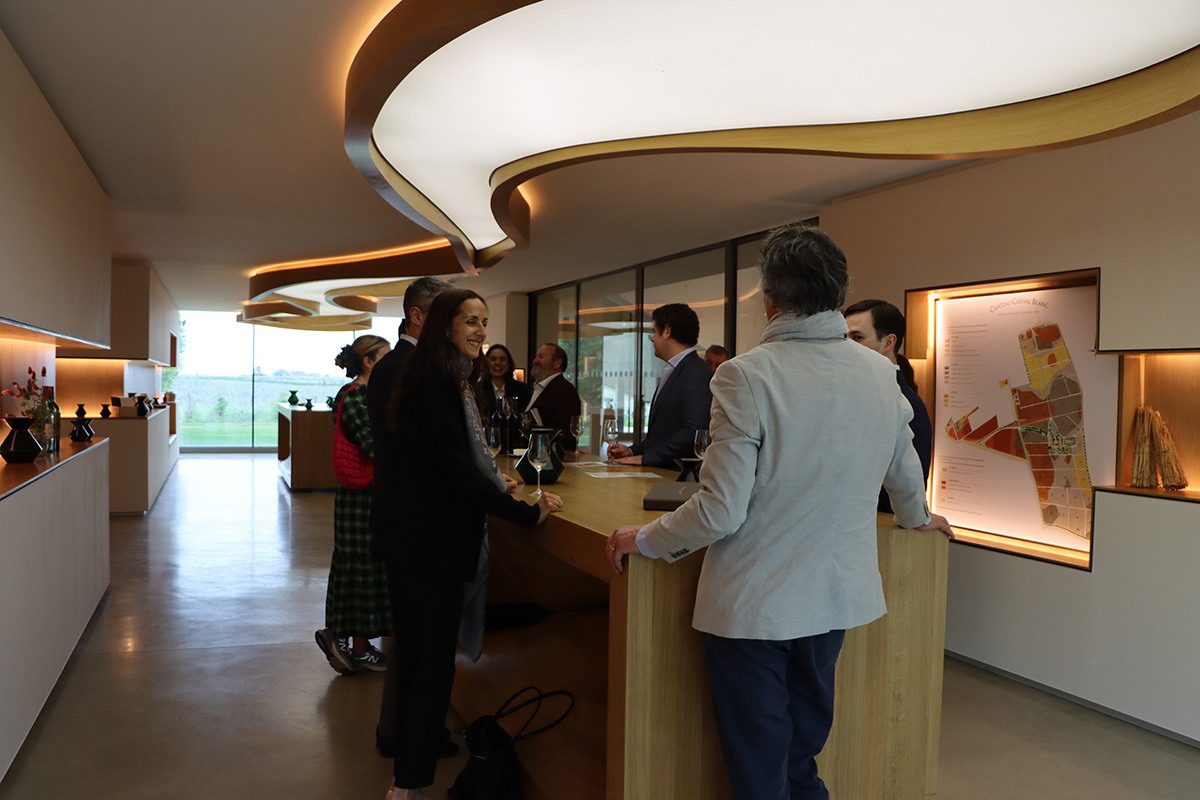 At Château Cheval Blanc
We tasted from 8:30am until 6:30pm so we were ready for a quick, ice-cold beer in the local bar before heading out to dinner. If you're ever on the Right Bank of Bordeaux, make sure you book a table at Caffe Cuisine in Branne. We had an amazing dinner where we recapped the vintage rejuvenated by a variety of different wines from around the world and the best veal and steak you've ever seen! After a long day of tastings, a relaxed dinner at Caffe Cuisine was just what the doctor ordered.


Day Five: A fantastic day at Figeac, La Mission Haut Brion and Pape Clement
After a grey day on Wednesday, Thursday was considerably warmer and brighter. We started the day at Moueix where we tasted an array of their Pomerol estates. That morning we also tried Château Leoville-Las-Cases and Château Figeac, which blew us away. So much complexity in such young wines. Figeac especially was a marvel. 100% new oak is used during elevage but you would never know it. The wine has so much finesse with sweet and salty notes.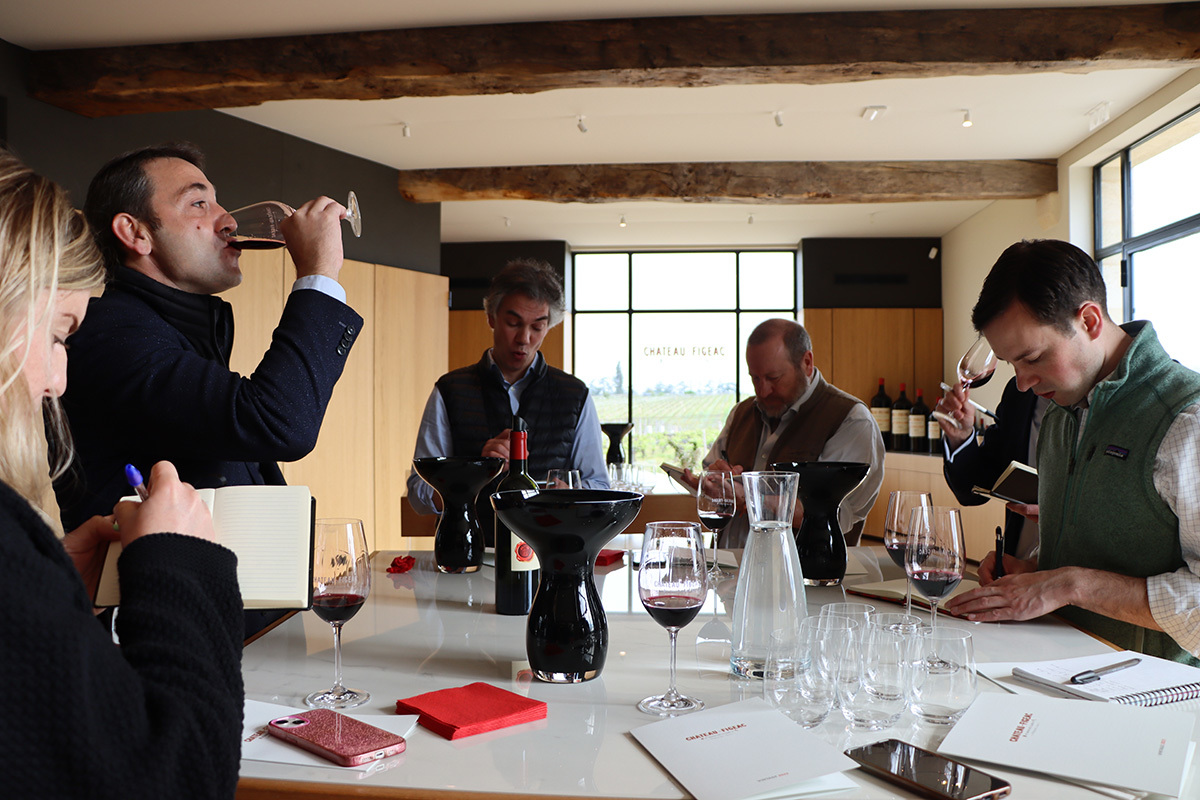 Tasting at Château Figeac
Onwards to Graves where we were treated to quite the flight of wines at Château La Mission Haut Brion. This tasting reaffirmed how brilliant second wines can be with Le Clarence de Haut Brion knocking it out of the park. La Mission de Haut Brion and Haut Brion always go head-to-head during this tasting but I will be diplomatic and say they were both outstanding in different ways. The day ended with tastings at Château Smith Haut Lafitte, Château Haut Bailly, Domaine de Chevalier, Château Carmes Haut Brion and Château Pape Clement. It was interesting to taste wines from Pessac-Leognan and if I had to choose, I would say Carmes and Smith Haut Lafitte were the standouts.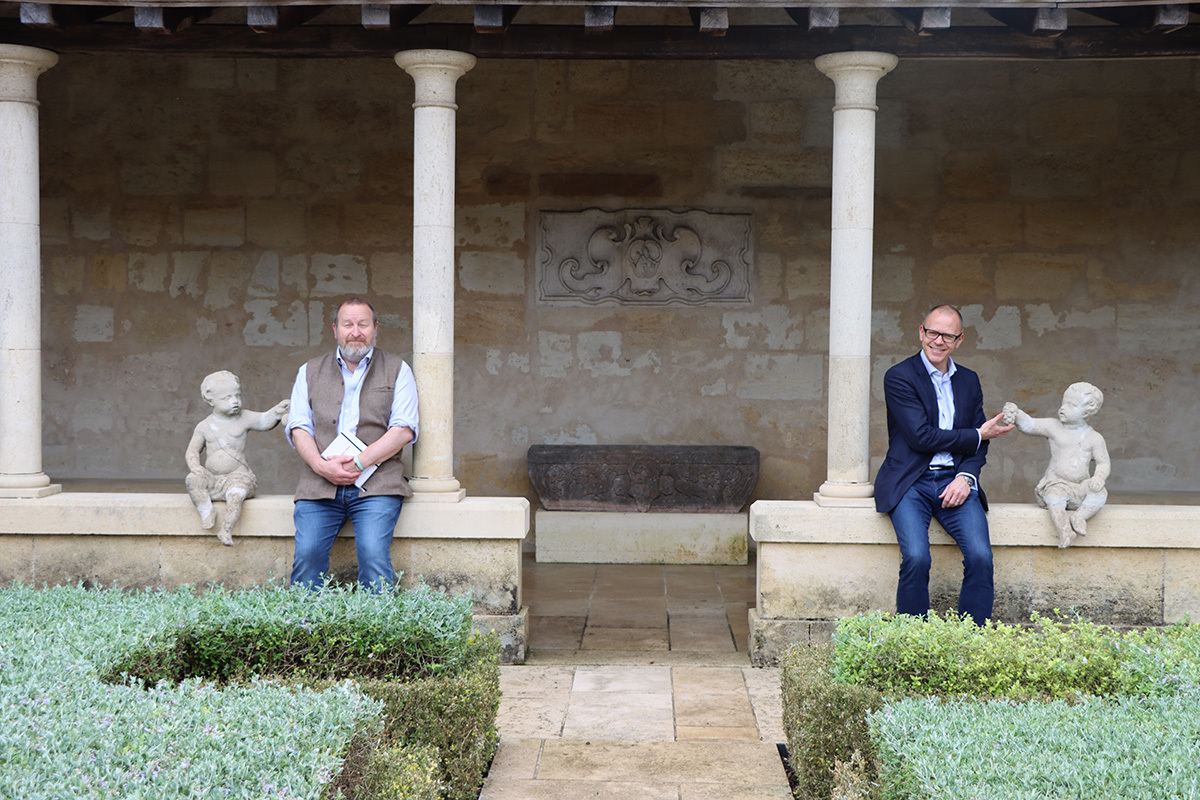 At La Mission and Haut-Brion
Primeur week is busy but always such fun, particularly when the wines are as good as they are in 2022. I highly recommend picking up a few cases as, and when, the campaign begins.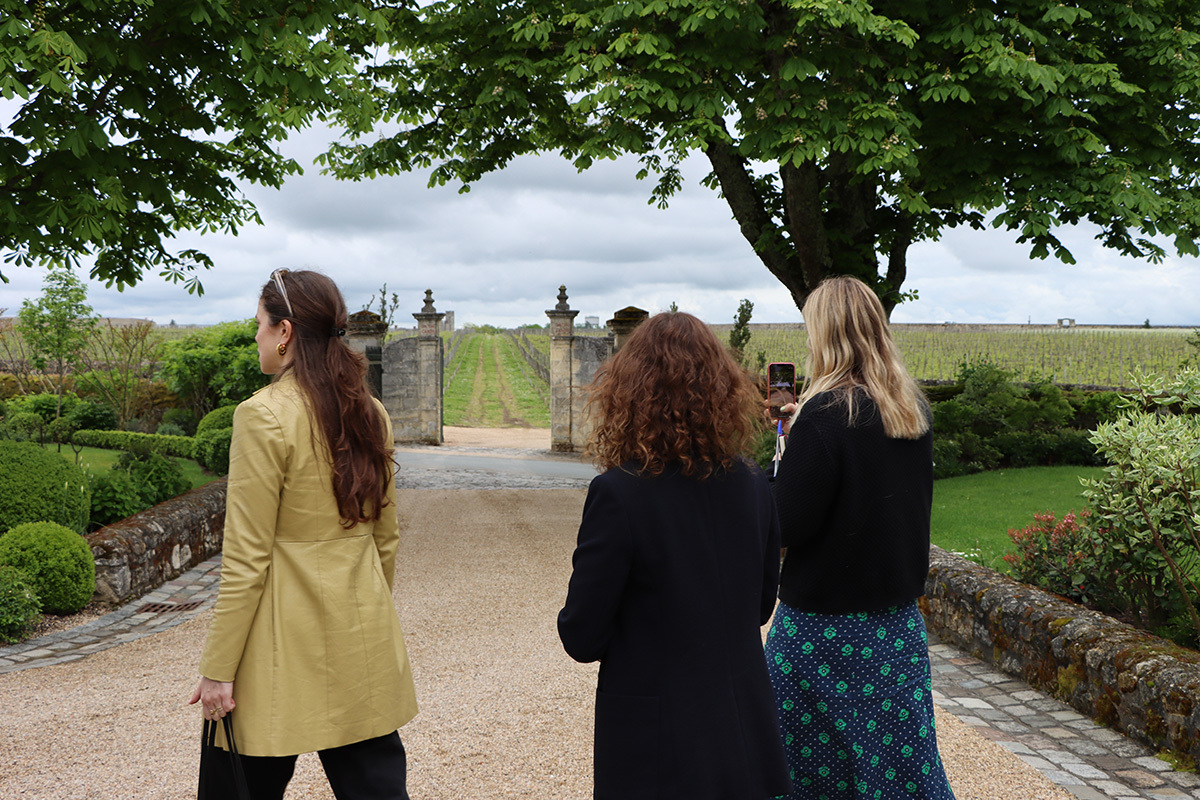 Read the full En Primeur Report here