Ian Kellet, Founder and Managing Director of Hambledon Vineyards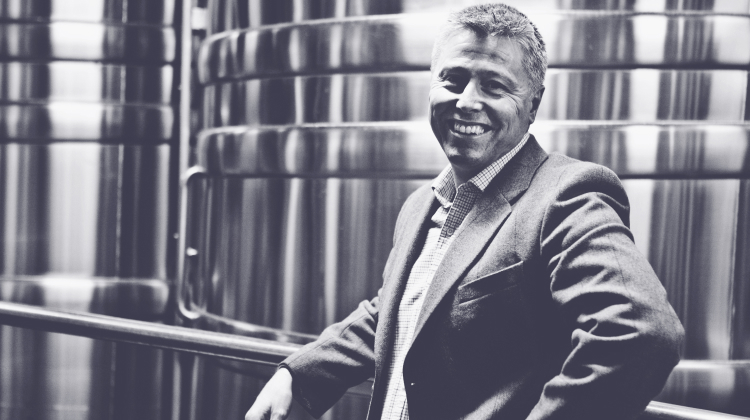 We are huge fans of England's flagship sparkling wine estate, Hambledon, and are thrilled to have their Premiere Cuvée NV in our Merchant's Collection. We sat down with the husband and wife pair, Ian and Anna Kellet, who are the people behind the magic of this remarkable wine estate.
Tell us about Hambledon and how it came about?
Hambledon Vineyard is England's oldest commercial vineyard which was planted by Major General Sir Guy Salisbury-Jones in 1952.
During the summer of 1951, Sir Guy Salisbury-Jones was looking out of the dining room window of Mill Down House with his stepson John Yerbourgh (thwaites family brewery) thinking about what to do with the field directly below them. As Sir Guy was a keen wine lover and Francophile, having spent time as a diplomat in Paris, John suggested he might consider planting a vineyard.
The seed had been sown and Sir Guy began researching the feasibility of planting vines on the south-facing chalky slopes surrounding the house in Hambledon on the South Downs. After careful deliberation, and with the help and advice from friends at the renowned Champagne House Pol Roger, he planted a number of different grape varieties in 1952 and went on to release the first commercial range of English wines.
Winemaker Bill Carcary joined the Hambledon team in 1966 and the wines soon drew a strong following, winning a number of awards and even a Gold Medal at the International Wine & Spirits Competition in 1984. The wines were served on the QE2, in British Embassies around the world, in the Houses of Parliament and in export markets around the world including the USA and Japan. On one occasion during a visit to Paris, Her Majesty Queen Elizabeth 2nd served Hambledon wine to President Pompidou during a reception at the British embassy in Paris. The story behind this wine being served involves late Steven Spurrier MW (famous for the Paris Judgement of '76) and an interesting interaction with French customs.
Sadly, following a change of ownership, winemaking activities were curtailed at Hambledon in the mid 1990's and the vineyard was shrunk to just 4 acres, producing grapes for sale to other wineries. However the vineyard has nonetheless been in continual viticultural production since 1952.
I purchased the vineyard in 1999 and after extensive geological and climate research replanted it with three Champagne wine varieties in 2005, with 27 clone and rootstock combinations to provide a test bed to see what might work best, as an in vivo experiment, before further future vineyard expansion. In the last decade we have expanded our acreage in Hambledon from 10 acres to circa 200 acres, all for Hambledon Branded wines, 100% estate grown.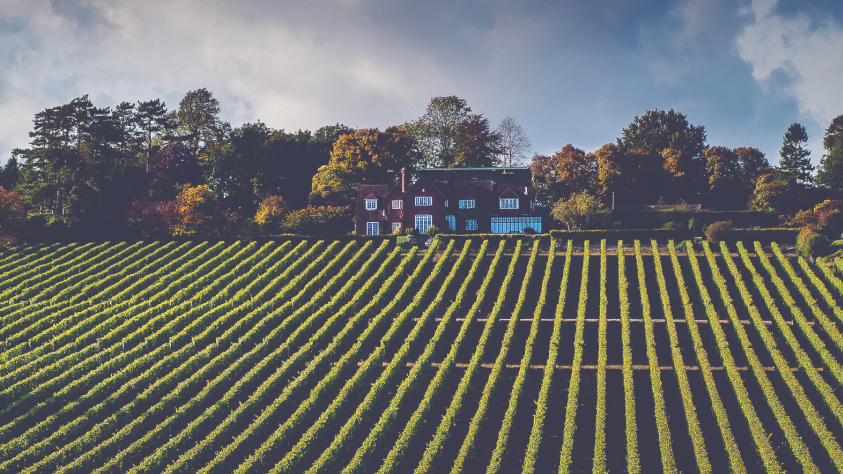 What makes Hambledon stand out compared to other wines?
We have a mission to genuinely produce one of the world's finest and most precise sparkling wines.
We consider that our chalk, which is a geological match for the best grades of Champagne chalk, and our slightly cooler climate (which we see as an advantage for accuracy and precision), and our Chardonnay led style, combined with our technically advanced winery and the skilled palates of our winemaking team lead by Hervé Jestin, former chef de caves at Duval Leroy, are capable of developing truly world leading sparkling wines.
So we have an audacious viticultural and oenological plan - our wines seek to combine great precision, verticality (energy/vivacity), weightlessness, elegance, great texture, and persistence.
We planted all our vineyards on chalk, which is essential to achieve the best possible grape expression when making sparkling wine. There is a reason why Champagne is planted on chalk!
We use a 100% estate grown fruit which gives us total control over grape quality. There is not a single Champagne house with a similar production level which uses a 100% home-grown grapes.
We have constructed an entirely gravity fed winery, which makes it possible to avoid using pumps that ultimately change a chemical composition of the wine. It is also more sustainable as it does not require any power to transport the wine from place to place in the winery. Although partially gravity fed wineries are relatively common for top producers, we only know of one other 100% gravity fed winery in the whole of Europe.
Our style is bold in terms of expressing Englishness and a modern way of making sparkling wine.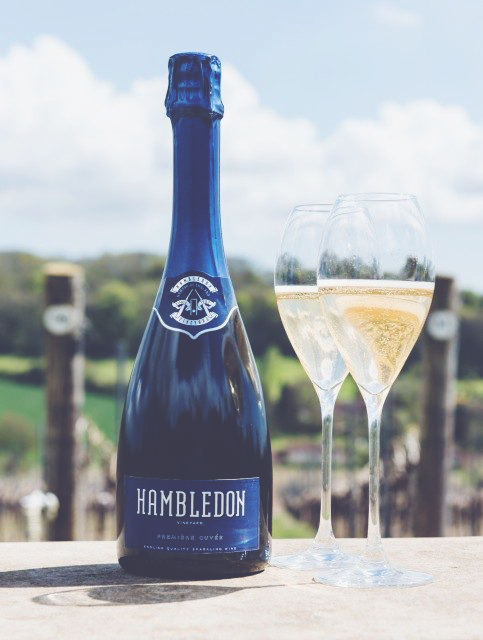 Tell us about yourself/yourselves and your background? How did you come to create Hambledon?
I studied a Biochemistry Bachelors degree at London University and I am a qualified accountant.
I was the youngest person to be made Managing Director of Kleinwort Benson and led their FMCG equity research team before moving to food and drink corporate finance.
I had a house in Charentes Maritime about 10km from the ferry at Blaye across to Pauillac. I was working on a project to purchase a Medoc vineyard when Hambledon became available and its history and location inspired me to think it would be a far more interesting project to grow the reputation of English viticulture and English fizz.
I purchased the vineyard in '99 and studied oenology and viticulture at Plumpton. As part of my ongoing studies, I read wine chemistry books extensively, particularly Jacksons Wine Science. I replanted the vineyards in 2005 with sparkling grape varieties and have improved my biochemical and oenological French up to fluency so I can communicate with our French speaking winemaking team. We work hard to learn from Champagne and study all manner of things Champenoise. For example the topography of the Grand Cru Cotes des Blancs, and its geology, convinced us to run a cepage strategy dominated by Chardonnay.
Tell us about your key influencers and where your inspiration comes from?
The family owned Grandes Marques are our inspiration; Pol roger and Bollinger in particular. The long term evolution of the wines, the brands and the companies within family hands is truly admirable.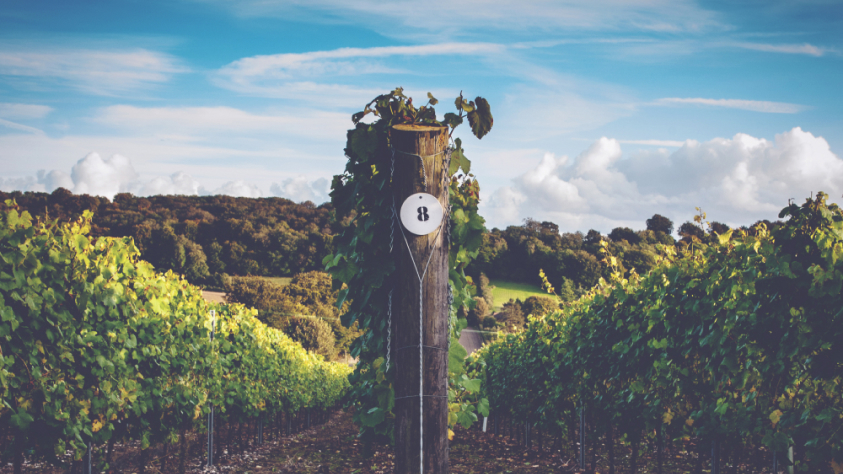 Tell us about your range and about Hambledon. How many wines do you have and how are they different?
At present we have 4 cuvees available:
Classic Cuvee Brut NV
56% Chardonnay, 27% Pinot Noir, 17% Pinot Meunier, with a minimum of 35 months on the lees
Premier Cuvee Brut NV
67% Chardonnay, 11% Pinot Noir and 22% Pinot Meunier
Classic Cuvee Rose NV
90% Chardonnay, 10% Pinot Noir, with a minimum of 45 months on the lees, with a minimum of 62 months on the lees
Premier Cuvee Rose NV
100% Pinot Meunier, zero dosage
We aim for our classic cuvée wines to be aperitif style, with precision and weightlessness that make steady sipping at a long cocktail party or art gallery showing, not a chore but a pleasure. Their mission is to displace big pouring Champagne in British cuisine to focused high end hospitality establishments.
Our Premiere Cuvée NV has a singular mission to be THE BEST English Sparkling Wine available, year in, year out. Consistency and gentle, steady progressive improvements are the key here, rather than annual variability. This wine came joint 2nd out of 24 in the Noble Rot Champagne Tasting in 2020 with Jancis Robinson, Jamie Goode and Neil Martin. The wine came joint 2nd with Pierre Peters Les Chetillons 2012 and it beat Egly-Ouriet les Vignes de Vrigny, Pol roger Reserve, Agrapart Avizoise 2010, Ulysse Colin, Bereche Rilly la Montage 2014. It also tipped Nyetimber's Tillington (£120 per bottle) by 11 places. We aim for this wine to be the English Sparkling Wine the British Ambassadors around the world use to promote Britishness at Embassy receptions, and that leading British brands partner with.
We are constantly developing and experimenting and have some surprises in store which will be released in the next 2-3 years, watch this space!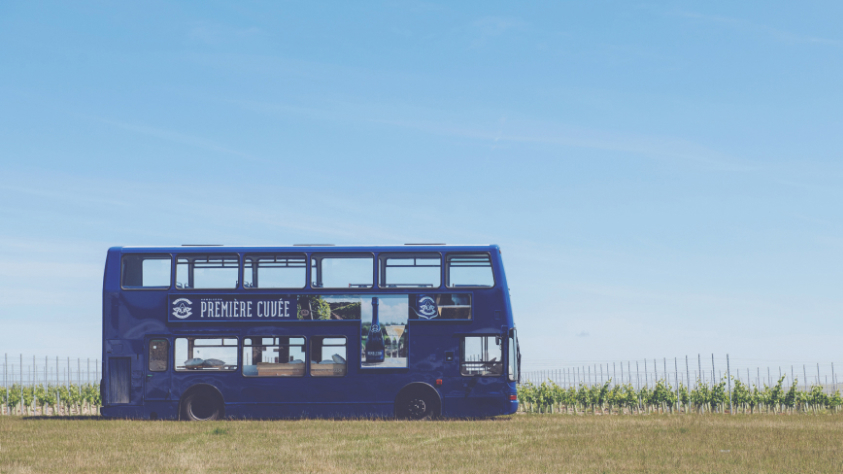 Which one is your favourite? Or do you tend to drink different wines depending on the occasion or mood?
The Premiere Cuvée is a spectacular wine….and it is my personal favourite. My wife loves our Classic Cuvée Rosé which is a surprise because otherwise she rarely touches anything pink (wine wise).
However, we are proud of its little brother Hambledon Classic Cuvée because it won the original Noble Rot tasting in 2015.
Tell us about the production process?
Grapes are handpicked usually in late September / early October. The proximity of our winery to the vineyards means grapes are pressed very soon after picking. Once delivered to the winery, a second selection takes place to ensure that only the most mature grapes are used. We use Coquard PAI Press (Plateau Alternatif Incliné) - the Rolls-Royce of sparkling wine presses – to gently extract grape juice which is being tested continuously to ensure high quality. Fermentation takes places in temperature-controlled stainless steel tanks at ca. 17.5C, with a portion of grape juice fermented in specially selected French oak barrels for extra complexity and structure.
The wine undergoes a full malolactic fermentation to reduce acidity and adapt the organoleptic profile of the acids by largely removing malic acid, then it rests on fine lees for 6 months. We deliberately bottle MUCH later than most Champenois, in order to recuperate material from the fine lees back into the wine. Our NV cuvees are blended with the reserve wines prior to bottling. Depending on the cuvee, we age our wines for a minimum of 36 months on the lees for Classic Cuvée and 60 months for Premier Cuvee.
How many bottles do you tend to make in one year?
In 2018 we quadrupled our vineyard planting to 200 acres. So starting this harvest we will be producing between 500-650k bottles per annum, subject to the weather.
However, we built our winery and cellar with production capacity of 1m bottles pa. It is quite possible that we will reach this production level in my lifetime.