Bollinger La Grande Année 2014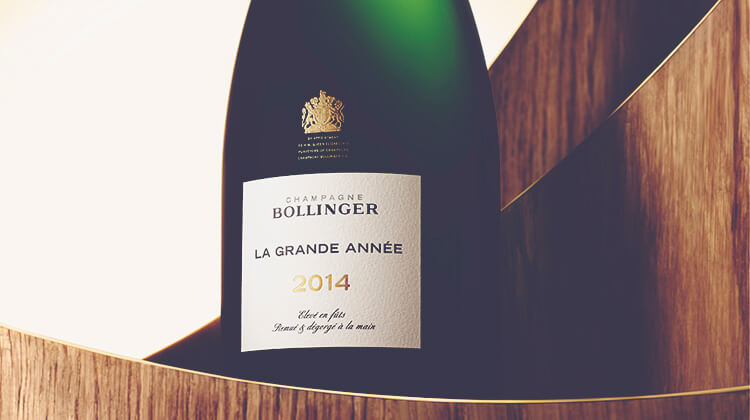 Philippe Guittard, Head of Purchasing
8 March 2022
Today sees the new release from Champagne Bollinger – the fabulous and long-awaited La Grande Année 2014. We tasted the wine last week and we can confirm that it is a sure-fire winner.
The 2014 vintage was the product of a year of mixed fortunes. A rainy autumn and winter gave way to two parched, sunny months, of which June was the sunniest in 50 years. Then there was summer, August in particular, when we saw especially cold weather. Fine weather in September made for a notably brief harvest yielding grapes of balanced maturity and acidity. In the case of Bollinger, La Grande Annee is a gorgeous blend of 61% Pinot Noir and 39% Chardonnay with the latter being significantly higher than the typical 30%. For top Champagne critic Richard Juhlin this was particularly important. It made the Champagne "clearer and more elegant with a higher proportion of Chardonnay from Chouilly and Oiry than usual to include and embrace the citrusy and floral sides".
Antonio Galloni loved the wine too and gave it a whopping 98 points! He even considers that this 2014 is "One of the best recent editions I can remember tasting." He goes on to praise the wine's "sizzling energy and tension" and concludes "I can't recommend the 2014 highly enough. It's a total knock-out."

A Truly Artisan Product

Bollinger's La Grande Année has long been 'up there' with the very finest prestige cuvées but at a fraction of the price. This becomes even more bewildering when you consider the complexity and cost of the production process: fully barrel fermented (in 4-5 year old barrels), aged en magnum under cork (something which virtually no other producer can boast) and still riddled by hand, this is a truly artisan product. In fact it is estimated that each bottle is touched around 40 times during the production process – something more likely to be seen in boutique, grower-Champagne methodology.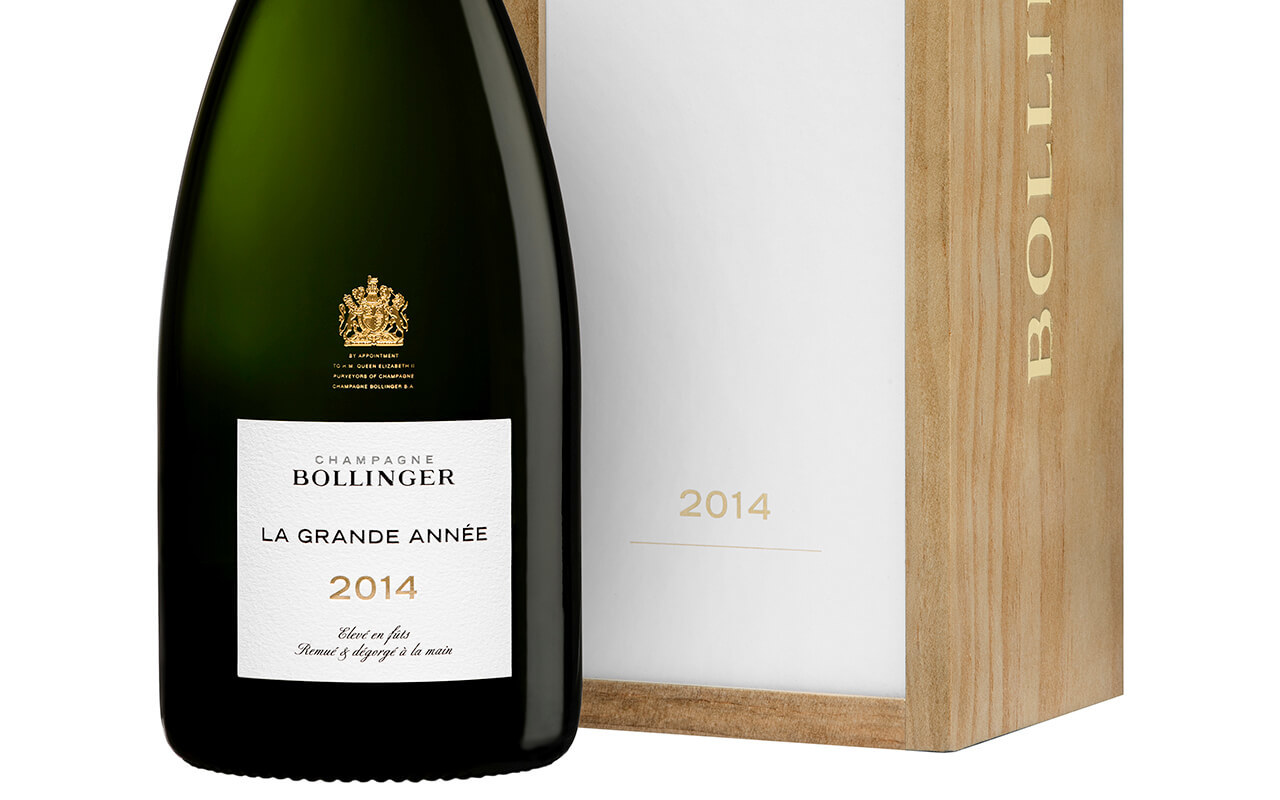 As we know, Champagne has a winning combination of very rapid consumption of the current release and highly effective global distribution; these factors cause a fast-dwindling supply and, as the wine continues to mature and gain more complexity, its desirability increases.

98 pts Antonio Galloni
"The 2014 La Grande Année is stunning. In fact, it is one of the best recent editions I can remember tasting. What comes through most is the wine's sizzling energy and tension, qualities that aren't often associated with Bollinger, where the Champagnes tend to show more breadth and volume. In 2014, readers will find a Grande Année built on linear intensity and drive. The 2014 is a blend taken from 19 villages, 61% Pinot Noir and 39% Chardonnay instead of the more typical 70/30 mix. For the second time in two decades (the first was 2007), Verzenay takes the lead in the Pinots over Aÿ, more or less an inverse from the norm. Verzenay, a north-facing village in the Montagne de Reims that saw less rain than Aÿ and most of the Vallée de la Marne, yields Pinots of energy more than volume. That, married with Chardonnays mostly from the Côtes des Blancs (predominantly Chouilly, Vertus, Oiry and Cramant), results in a truly magical Grande Année that will delight Champagne fans for several decades. I can't recommend the 2014 highly enough. It's a total knock-out. Disgorged: April, 2021. Dosage: 8 grams per liter."
La Grande Année is one of the most impressive and downright drinkable Champagnes on the market today. Check out our blog interviewing Deputy Chef de Cave, Denis Bunner at Bollinger and find out what happens behind the scenes of this great Champagne House.