The Going is Good: Cheval Blanc
Giles Cooper, Buyer
18 November 2021
Any day where you drink seven vintages of Cheval Blanc is a good day in most people's book – even when you're as spoiled as we are – but when you get to do so in the jovial, charismatic company of the Chateau's Technical Director Pierre-Olivier Clouet and Commercial Director Arnaud de Laforcade, you get an even greater insight into what makes this property and its wines so special. For whilst they exude a friendly air of two young guys just having the time of their lives there is a fierce professionalism beneath the surface: they are custodians of something very special and they are only too happy to share what it takes to deliver a set of wines each year that reflect both the character of the vintage and a true expression of their unique terroir.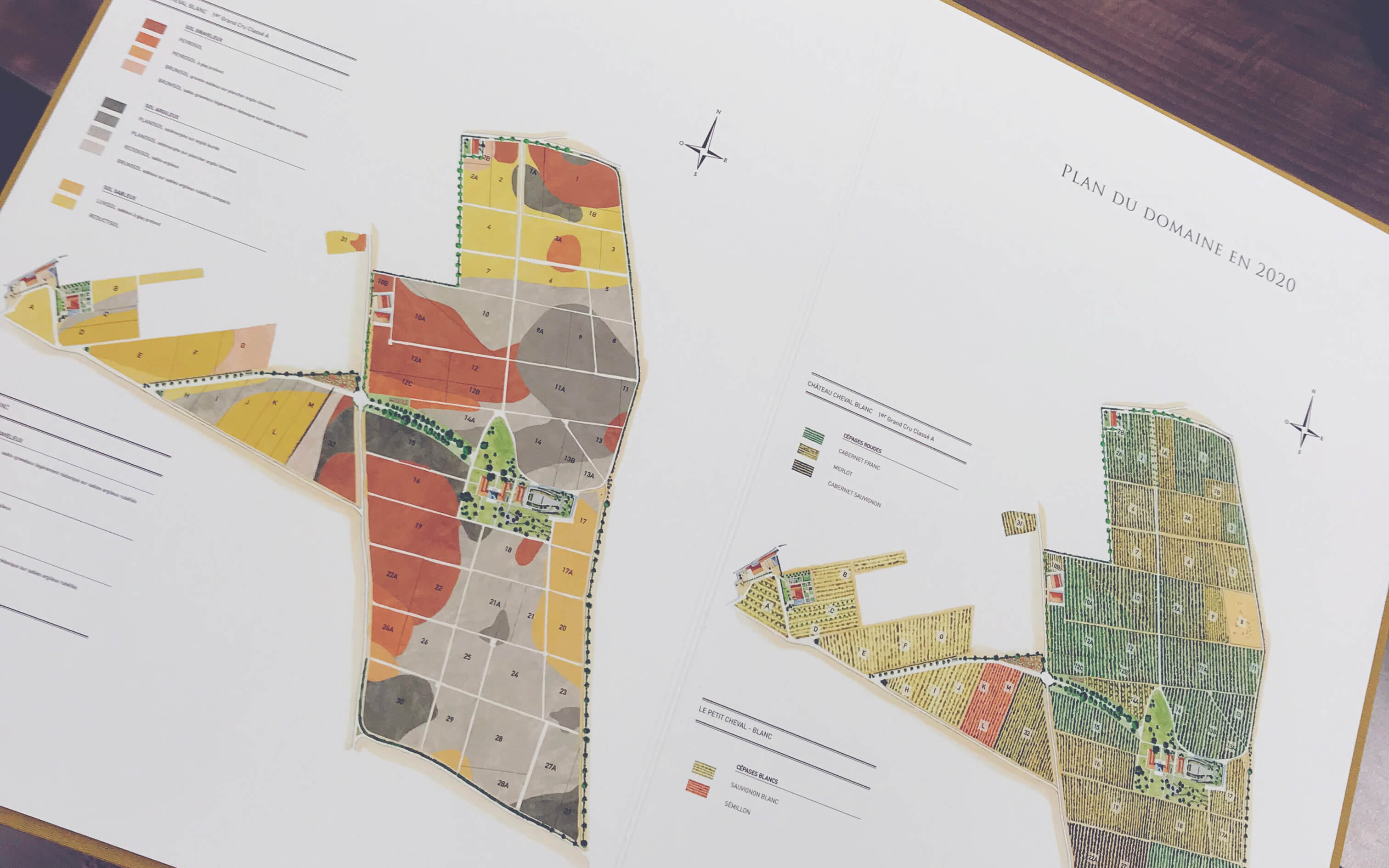 And unique terroir it certainly is. Their situation located on the very fringes of St Emilion by the border with Pomerol, their complex range of soils covering sand, gravel, and clay, and their dominant plantings of Cabernet Franc, all combine to give the potential for a wine that is unlike any other. But left to its own devices the vineyard can only give potential; harnessing that potential requires massive dedication and thousands of hours out in the field – indeed the vast majority of their 40+ workforce are dedicated solely to vineyard operations with only a handful of people in the winery and in administration. Their 39 hectares are divided into 53 individual plots, all of which are managed, harvested and fermented separately before the blending of the final wine takes place.
This blending process in itself is, as one might expect, a behemoth of a task. However, it is based as much on experience as it is skill – something the team are at pains to point out. They make a comparison with children: those of us blessed (ahem) with offspring get to know over time how our children will likely react in certain situations, and how to deal with their various needs and moods. Managing the vines at Cheval Blanc is much the same, only there are 53 children! The plots all have a distinct personality in terms of how they function throughout the growing season, how they react to certain weather conditions and events, and in terms of the final wine they deliver – therefore even if a certain plot has delivered a wine that seems to behave differently or even awkwardly at one stage of blending, the team have safety in their vault of knowledge that in the end it can be relied upon to deliver its essential character in terms of flavour, structure, texture or aroma to the final outcome. As Pierre-O loosely put it "We are not more skilful than other winemakers, nor are we better tasters: we just know the vines of Cheval Blanc better than anyone else."
The good news is that whilst these discussions and explanations went on, we did not go thirsty. During the tasting, we became reacquainted with a few recent vintages which served to illustrate precisely how well the team have grasped the challenge of expressing the character of each individual vintage whilst retaining the Cheval Blanc 'House Style'. We also got our first taste of the latest release of their nascent white wine – Le Petit Cheval Blanc.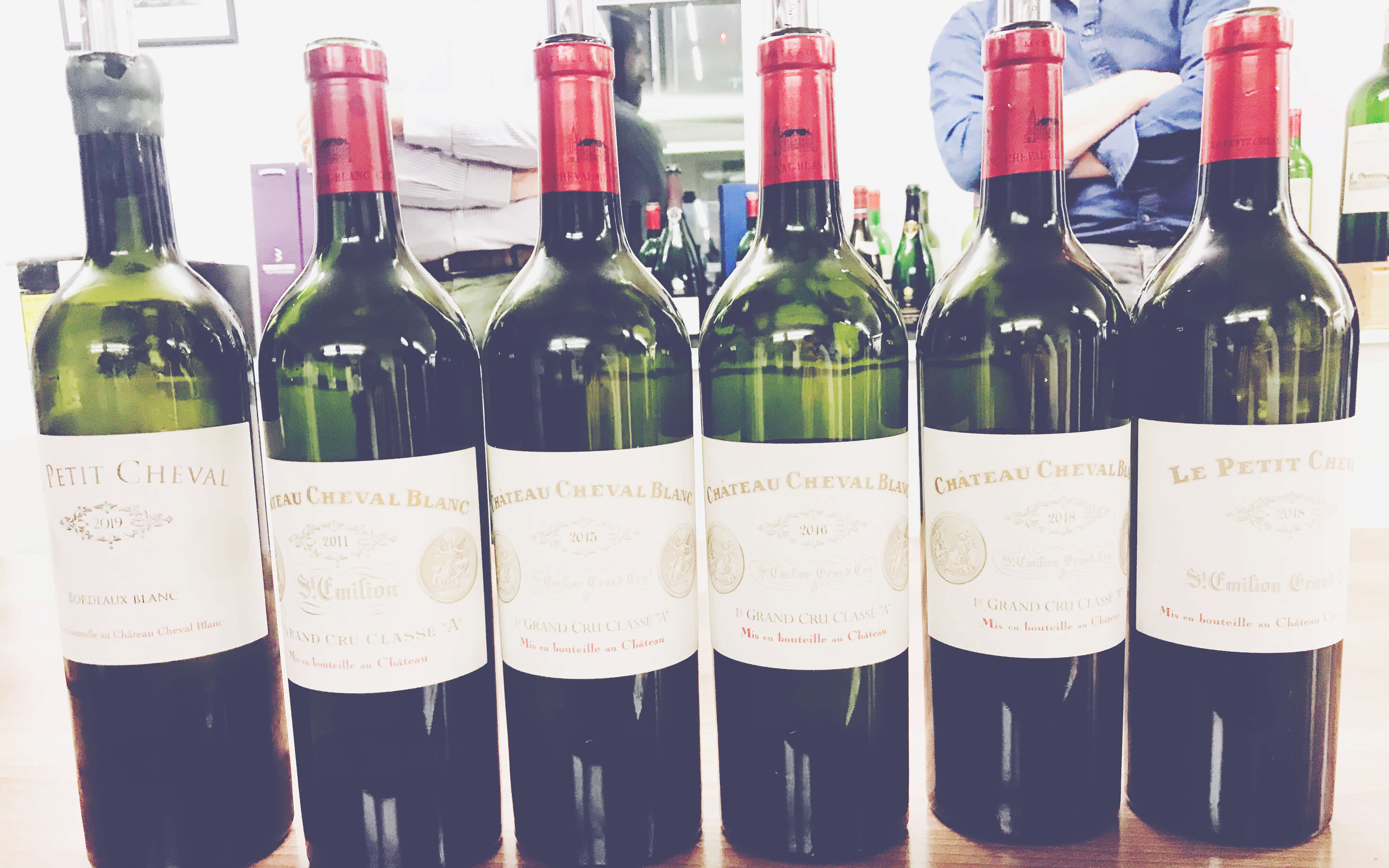 There is no set recipe for the second wine of Cheval Blanc – no dedicated plots or consistency or cepagement – it is a different beast each year. In 2018 just 10% of the total vineyard production of red wine went into Le Petit Cheval, with 70% Merlot and 30% Cabernet Franc. The nose is already extremely open and led by scented forest fruits alongside a comforting aromatic mixture of earthy, woody, spicy scents; it's showing much of its character already and has a real sense of vineyard expression. There is a crispness and precision to the palate that is very 'Cheval' despite having a smaller proportion of the all-important Cabernet Franc, and lovely wild strawberry and raspberry flavours and just a hint of spicy, earthiness. Seriously classy and ready to go in a couple more years.
There is an incredible sense of drama to this Cheval Blanc, with all the various plots and their terroirs speaking loud and clear. Millefeuille layers of perfectly ripe red and black berry fruit intermingle with light and dark earthy mineral characters and whiffs of sweet Asian spice. On the palate, there is amazing energy given the scale of structure and a density and purity of fruit that finds magnificent balance through beautiful bright acidity and spellbinding tannins. The wine speaks so true and clear of its place and the general hedonism and power of the 2018 vintage is also clearly in evidence. A wine of amazing class, depth and power.
Those of us who were fortunate enough to taste the 2016s from barrel remember how clear it was that we were in the presence of greatness. Few wines capture this more than the extraordinary 2016 Cheval Blanc which combines a simply stunning structure – whose tannins are driven by the Merlot rather than the Cabernet Franc, contrary to what some might think – with phenomenal fruit and vineyard expression. Oh, and that texture: pure cashmere. There are so many layers of exotic spice, black tea, cedar, rose, violet, ripe cherry and plum… it's actually quite hard to get your head around it. And whilst it appears to be moving towards something of a 'dumb' phase, perhaps shutting down to put on even more depth and intensity, it is a masterpiece of wine growing. If you don't own some, change that as quickly as you can.
Here we have another piece of evidence that Cheval Blanc are at the top of their game – with the game being the expression of both vineyard and vintage in every wine. 2015s have a happy-go-lucky, sunny, supple outlook which makes them, for lack of a better term, 'friendly' wines. This 2015 Cheval bounds out of the glass like an eager Labrador, quite different to the intellectual 2016 and statuesque 2018. The tannins are soft and round-edged, but present enough to keep the wine honest; the acidity is perfectly integrated and manifests simply in the sheer juiciness of the fruit; and the terroir expression is one of the vineyard on a beautiful late summer's day. The wine is full bodied and muscular but neither fat nor lean, and the fruit is darker than in some vintages with even the merest hint of cocoa and some dried herbs. Interestingly I don't see this wine shutting down – I suspect it will retain its benevolent disposition for its whole (long) life.
Ten years is always a good benchmark time to revisit a wine and the 2011 Cheval is certainly one of the more successful wines from this often challenging vintage. When first opened it was a little angular, showing rather a lot of 'knees and elbows', but 2-3 hours open (without decanting) allowed these edges to soften. There is a sense that the tannins, which are quite harsh in some wines, are already melting down very nicely making this extremely approachable now. However, there is a great deal of class in the fruit and texture, along with fine precision. Pierre-O says that the 2011 was actually an excellent year for Cabernet Franc, despite the well-publicised challenges of the vintage, and this manifests quite clearly in this very stylish 2011. Four wines, all of which absolutely show their vintage differences, but all of which show their sense of place very clearly.
Cheval Blanc's white wine has come a long way since its first iteration. It has transformed from 'something to serve with oysters' as requested by one of the shareholders to a true reflection of the Cheval style in the form of a white wine. As Pierre-O says this is a white wine made with a red wine mentality – it's as much about texture and mouthfeel as about freshness and refreshment. The fruit you would expect is all there, with plenty of ripe pear to balance out the gooseberry and lime characters, but as with the reds this is as much a story about texture. There is a roundness to the palate that gives an almost tannic structure in the mouth, allied to a chalkiness and genuinely vibrant acidity that keeps everything harmonious and energetic.
Post-tasting we transferred ourselves to the ever-welcoming Ye Olde Mitre for a couple of pre-dinner sharpeners, to cleanse the palate. And it was a mighty fine job we did as at supper we shared three further vintages of Cheval.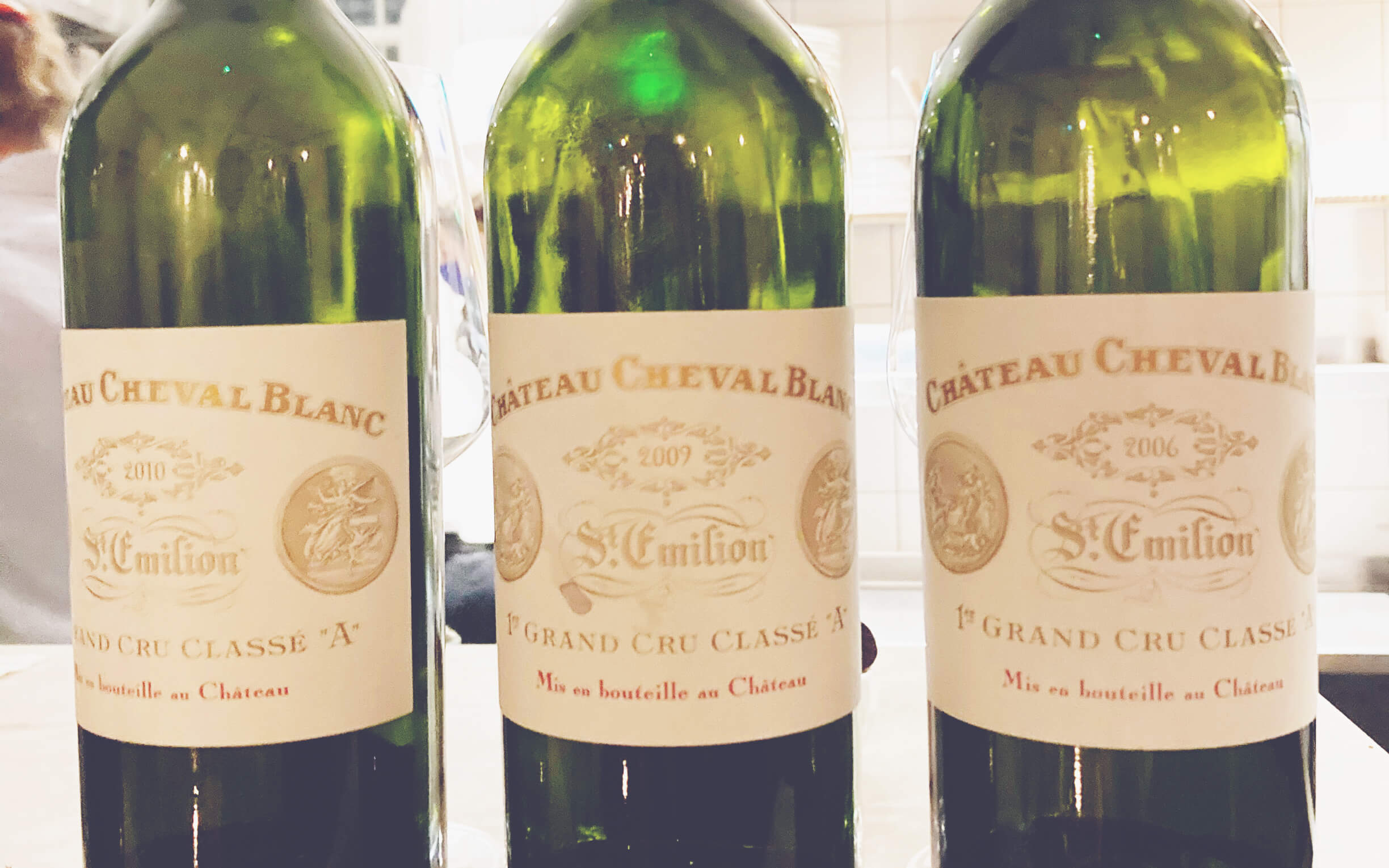 Given our experience in this vintage and its deserved reputation for sheer scale, I had expected this to be a monster of a wine – but in fact, it had a certain fluidity and real charm about it, even at this early stage in its incredibly long life. Of course, it has both plenty of tannins and oodles of rich fruit stuffing, but it's also lifted, floral, and nimble on the palate, with almost glitteringly polished edges to the tannins. A wine of amazing energy as well as body. Awesome.
I actually had to check I had my glasses the right way around, as the 2009 certainly displayed more sternness of structure than I had anticipated – I was convinced that my 09 was 10 and vice versa. But in fact, I recalled from our 10 years on tasting back in 2009 that whilst many of the 2009s are opulent and open for business, many are also incredibly dense, concentrated, and firmly structured, with amazing freshness. This is definitely true of the 09 Cheval and as it turned out it was the more reticent and unyielding of the two vintages on the night.
The most 'drinkable' and yet arguably the least 'impressive', the 2006 still displays the classic Cheval components of floral and spice aromatics allied to fine precision and pure fruit on the palate. The texture is fine, supple and with sparky mineral hints, but it lacks some of the real complexity and poise of the grander vintages. It's absolutely ready to drink but will stay in this window for a couple of decades at least.
Huge thanks to Pierre-Olivier, Arnaud and Steve for bringing this magnificent tasting to us and for sharing a very enjoyable evening. Until next year, mes amis…