A Day in the Life of Chris and Andrea Mullineux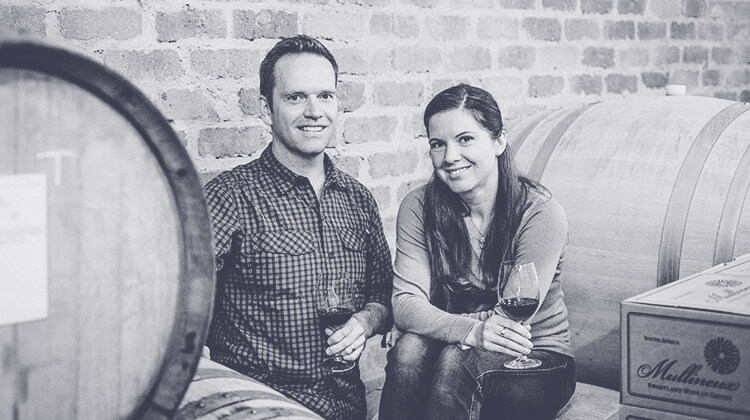 Chris and Andrea Mullineux
2 July 2021
Chris and Andrea Mullineux established Mullineux Wines in 2007 and the brand soon established itself as one of South Africa's most celebrated wine brands, not just in South Africa but all over the world. We had to have one of their wines in our Merchant's Collection and their 2019 Mullineux Old Vines White was the perfect choice. The husband and wife pair shared what a typical day running one of the top wine brands in the world looks like...

A Day in the Life of Andrea Mullineux, Founder and Winemaker at Mullineux & Leeu Family Wines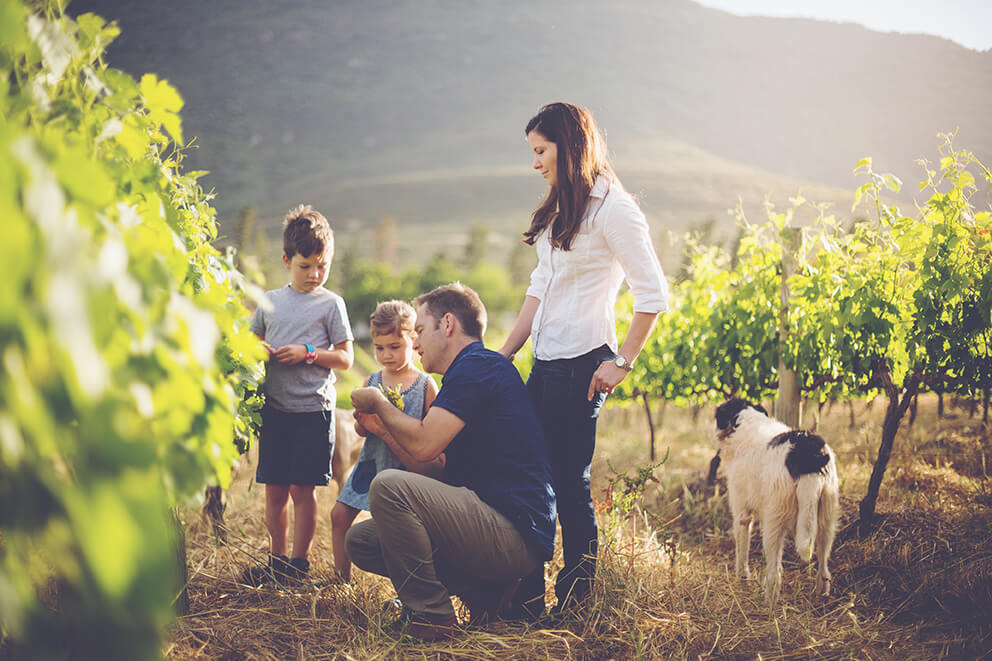 My alarm goes off at...
My most productive time of day is between 2 and 4am when I wake up for a marathon session of research and emails. At this time of day, no one else is awake and I get very few online replies, making for a very productive morning. From 4am to 6am I nap. Once I am in the vineyards or winery for the rest of the day, very little time is spent on my computer.
My commute is...
We live at one of our wineries, Roundstone in the Swartland, and a few times a week I commute an hour south to our Leeu Passant winery in Franschhoek. Our vineyards are dotted over a few different viticultural regions and a few hours apart from border to border. Regardless of which winery or vineyard I am working in, getting our children to school in the morning is a priority and is a fabulous time to catch up on the lives of pre-teens, listen to their new favourite songs, or prep for a quiz in the day ahead.
I'm responsible for...
I am responsible for all of the winery and vineyard production (outside of raising a happy and healthy family). I need to listen to the vineyards, guide the wines, and make a decent bottle that speaks of where it is from.
My typical day...
It is pretty fun to professionally taste wine at whatever time of day I wish. It's actually quite a privilege to constantly being able to sample my "product" through every phase of its life, constantly learning and listening to the story it wants to tell. A normal day may start in the vineyard, as mentioned above, we live in one of our vineyards, and make decisions such as suckering, picking, cover crop management or pruning depending on the season. Every day then moves on to at least one of the wineries where, during harvest, grapes begin their first steps toward becoming wine, or in the "off season" blending, racking or bottling takes place. There is never a quiet time of year, just days that are not as full as others.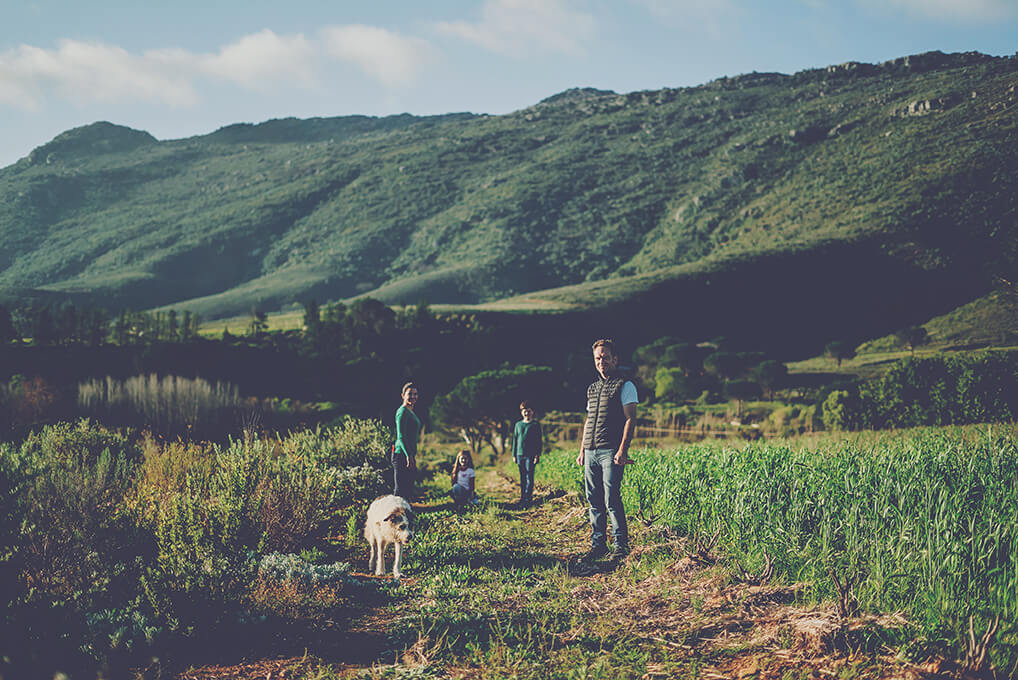 My most working memorable moment
Once, covered in wine and grape skins (a normal sight during harvest) I bumped into a tall redhead that I recognized but could not put my finger on where from in a Stellenbosch grocery store after work one day. I gave a friendly "Hi", but he clearly did not recognize me and cringed a bit. When I got home and opened the paper and read the headline, I realized it was Prince Harry and he was visiting South Africa at the time.
What I am most proud of
I am most proud of my awesome children who are very keen on getting involved at the winery. I try to be a strong role model for them by working hard, but making time for family and including them in the everyday running of the vineyard and winery. This includes sharing our successes like the excitement of being awarded Winery of the Year in South Africa 4 times as well as receiving our first 100pt score.
What would your Plan B have been?
Plan B? Astronaut ;)

A Day in the Life of Chris Mullineux, Founder of Mullineux & Leeu Family Wines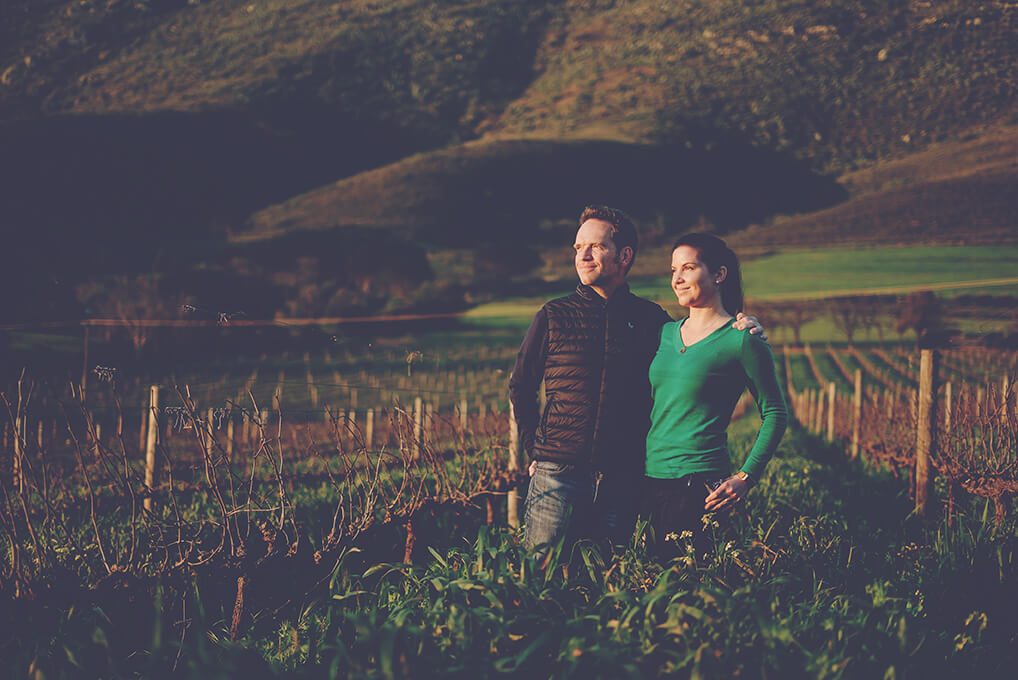 My alarm goes off at...
I'm actually a night owl, so my alarm goes off at different times, depending on the time of year. In Summer when we're preparing for and busy with harvest, I'm generally up at about 4am. I make a big, strong pot of coffee - one large cup is downed at home and one comes with me to the Vineyard. We start harvest as soon as it's light enough. I first make sure the harvest team is working well and that the grapes will get to the cellar in the best possible condition and on time. Once things are in a good rhythm with the pick, I'm off to sample and check on the ripeness of other parcels. Admin happens later in the day/night, once the fruit is safely at the cellar. Generally, I'm home in the evenings to give the kids dinner and put them to bed. In Winter it's the complete opposite. I'm up at 6, and get the kids up and to school. Then depending on what day of week it is, I'll be in the vineyards, office, warehouse or cellar… coffee still plays an important role, but more for enjoyment rather than keeping me wired!
My commute is...
My/our commute is super varied. We live on the farm in the Swartland so it can be a 30 second walk from our house to the cellar at Roundstone; a super early pre-dawn drive to once of our rented vineyard parcels; or a 60 minute drive from the Swartland, via the kids school to our Leeu Passant cellar in Franschhoek. If it is a drive, then I'm either listening to a podcast, a news channel or music… something is always on.
I'm responsible for...
I'm responsible for making sure that everything is working as it should be in all parts of our business. The vineyards, the cellar, the packaging team, logistics, sales… everything. I always have the big picture in mind and have to ensure that the winery and teams are moving in the right direction.
My typical day...
My typical day does not exist. It's one of the things I love about this industry. Because we follow Seasonal cycles, no two days are the same through the year. Harvest is early, crisp mornings and a lot of physical work. Autumn is working on the health of our soils plus some admin and planning. Winter generally entails a lot of travelling and marketing in between all the pruning. Spring through to harvest is a lot of Vineyard work, so it's time for hats and sunblock.
My most working memorable moment
My most memorable moment was the day we harvested our very first batch of Chenin blanc in the Paardeberg in January 2008. There were so many possibilities and avenues we could have gone down. I am extremely happy with where we have come to.
What I am most proud of
I am most proud of helping to put our region the Swartland on the International Map through the Swartland Revolution (and our wines!) with our good friends Eben Sadie, Adi Badenhorst and Callie Louw. It's amazing to think back 15 years when the region was not known for Fine Wine.
What would your Plan B have been?
Plan B? I am not sure! Most likely either a carpenter or architect…