Manuel Muga, Executive Vice-president of Bodegas Muga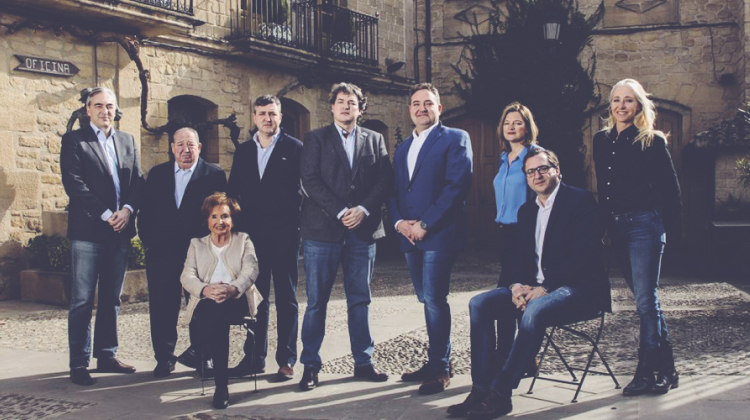 Manuel Muga
29 April 2021
There is a reason the Muga brothers have two wines in the Merchant's Collection: because they're just the nicest and most talented producers in Rioja. Founded in 1932 by Isaac Muga and his wife, Aurora Caño the winery has gone from strength to strength and over the years, Muga wines have gained international recognition and acclaim. We had a chat with Manuel Muga, Executive Vice-president of Bodegas Muga and discussed the estate's wonderful history and unique processes.
Tell us about Bodegas Muga and how it came about?
Bodegas Muga is a family business founded in 1932 by Isaac Muga and Aurora Caño. Their facilities are based in a two-hundred-year old building situated in the historic Barrio de la Estación bodega quarter in Haro (La Rioja).
From the outset, it has been characterised by its use of quality materials, combining the tradition which these represent - fining via the traditional method of fresh egg whites and racking by gravity. Combined with the most advanced winemaking techniques, with the firm aim of making wines of the finest quality without renouncing the authenticity that typifies them.
Muga uses oak throughout the winemaking and ageing process. In fact, it is the only wine cellar in Spain which has its own master cooper and three barrel makers, who make the vats and casks in the bodega's own cooperage.
To sum up, Bodegas Muga has managed to bring together the most complete family tradition with an up-to-date vision of the future, which has allowed them to maintain a very clearly marked character and personality of their own.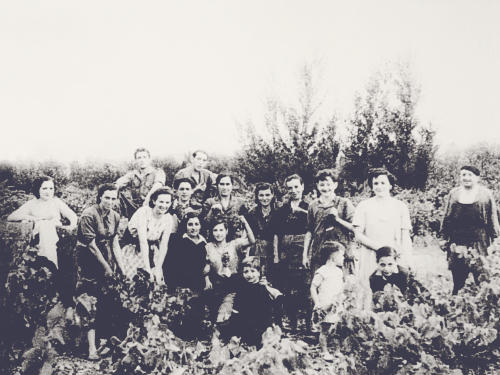 What makes Bodegas Muga stand out compared to other wines?
I would highlight the distinguishing factors which make Bodegas Muga special, like having our own cooperage – where we select the wood with which to make our vats and casks, racking using only gravity and fining the wine with fresh egg whites.
Regarding the viticulture, one thing which makes us unique is harvesting by hand, a philosophy of minimum intervention in the vineyard by using sustainable and environmentally-friendly techniques and using advanced technology, such as the optical grape selection machinery.
Another very important aspect for the Muga family has been the strategic planning of the business, as well as long-term investment. Moreover, we control all the phases from the bodega itself, from the cultivation of the vines to the production of our wines and their distribution and sale.
Tell us about yourself/yourselves and your background? How did you come to create Bodegas Muga?
I was born in 1967 and am the third generation of a wine family whose origins and tradition in the wine sector and in the vineyards go back to the end of the 19th century.
My grandparents started out by making wines in an underground cellar. Then in 1968 they decided to set up their "bodega" (winery) in a lovely old 19th century town house located in the emblematic "Barrio de la Estación" in Haro, the historical setting of the most prestigious bodegas of La Rioja.
I graduated in Business Administration (Universidad del País Vasco) and after my studies I worked in France for the multinational insurance company "La Mondiale", and in Spain for the Spanish Multinational Insurance Company Mapfre, in the banking department. Before joining Bodegas Muga I also worked in Madrid for Diageo.
I joined Bodegas Muga in January 1994 as Sales Director taking charge of the sales operations and strategies. Today I am the company vice president.
My vision and commercial leadership has led Bodegas Muga to enormously increase its international brand awareness and expand our international sales network to more than 70 countries. I have always worked thinking long term and am convinced that a high quality product needs a high quality distribution and needs to be supported by ambitious investment plans. The UK is one of the oldest and most important markets for Bodegas Muga. Since the beginning of my career, the UK market has been a priority in the business and in terms of branding plans of the company.
I have also been very active in leading and supporting countless sales and marketing initiatives, to promote the wine culture and the image of Rioja and Spanish wines in the UK.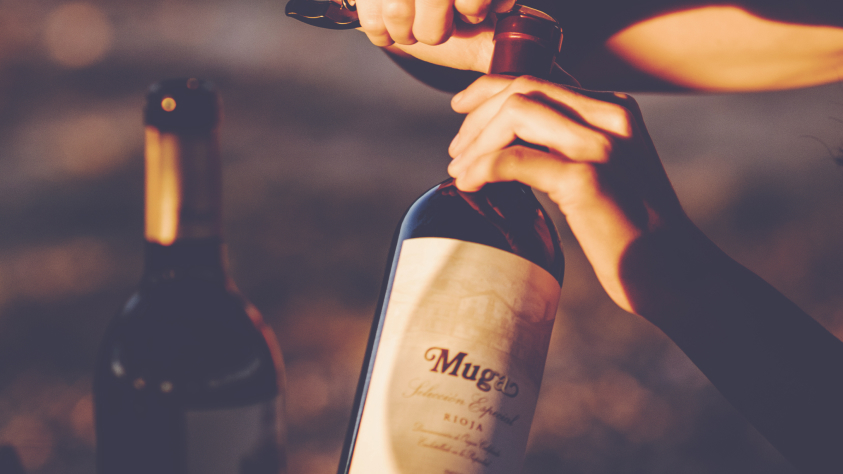 Tell us about your key influencers and where your inspiration comes from?
The phylloxera plague, which entered via the north of Europe and which before reaching La Rioja had swept through the vineyards of Bordeaux, was the reason why winemakers and négociants from Bordeaux moved to La Rioja at the end of the 19th century, in our case, to the Barrio de la Estación (Station Quarter) of Haro where Bodegas Muga is situated, in order to continue making wine and thereby maintain the supplies to their customers. This plague wiped out vineyards throughout Europe, but in La Rioja, something positive came out of it: the Bordeaux winemakers left us their know-how and this was then fully exploited to perfect the winemaking methods and achieve the full potential that our vineyards were capable of providing.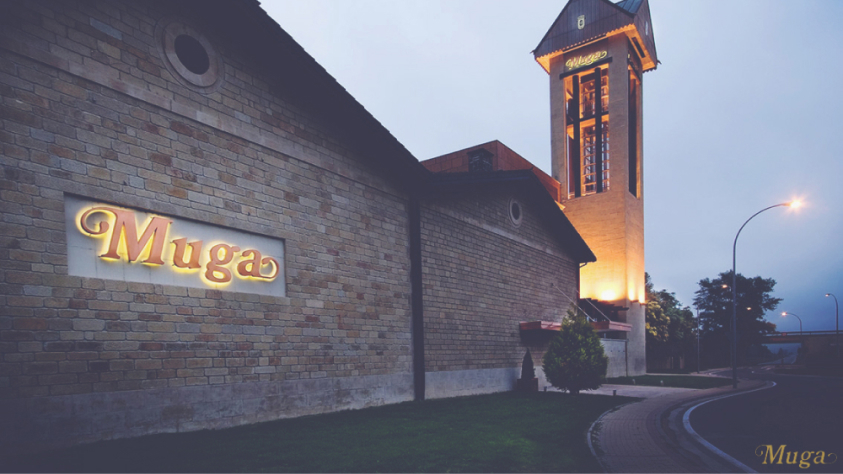 Tell us about your range and about Bodegas Muga. How many wines do you have and how are they different?
We currently have a total of 11 wines, including a new white wine just launched on the market, the Flor de Muga Blanco. So we now have:
Muga Blanco
Muga Rosado
Flor de Muga Rosado
Flor de Muga Blanco
Muga Reserva
Prado Enea Gran Reserva
Torre Muga
Aro
Cava Conde de Haro Brut Reserva
Cava Conde de Haro Rosé
With regard to our red wines, these all ferment with indigenous yeasts in oak vats. They have a period of ageing, in American and/or French –oak casks which is greater than the minimum times set by the Rioja Control Board. They age for 26 months in French oak selected in our cooperage. Before bottling, fining is with fresh egg whites and after bottling the wine undergoes a refining period of a minimum of 18 months in our cellars
Which one is your favourite? Or do you tend to drink different wines depending on the occasion or mood?
Choosing between our wines would be like choosing one of my sons, an impossible task! Joking aside, I think each Muga wine has a special characteristic which makes it the best travelling companion depending on the kind of food, the moment and the company you are with when you are going to drink this wine.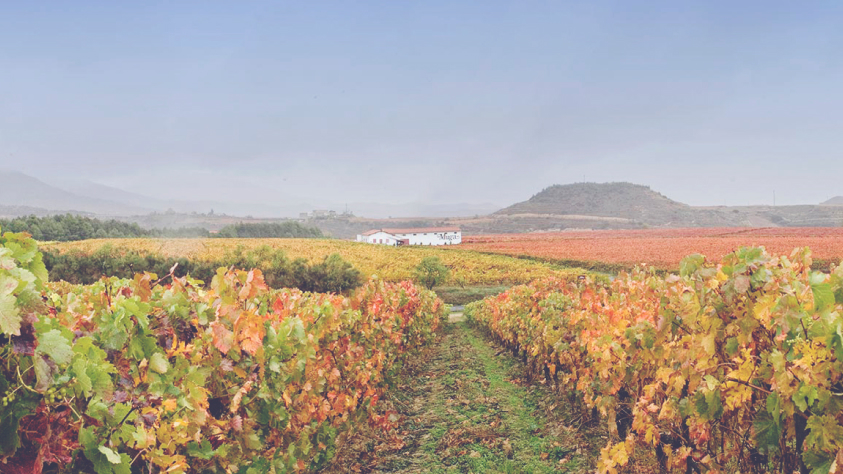 Tell us about the vineyards?
Bodegas Muga currently controls around 420 hectares of vines. These are located in the following districts:
Zone 1. Sajazarra, Castilseco and Fonzaleche. (560 – 650 m altitude) South-facing slopes of the Montes Obarenes, a calcareous clay soil at a higher altitude, used for Prado Enea. Principally tempranillo, graciano, mazuelo and garnacha.
Zone 2. Haro and Villalba. (470 – 590 m altitude). Calcareous clay soil; used for making Torre Muga. Mainly tempranillo.
Zone 3. San Vicente, Labastida, Briñas, Ollauri, Rodezno and Zarratón. (550 – 600 m altitude). It is mainly planted with the tempranillo we use for the Muga Reserva and Muga Seleccion Especial. Soils: calcareous clay and alluvial.
Zone 4. Valleys of the Alto Najerilla and Yalde. (630 – 650 m altitude) The principal varieties are viura and garnacha tinta which we use for making the white and rosado wines because of the fresh character we can obtain in this district. They are mainly old vineyards planted with bush vines. Soils: ferrous clay and alluvial (-pebbles) in some plots.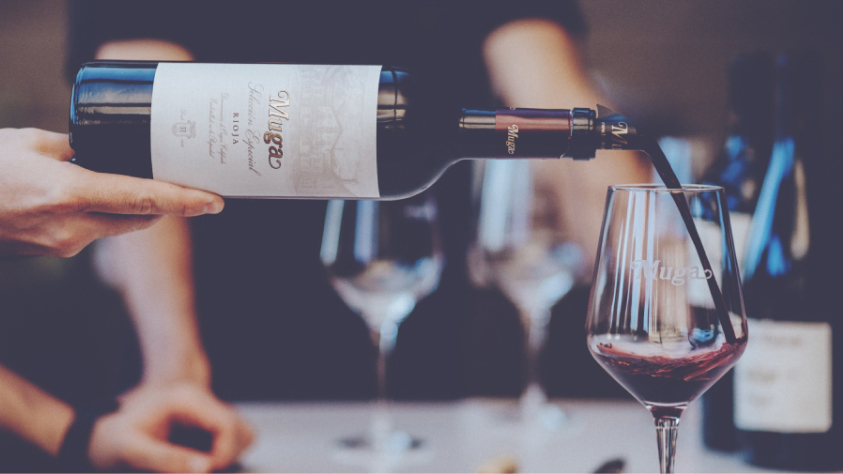 How many bottles are there in each harvest?
In Bodegas Muga we value quality above quantity. As a point of interest, in 2013 we didn't make all the premium level labels, we only made the reserva, and in a smaller quantity than usual. Our aim is not to produce a large volume, but rather quality. That year our output was around 800,000 bottles whereas in a good year we would usually produce between one and a half and two million bottles.