The Swartland Revolution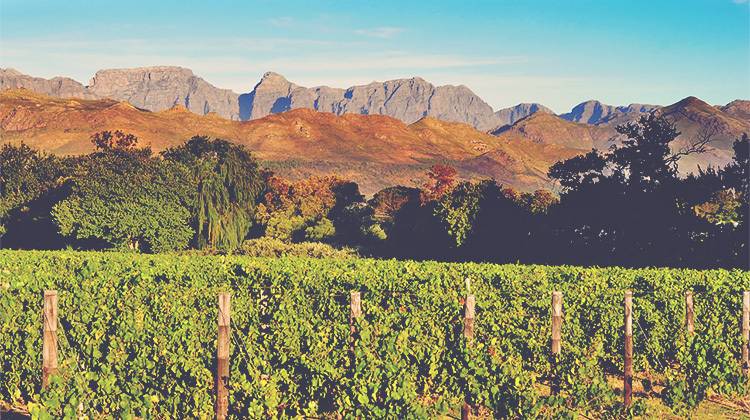 Victoria Mason, Senior Fine Wine Buyer
10 July 2023
Since 2010, the Swartland in South Africa has transformed its image from an unknown wine region, and what Tim Atkin called a "rural backwater", into a fine wine region now creating some of the most exciting, terroir-driven wines not only in South Africa but in the world.⁠

"It was the beginning of what is now known as the Swartland Revolution. That second word is no marketing spin, no hyperbole. It was exactly that. It altered opinion not only towards this hitherto unknown enclave of the Cape, but began dismantling perceptions towards the South African wine industry." Neal Martin (2015)
Unlike Stellenbosch, with its many famous estates dating back as far as the 1600s, the Swartland has only two historic private cellars, and was always a cooperative-dominated region, but has a wealth of old, dryland, bush vines – the fruit of which attracted the attention of a new generation of winemakers who, starting out, had neither their own vineyards nor their own cellars.
The modern development of the Swartland can be traced back to 1997 and the establishment by Fairview's Charles Back of a new cellar dedicated to Swartland fruit: Spice Route. (He had tasted an exceptional Sauvignon Blanc from the region and immediately and impulsively bought the farm from which the fruit came!) Charles hired a young winemaker – none other than Eben Sadie – who made three vintages for Spice Route, while working on his own wines with Charles's blessing. From 2000 onwards, Eben and a small but growing number of winemakers started to source from the Swartland.
As momentum built, and inspired by the Hospice du Rhône in California, a Swartland-specific wine seminar (more festival vibes, than seminar, in truth) was launched in 2010, called the Swartland Revolution – the same year that Eben launched his "Old Vine Series" (with the 2009 vintage), what is now a highly collectible range of single vineyard wines from all over the Swartland (and further afield).



The Faces behind the Swartland Revolution
There were four founding members (and five pioneering individuals) behind the Swartland Revolution: The Sadie Family Wines (Eben Sadie), A.A. Badenhorst Family Wines (Adi Badenhorst), Mullineux & Leeu Family Wines (Andrea and Chris Mullineux), and Porseleinberg (Callie Louw). The original "Revolutionaries" were inclusive from day one, inviting other winemakers from the region to showcase their wines at the festival, and fostering a strong community spirit in the Swartland which continues today.
From the beginning, a core belief shared by this group of producers was to make wine with minimal intervention and additions – with wild yeasts, and limited new oak – to best express the Swartland terroir.
All four are practitioners of what we are now calling regenerative viticultural methods, with Eben an early adopter, working alongside world-renowned viticulturist Rosa Kruger to find and rehabilitate often-neglected old vineyards (Rosa won the Decanter Hall of Fame award last year – the first South African to do so). Now, when we think of the Swartland, we think about intelligently-farmed old bush vines, and transparent, gripping, individual wines.
The vine varieties at the beating heart of the Swartland are undoubtedly Chenin Blanc and Syrah, as well as Rhône varieties Cinsault and Grenache (Noir and Blanc), despite not being the most widely planted, but both Adi and Eben also work with a more eclectic selection of vine varieties, notably Palomino and Tinta Barocca.
"One of the single most fascinating categories of wines I have discovered in the past 20 years." Stephen Tanzer (2015)
A Closer look at some of the Founding Members:
Read on to discover some of the Swartland's very best wine estates.


Adi Badenhorst is the South African wine industry's "enfant terrible" and is famous for being unconventional and a totally free spirit, but for all his maverick character he is serious about farming well and making wines that speak uniquely of their place. Adi and his cousin Hein bought the Kalmoesfontein farm in 2007 and Adi left his position as winemaker at Rustenberg in Stellenbosch to establish A.A. Badenhorst Family Wines.
A pair of blends – a white and a red – are at the core of production and are very much Mediterranean-inspired ensembles, but Adi has become increasingly known for his limited production single vineyard wines. These wines have a remarkable spark of energy, that reminds us of Adi himself.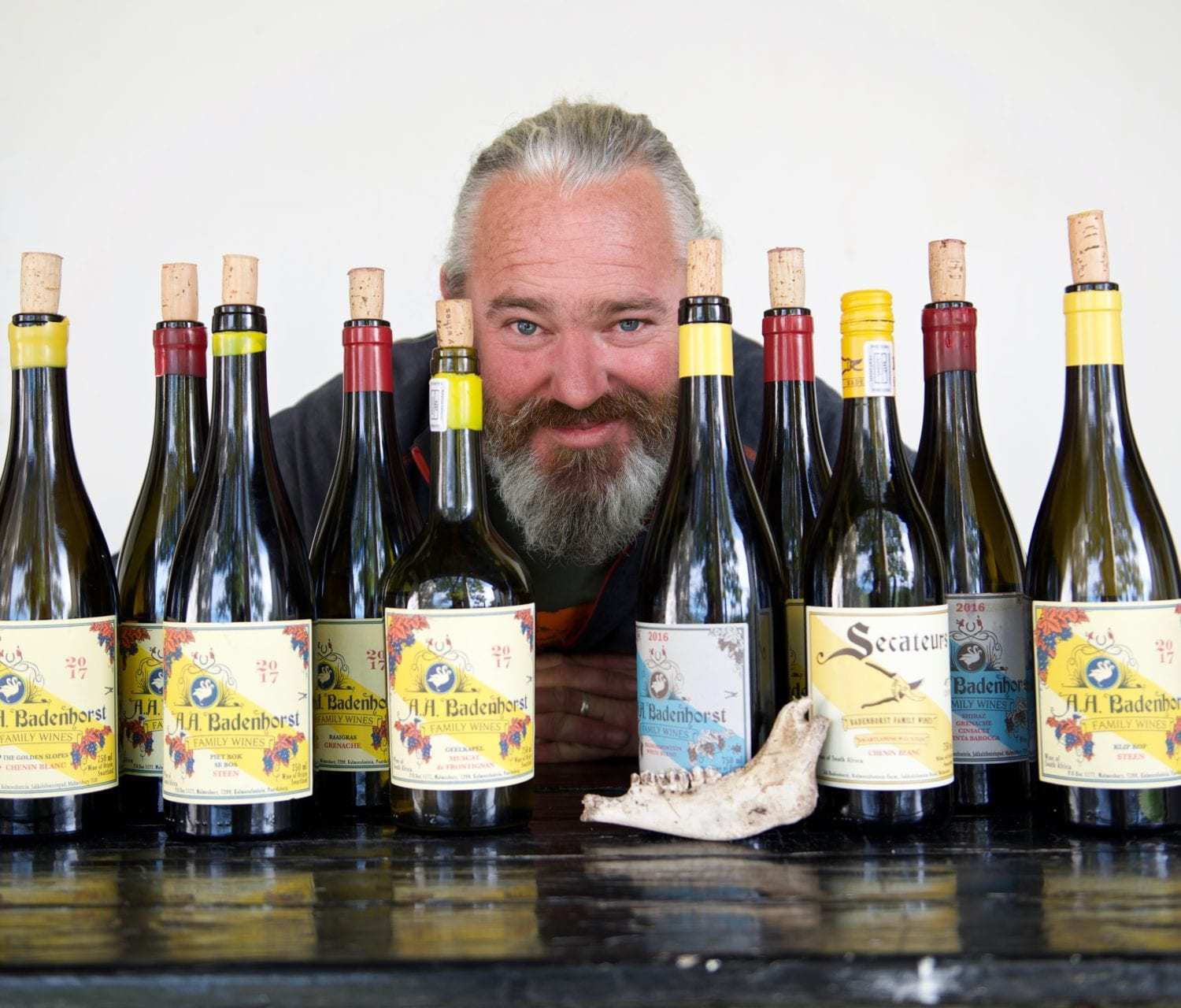 Adi Badenhorst
Andrea and Chris Mullineux are a formidable wife and husband team who met at a wine festival in Champagne while both doing harvest stints in France. Andrea – who grew up in California – heads up the cellar and winemaking side of the business and works with an incredible precision and attention to detail, while South African Chris is the viticulturist and responsible for sales and marketing.
The pair started working with Swartland fruit in the early 2000s when they were making wine at Tulbagh Mountain Vineyards and were acutely aware of just what exceptional potential the region had. In 2014 they bought the spectacular Roundstone Farm on the southwest side of the Kasteelberg, from where they had been sourcing Syrah for almost a decade – and spent the following three years building a new cellar and expanding the plantings. The new vines have been planted along the contours of the land, to minimise erosion and capture as much rainfall as possible, amid natural corridors of fynbos (the native South African shrub-like vegetation).
They have become world-famous for their single terroir range, which shines a spotlight on two of the Swartland's most prestigious varieties: Syrah and Chenin Blanc.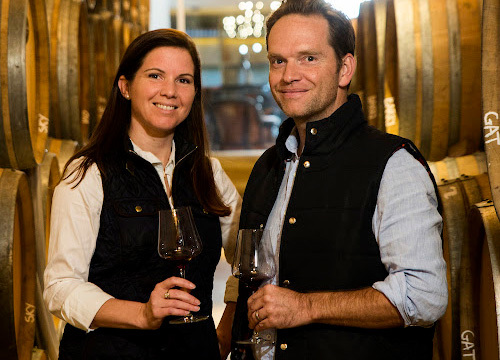 Andrea and Chris Mullineux


Porseleinberg the wine is named after the farm, and the mountain, south of the Kasteelberg, on which it is grown. This windy, wild, exposed hilltop vineyard, with its extremely rocky blue schist soils, yields one of South Africa's greatest Syrahs. Farmed by Callie Louw since 2009, the inaugural vintage of this intense, structured, and captivating Syrah was 2010. Little-known fact: the first two vintages of Eben Sadie's Columella were made with grapes from this vineyard.
Callie is first and foremost a farmer, like the great winegrowers of the Northern Rhône. He works biodynamically in this isolated vineyard, accompanied by cattle, sheep, and chickens. The Syrah for Porseleinberg is sourced from four blocks on the farm totalling 4.5ha. After spending some time at Domaine Jamet in Côte-Rôtie, he had "a light bulb moment" and started to work slightly differently with the fruit from the 2018 vintage, still one hundred percent whole bunch, but submerging the cap during fermentation.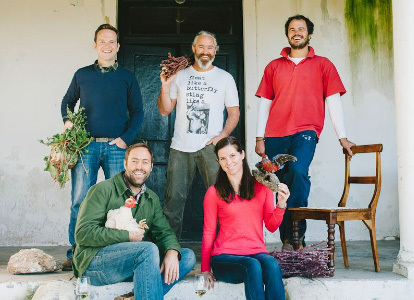 Left to Right: Chris Mullineux, Eben Sadie (+ chicken), Adi Badenhorst, Andrea Mullineux, Callie Louw
And there ends our round-up of the original Swartland Revolutionaries… How they have changed the landscape of South African fine wine in little more than a decade is nothing short of spectacular.



Join Bordeaux Index today to get exclusive access to wines from producers like the ones in this blog: